Hello Ladies and a few Gents,
Here is my brief review of the Grand Riviera Princess Resort.
We went the week of April 25 - May 2, 2010 and had an absolutely WONDERFUL TIME!!!!!!!!! All of my worries were put to rest the moment we arrived and checked in.
I had obsessed for over a year about our decision and I just want to let you know that this resort does not disappoint. I don't have much to compare it with because neither of us have been on an all inclusive, but many from our group were; and they were all blown away not only by the "grand-ness" of the resort, but also by the service.
Resort review: A+++
The pictures pro or not do not do this resort justice, it is beautiful, clean and constantly maintained. I think we figured there was probably a 2:1 ratio of staff to guests. It is a MASSIVE resort, Huge is an understatement. This is a mega resort and if you think you can get places quickly then think again!! Anyone with children under 4 bring a
stroller
- we did not! The trolley only runs about every 15-20 minutes and lots of times it's full.
It took us a good 2 full days just to get our bearings on where we were going. It was full capacity (1400 ppl plus) the week we were there but it still wasn't a huge problem getting a lounger, sometimes there was a wait but there was always drinks close by. Being such a huge resort with 1400 needy guests to serve, there were some wait times for some things ie; we didn't get a crib right away, some people waited for luggage, it took housekeeping a while to clean up a broken glass in our room, our air con didn't work but Hubby liked it better - I did not! lol So if you take the amount of people they need to please on a daily basis, none of this really upset or affected us - it truly is it's own little city running inside the resort walls.
There was not any theft problem we were aware about while we were there - and there were times valuables including cash and laptops were left out (not that I suggest you do this, tequila was a factor) We didn't use the safe for the most part, you can program it with your own code but there still must be a master code. Housekeeping and Bar stock people are always accompanied by 1 security staff member, with a checklist; I believe this is to ease guests concerns and to have a written document of what was replaced/cleaned/touched in each room.
Service A+++
All the staff were extremely friendly and very accommodating. There was not really a difference in service if you tipped or not. We tipped at the A la Carte meals, not at the buffet. We tipped when our whole group was at one bar for a while, but really the service didn't change if we didn't. We tipped the bell boys and room service, then the Housekeeping when we left. One guest in the Platinum suites left a note and a tip for some more toothpaste - the tip was taken and no toothpaste...lol Even at the buffets the servers were constantly filling drinks, taking away plates and getting anything you needed, it was all very attentive.
Food A+
The food was all amazing - keep in mind if you ate at the buffets every morning noon and night, yeah it could get a little boring but there is SOOOOOOOO much to choose from. Lot's of selection in everything, so there is no reason for anyone to complain that there is nothing or some same things, but people can always find something to complain about if that's their nature - it's just not ours.
The A la Cartes were very good, most people seemed to enjoy Las Olas (seafood), La Valqueria (The Grill), Miso...well to tell you the truth I didn't really hear one complaint about any of the restaurants, although my Husband and I didn't get a chance to try out a lot of them...we have to plan another trip to GRP!
Rooms A+++
First of all, we (my husband and I) were upgraded to a Platinum suite for free upon check in, as well the rest of our group that booked properly and quoted our wedding party were upgraded to a Deluxe Junior suite (only difference is that there is a jacuzzi in the bathroom instead of just a stand up shower)
The rooms are very clean and well kept, and HUGE. The bathrooms are HUGE.
My only upset is that because we were upgraded to the Platinum, there were many Platinum perks we didn't get to use because we met with the rest of the group most times. Only Platinum guests are allowed in the platinum areas (lobby, pool, bar, and rooms) If the concierge does see other wrist bands come in they will ask the other guests to leave. Also no one is allowed in your room, and only on the wedding day can some guests come in to get ready for a 2 hour max...well this is what they told us but we went way over that time limit. Also, we did learn how to sneak people in without having to go through where the concierge is...but they do keep a watchful eye - so be stealthy about it! lol They even charged room service to my room on my wedding day because they knew that Non-platinum guests were with me! Oh well!
Also I should mention that if you are scared of critters, be aware - there is nothing that any resort can do; they can get into the rooms so try not to leave doors open if you have fears. We found 4 over the week and it wasn't an issue, just comes with tropical territory. The word is scarier than the actual bug - Roaches, there I wrote it.
The Platinum suites are far from everything else, so allow time when planning on meeting people, lol, Platinums are at the ocean, and most of our other guests rooms were at the very opposite of the resort by the lobby. Give everyone maps in their OOT bags, and if you can find out rooms before hand and plot them out!!!!! this was our biggest hassle, never knowing where anyone was at any one time and not knowing anyone's room # for the first couple of days. Any older guests, please tell them to put their key card in the slot by the door, this will make the lights work - no one told a few of our guests this and they sat in the dark a little bit, lol. Lights won't work without your key card in the slot!
View from our room: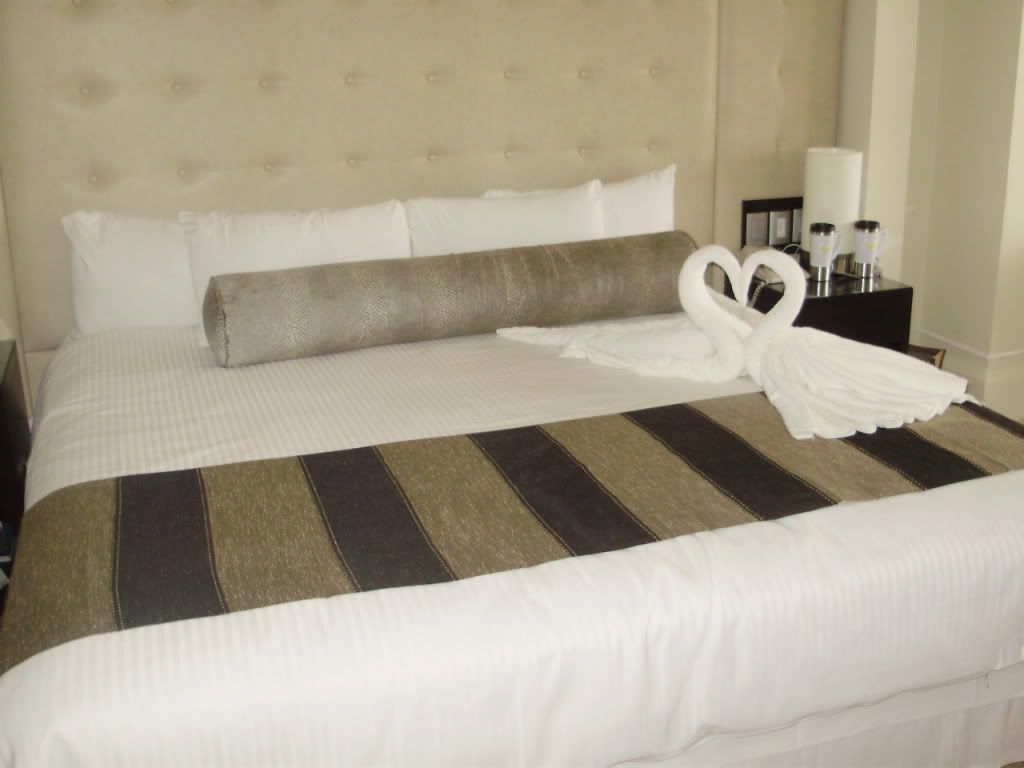 Wedding A+++++
SO like I have already mentioned a million times, everything had exceeded our expectations, even despite the little minor things that we never really let get to us. We wanted to have a good time and that's what we did!
But!! the wedding was beyond what I could have imagined! Mind you, I'm an easy peasy Bride, didn't ask for anything special or crazy, but Patricia our wedding coordinator was absolutely amazing and tended to everything with precise detail. She would have made any of my requests come true, I just didn't really have any, they take care of everything for you!
The wedding gazebo is beside loungers on the beach, and it is a common pathway you walk down, but it didn't really seem to be swarmed with other guests so maybe they cleared it for us. There were some people on the beach watching, I really didn't notice, may have been the 2 bottles of champagne! As soon as the ceremony was over there was a lovely beach waitress there to take our drink orders (so glad I didn't pay for the cocktail hour, although it was still nice; we seen it set up for another wedding)
SO someone should have a tip for that!! Jacqueline was a server and she was amazing, she did 40 drink orders for us and kept coming around all while the pics were being taken!
It was absolutely down pouring just before our ceremony, and they had refused to set up outside, it was just to wet, but last minute the skies cleared and they moved EVERYTHING back to the gazebo!!! It was amazing! all the staff were amazing!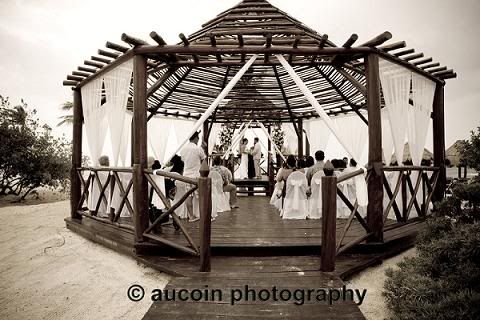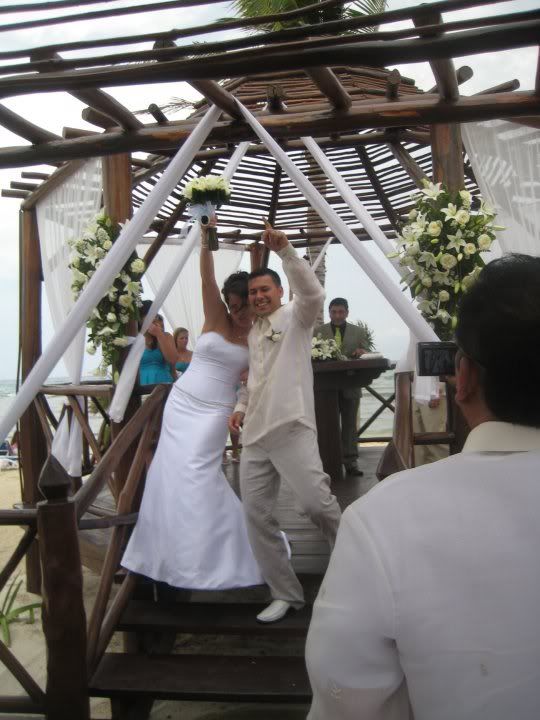 My Bouquet from the resort, LOVED!!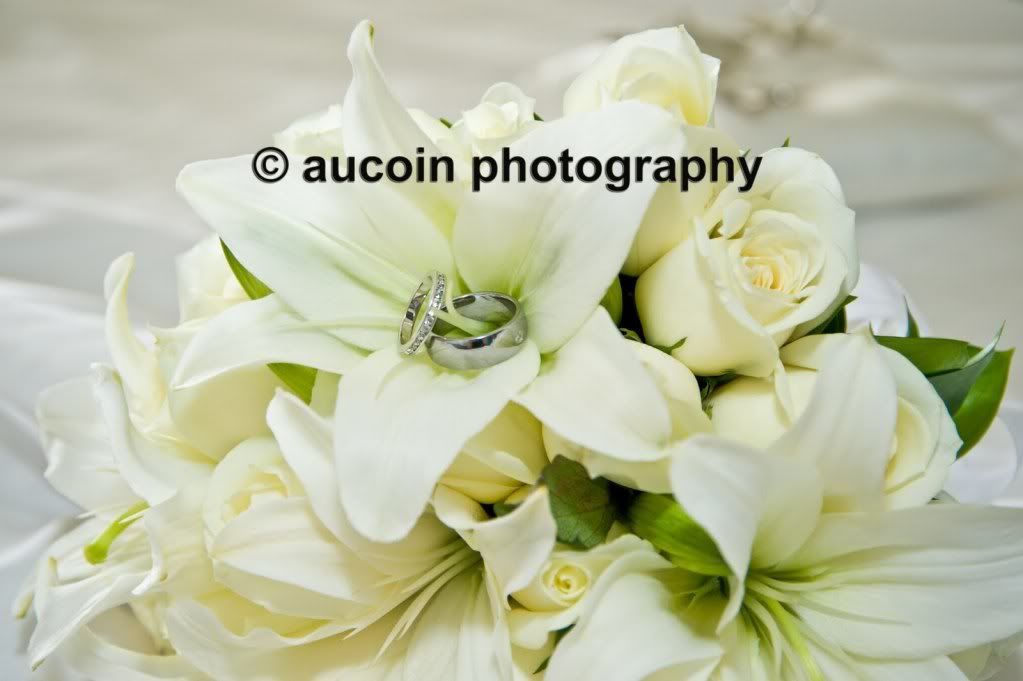 Me and my Brother who walked me down the aisle with my Father in the bouquet frame and watching from above
)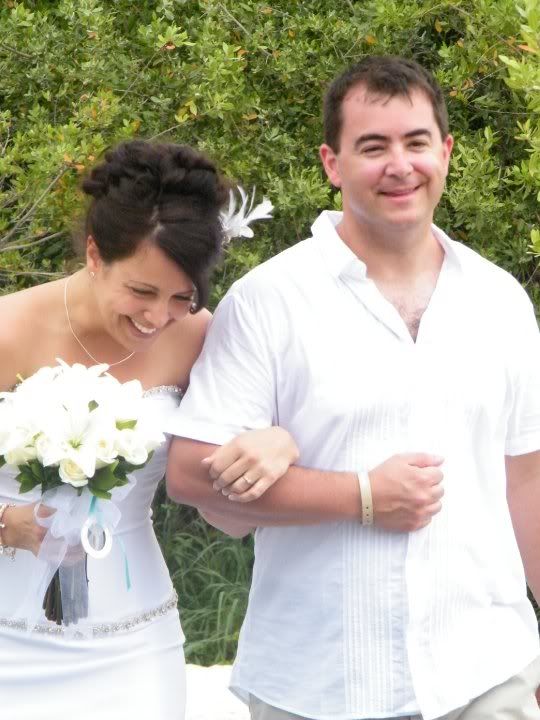 Me and My Girls!
The BOYS!