We just returned from Dreams La Romana yesterday and we were there from April 17th-April 24th, and our wedding was on Wednesday, April 21st. We had a fantastic time and everything was perfect with only a few minor glitches!
Meeting
We had our meeting with Tiara, the wedding coordinator, on Monday, where we confirmed all of the details of the wedding and finalized the plans, and also paid for everything. This is when we chose the decorations for the gazebo, talked about the timeline, and had all of our questions answered. We chose the Dreams Ultimate Wedding Package and I was very happy that we did. It included a lot of little extras that we probably wouldn't have otherwise had. One thing that we found out at our meeting, which we were very happy about was that we would actually be getting our marriage certificate before we left the resort (we thought we would be waiting for weeks for this to come in the mail)! And we got it on Friday, which was great!
Times
Our wedding was originally booked for 5pm but we had changed it to 4pm and I am very glad that we did. Having the wedding at 4 allowed us a good amount of time for the ceremony, pictures/cocktail hour, dinner, speeches, and dancing. By the time all of the first dances were done, we still had about two hours left to dance!
Hair & Makeup
Our hair and make-up appointments started at 11am. There were four of us getting our hair and makeup done, including myself, my two bridesmaids, and my Mom. There were two stylists working so only two of us had our hair done at a time. By the time the last person was done, it was almost 3 pm so it was a good thing that the appointments started when they did, but we were all happy with the way our hair & makeup turned out.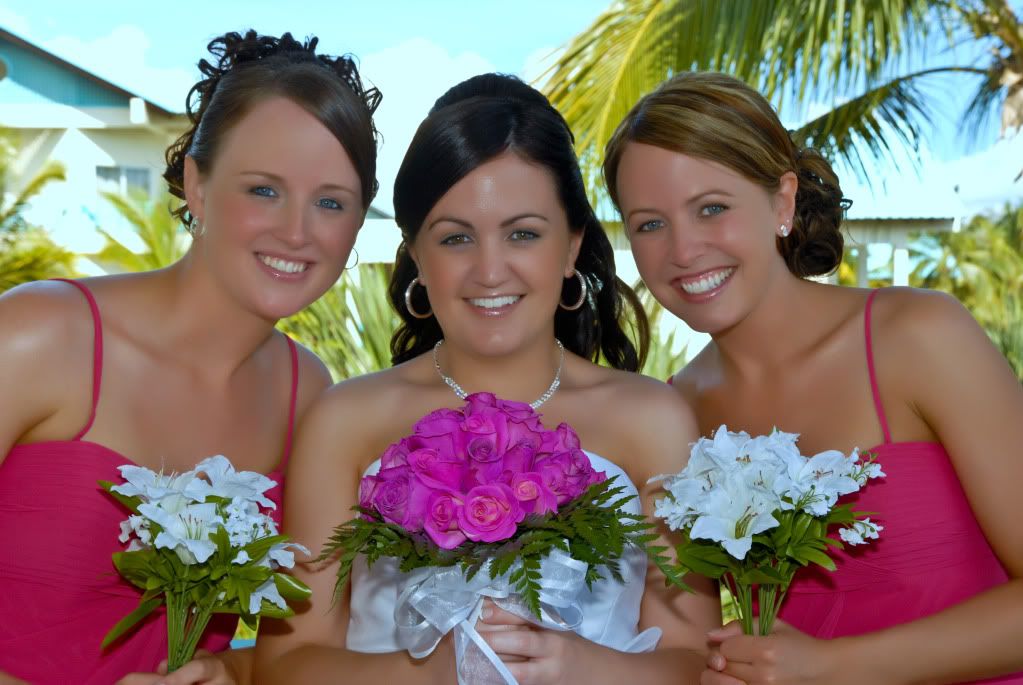 Ceremony
We had the ceremony at the wedding gazebo and I would HIGHLY recommend this to anyone getting married at Dreams La Romana. The gazebo is beautiful and very private. There are some rocks behind the gazebo and then the ocean, so no one will be sunbathing or swimming nearby. With beach weddings there are lots of people nearby who are bound to show up in the pictures. Here is a pictures of the gazebo d©cor:
We did not want the flowers on the posts of the gazebo and had these as centerpieces for the dinner tables instead: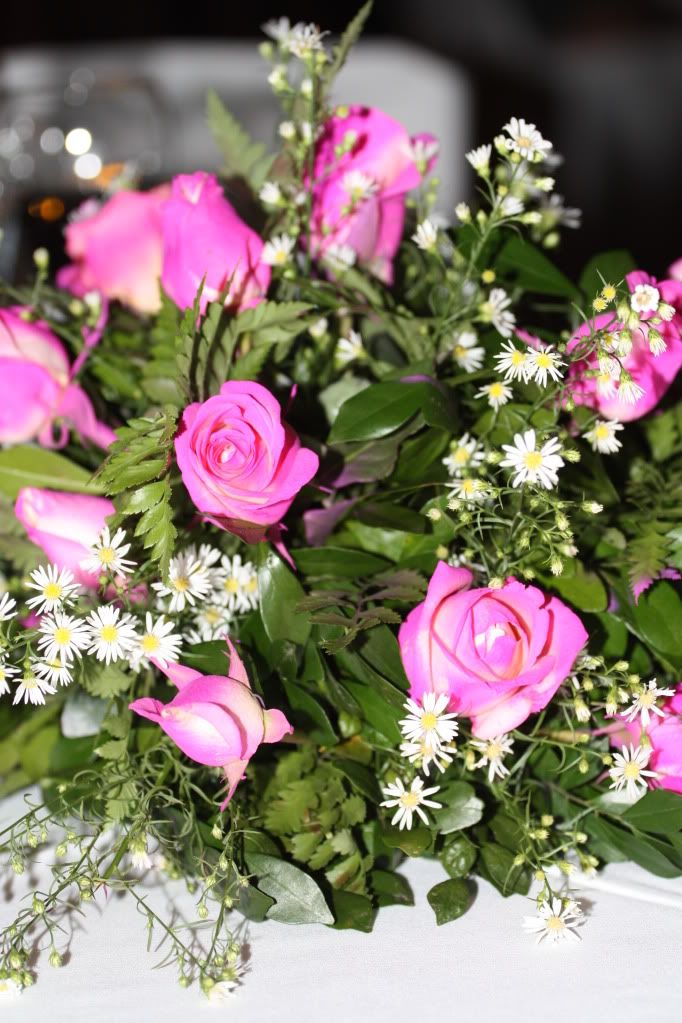 Our wedding ceremony was a few minutes late getting started, but this was not a problem. Tiara made sure everything at the wedding gazebo was ready to go and then came to our room to get us. We found out as well when we had our wedding meeting that we could choose a song to walk up the aisle to and chose Lucky by Jason Mraz & Colbie Callait. It was played by the DJ and was very loud and audible. The ceremony was performed in Spanish by the judge and translated into English by Tiara. I thought that the whole ceremony was great and the translation was great! I am very happy that we had our legal ceremony there. We also had a sand ceremony for which Tiara provided the script. My sister read the script as all of our parents and my husband and I poured the sand. After the ceremony, my husband and I were served champagne and then we cut the cake right after.
Cocktail Hour
Our cocktail hour took place on the pier. There is a larger wooden landing at the beginning of the pier where all of the food and drinks were setup. These were the options we chose for the food:
-Cream cheese rolls & avocado
-Assorted sushi
-Crab Canap©
-Melon, Cheese and Grape Brochette
-Fried Calamari Rings
-Ham and Cheese Quesadillas
We had photos taken during the cocktail hour so did not get a chance to try much of the food, but I did try the calamari rings and cream cheese rolls & avocado which were both AMAZING! Our guests enjoyed the food, drinks, and the music trio which played for the cocktail hour.
Dinner/Reception
Our dinner was held on the Seaside Grill Deck. I think we lucked out because the Seaside Grill was closed that night, otherwise there would have been people seated quite close to our reception. The deck was setup perfectly. We had a head table at one end which sat the 7 of us in the wedding party, and then four large round tables which seated the rest of our guests. On the other side of the round tables was an open area for dancing, as well as a cake table and guest book table, and then at the far end is where the DJ set up and there was a table for drinks which were served to us.
Here is what we chose as our dinner menu:
Appetizer: Warm Mixed Lettuce and Breaded Shrimp Salad
Soup: Cream of Tomato Soup with Tangerine and Fresh Basil
Main Course #1: Beef Medallions and Shrimp, with Cordial and Black Pepper Sauces
Main Course #2: Chicken Breast, Stuffed with Port Sauce Marinated Crayfish, Served with Pasta Meuniere
Dessert: Kahl¹a Flan with Coconut and Chocolate Sauces
The shrimp on the salad cold and was VERY good! I did not really like the rest of the salad but I think that was just me being picky. The soup was amazing! I chose the beef medallions and shrimp for my dinner and it was also amazing. Those who chose the chicken said that they really liked it as well, but did not get any crayfish. The dessert was good, but after trying the dessert at the restaurants, I would definitely recommend the cheesecake!
We had a vanilla wedding cake and got a second tier added and it was very good! We had far too much cake in the end and did not even have to cut into the first layer, but the staff put it in the fridge for us at the Seaside Grill and we were able to go back and eat it on Friday.
The music trio also came back at the dinner and played a song at each table. They were fantastic!
Since the DJ was setup on the deck, we had a microphone to use for the speeches which was great! My Dad gave the first speech and he is quite emotional when it comes to his daughters' weddings so he had a bit of a tough time getting through some parts. One of the waiters, Richard, helped out by standing beside my Dad with a drink and held it up for him to drink though a straw and also held up a flashlight for him to read his notes since it was getting dark. It was hilarious!
The servers stayed with us right until 11 pm serving drinks. They also showed us how to do a couple of Dominican dances which was fun! The bar outside the Seaside Grill is also very close by and some of us went there to get drinks during dancing as well.
DJ
After all of the speeches were done, we began the dances. This is the part where we had some "glitches." We used the resort's DJ. I had sent a list of the first four songs that we wanted played. The DJ had the list because showed me a printed out copy of the email I sent. However, when my husband and I went up for our first dance, the wrong song came on. At this point, the DJ did not have the right song on his computer, so he went somewhere and was able to get it right away. We also sent someone up to our room right away to get my laptop which had all of the songs on it. After the first dance played, which was "My Best Friend" by Tim McGraw, it took awhile to get the father-daughter dance ready, and then he did not have the mother-son song at all. Luckily, since we had already gotten my computer, he just plugged the speakers into it and all was good. The father-daughter song was "I Loved Her First" by Heartland and the mother-son song was "You Raised Me Up" by Josh Groban. I then requested "I Gotta Feeling" by the Black Eyed Peas and then said to play whatever he wanted after that. Besides the first few songs not being ready to go, the DJ played great music and had us all up dancing for most of the night! I would definitely recommend him, but would just double check with him on the first few songs before it was time for them to be played. From the prices I have seen for other DJ's I think the resort DJ was great! Also, throughout the night he was able to play all of the special request songs that we wanted!
Tiara
Tiara was an absolute pleasure to work with! She made our day absolutely perfect and I can honestly tell all of you that you have nothing to worry about when you get there! I know that many brides like to know exactly what everything is going to look like and exactly how the day is going to go, but Tiara will make your day perfect and this was done by confirming all of the details only two days before the wedding. It was kind of funny while we were there because my Mom and my sister (MOH) were asking me all sorts of questions on the wedding day, like when we will get the flowers. At that point I had no idea and told them I didn't know but I wasn't worried about it. They couldn't believe how relaxed I was about things like this! But when we got back to our room after the salon, the flowers were there waiting for us! Tiara came to our room to get us for the ceremony and she stayed for the whole ceremony, cocktail hour, and into the reception to make sure things went smoothly. We met with her again two days after the wedding where she gave us our marriage certificate and videos of the wedding, as well as our certificate to get free anniversary nights at any Dreams resort!
HDC Photography
We used HDC Photography and our photographer was Francisco. He was great to work with and made the whole photo taking part of the day a lot of fun! He was to come to our room where the girls were getting ready at 3 o'clock and was right on time. When he showed up he immediately started taking pictures of everything. He was able to make us laugh so that the pictures turned out even better! We had our trash the dress shoot as well with Francisco on Saturday just before we left the resort. The TTD was a lot of fun! We splashed around in the waves, walked out into the ocean, and rolled around in the sand. We got our DVD with all of the photos on Saturday from the wedding and will be able to view the TTD photos online tomorrow! We can't wait to see them since we loved the wedding photos!
Videography
Our videographer was resort videographer which came with our wedding package. He came to video us getting ready before the wedding and stayed for the ceremony and a little bit after the ceremony. Our DVD was ready two days after the wedding and turned out great!
Resort Photographer
Our wedding package included the resort photographer, but since we had also booked HDC Photography, we were not able to have him at the wedding. Instead my husband and I booked a photo session for the day after the wedding where he took pictures of us around the resort and they turned out SO good! If anyone is using the resort photographer for their wedding I am sure you will be VERY happy with your pictures!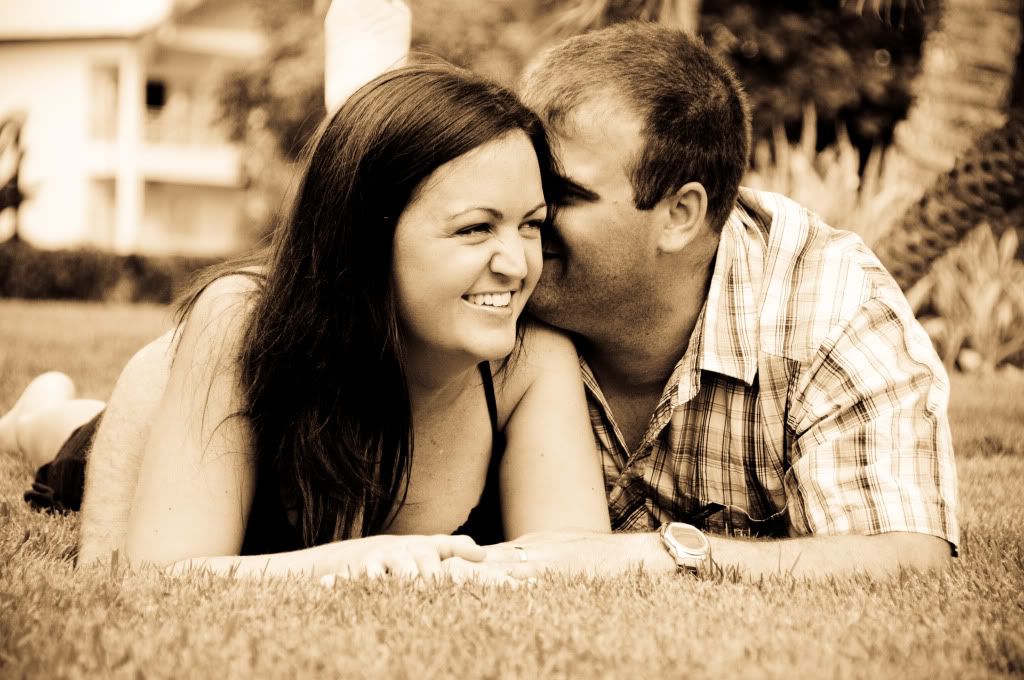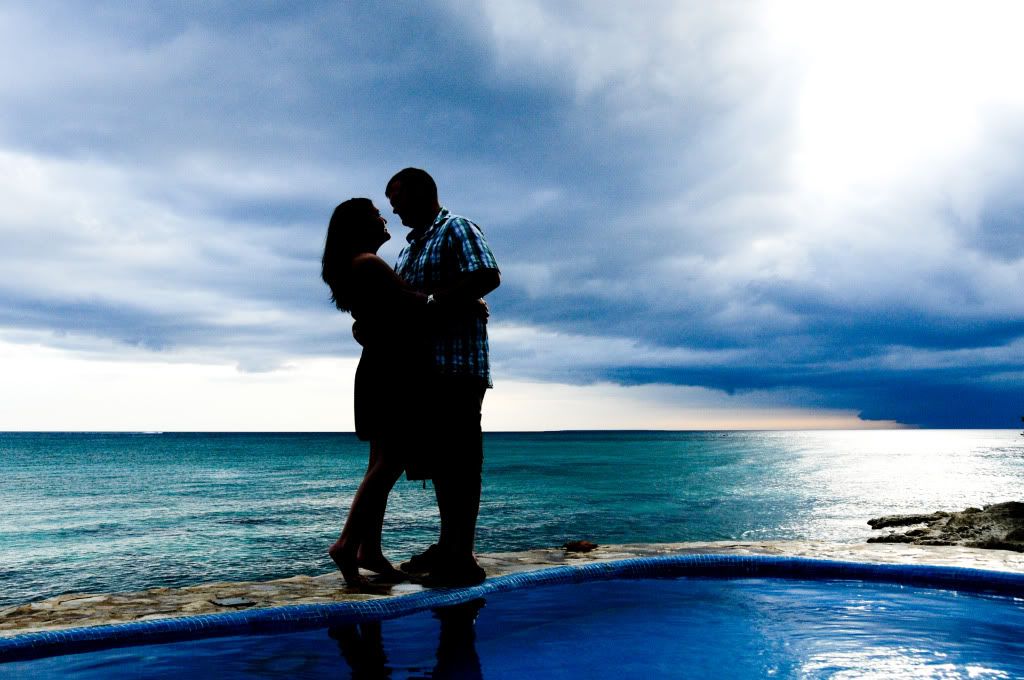 Airport Troubles….
This part has nothing to do with Dreams La Romana, but just an FYI/heads up for any other couples out there doing a sand ceremony. Our sand ceremony looked awesome and we were super happy with the way it turned out. We put a cork in the top and had it in our carry-on bag to take on the plane. When we were going through security at the Punta Cana airport, they took the vase out of my husband's bag and this girl, who was apparently working there, but not even in uniform, took the vase and starting shaking and shaking it until it was completely mixed up and not layered at all anymore. My husband tried to stop her and so did the other security people (who were in uniform), but she just kept shaking it, laughing the whole time. I did my best to hold back tears, but I guess we will be pouring out the sand and re-doing it. I know it's not the same but it is completely ruined now. My Dad was there when this happened and said he will be writing a letter of complaint to several people in the Dominican Republic. If they needed to know if there was something in it, you would think they could put it back through the scanner on its own
Side Notes…
There are a few things I want to mention that I think would be good to take into consider if having your wedding at Dreams La Romana. As mentioned earlier, if you want your ceremony to be private, I would not recommend the beach. However, the resort photographer told us that they are going to be making a private section for the beach wedding at the far end of the preferred club section, so in the future, this might be a really nice option!
One night while we were there, we had dinner in the indoor section of the Seaside Grill. This area is very nice and quite large, but I would definitely not want to have my wedding reception in there. There was actually a wedding dinner in there while we were there and for the first half of the dinner I did not even realize they were there. It was very loud and very echo-ey and I couldn't imagine it for a dinner if you wanted any speeches or dancing. On the plus side, it is air-conditioned!
Overall
Overall we had an amazing wedding and an amazing week! I remember being at the wedding dancing and looking up at the stars through the palm trees thinking about how perfect the day was and how I wouldn't have changed a thing! I would highly recommend this resort to anyone considering getting married in the Caribbean and to anyone going on vacation. I would be happy to return there any time and I'm sure we will!