WEDDING DETAILS
Wedding Date / Time – Friday, February 26, 2010 / 2:00 p.m.
Wedding Coordinator – Angelica Martinez Mauricio
Wedding Package - Complimentary
Gazebo – Bugambilia
Cocktail Hour - Bugambilia Terrace 3:00-4:00 p.m.
Reception - 6:30 p.m. – Aqua Salon
Total number of guests including Husband and I - 30.
Our stay – February 23 – February 28th
Most of our guests stay – February 24 – March 1
Honeymoon – Excellence Playa Mujeres from February 28 – March 4
Photographer – David Pena (resort photographer)
Overall Experience A+++++++++
I can't not begin to express how wonderful our wedding was at Moon Palace!!! It was absolutely perfect and I wouldn't change a thing. I have to first of all thank all of the BDW brides that helped me with my planning!!! It wouldn't have been the same without all of the great tips that I got from this site. And I have met some amazing friends (WhooHooo February Brides!!!). I think that Moon Palace was absolutely perfect for us. We have a large divided family and not necessarily every guest would have wanted to spend their whole vacation hanging out with their ex's, so the size was perfect for us. It is large so you weren't right on top of each other, but it was still fun to occasionally run into guests as you walked around. After the wedding a lot of guests told us that it was the best wedding that that they had ever been to and some are even planning a return trip for our one year anniversary!!
Travel Agency B
The travel agency that we used was destinationweddings.com. I have mixed feelings about them. They did help a lot, but their prices were more than what we found on internet discount sites (in particular Orbitz) so they agreed to price match Orbitz and get our guests pretty low rates. In general it was a little under $2400 for flight, transfers, and oceanfront accomodations for 6 days and 5 nights. So at times, I wondered why we were even using them because our guests could have just booked on Orbitz. Their response was 1. We had a representative to call if we had questions, which was true and she would help if she could and 2. We were guaranteed not to be bumped if the hotel over booked.
Airline C
We, along with our guests, flew American Airlines. DH and I's experience with them was pretty uneventful. 18 of our guests however had a different experience. 18 of them were on the same 10 am flight from KC to Cancun. 30 minutes into their flight they had a failed engine and had to turn back to KC. Their flight ended up being cancelled and about 4:00 pm 4 of them caught a flight to Cancun. The other 14 of them had to go to Chicago and arrived in Miami after midnight where they spent the night and arrived in Cancun a day late. I'm glad that they all made it safely and am not giving AA a bad grade because of that. I am giving them a C because the next day the same plane caught on fire!! I also had a friend taking an AA flight from NYC to KC, which also caught on fire. 2 planes with fire equals bad grade from this bride.
Wedding Coordinator B
Our wedding coordinator was Angelica Martinez. Through out the whole process I was very frustrated with MP because they have rules of not getting your WC until 90 days before your wedding. I'd get on the forum and read about brides getting married MONTHS after me who were in contact with theirs. I finally threw a fit to MP and from then on they pretty much worked with me to get what I requested. Angelica did a good job, my frustration was with the whole system in general, not necessarily her. I know some people tip their wedding coordinator, but my hubby wouldn't let me. He said we gave them enough of our money. ☺
Customs A
I was so worried about going through customs with all of our stuff!!! (7 bags plus dress!) I was very prepared with folders with receipts of OOT bag contents in each suitcase. I took 128 cups of rose petals with me and was super worried that they would be confiscated. As my bags went through the machine the lady asked me how much all of my wedding gifts were worth and I said $200 because I thought that I read somewhere that $300 was the limit. She said ok and then I hit the green light so my bags weren't checked. Thank goodness!!
Transfers A
Our transfers were with American Express and they were very helpful and didn't push sales on us too much. Because all of our guests were coming in at odd times the American Express rep from the hotel (Martin) sat with us in the lobby and called his coworkers who were at the airport and gave us a heads up when a guest was on their way. We have no complaints about them.
The Resort A+++
I am sooooo happy with our decision to go with Moon Palace! It is such a beautiful resort with so much to do and great food. It was perfect for us and I wouldn't change a thing. Everyone who worked there was very kind and accommodating to everything we requested. I've heard people complain about the beach, and yes, it's not the most beautiful beach, but I still thought it was very pretty. The seaweed wasn't nearly as bad as I had anticipated from the reviews.
Rooms A
We, along with all of our guests, stayed on the Nizuc side. I'm glad that we did it was in the middle of the resort and so we never had a hard time to get to any one area. I thought our room was very nice and we had a beautiful view to wake up to every day!
Room Service A
YUM!!! We ordered room service everyday! Our faves were the ham and cheese croissants, hamburgers, and the FRIES!! Room service came in helpful for breakfast a lot, when we needed a quick bite to eat before we went out and met people, and on our wedding day because we didn't see each other until the ceremony and didn't want to risk running into each other beforehand.
Restaurants A+
El Caribeno: Super good food. We really liked it here.
La Trattoria: About 10 of us went here the night after our wedding and everyone thought that it was the best meal that they had all week. The appetizers were horrible so we were worried, but the meals were delicious!!
Bambu: I didn't eat here, but my family didn't like it.
Arrecifes: I didn't care for this at all. I know other people have great things to say about it, but I just didn't think it was that good.
Los Caporales: My favorite. We had our rehearsal dinner here and it was so good. See my entry below about our menu.
Buffet in Nizuc Lobby: Not sure it's name (think it's El Manglar), but everyone loved going here for breakfast. They had pretty much everything that you could think of and it was really tasty!
Palapa Delfines: We ate here for lunch a couple of times. They had good Philly cheeseteak sandwiches, fries, and chips and guacamole.
Dessert bar in Nizuc lobby: They have all kinds of desserts…our favorite was the double layered chocolate cake. It was delicious!!! Someone else told us after we got home that they had chocolate frosties that tasted like Wendy's…too bad we missed out on that!
Overall we thought the food was really good!! We went to a really nice honeymoon spot afterwards that was supposed to have all 4/5 star restaurants and we thought MP food was much better!! As you can tell we ate like crap!! But hey, I had been good for way to long not to break the diet a little (ok, a lot) when we were there!
Entertainment on the Resort
Our favorite spots to hang out were the Nizuc pool and the Swing Bar on the Sunrise side. The Swing bar was always a lot of fun and we met a lot of nice people there. After our reception we went to Andromeda, the resort disco, which is located on the Sunrise side. It opens at 10:30 every night. At first when we got there I wasn't into it too much because it was actual disco music. After a while, they started playing different music and we had so much fun dancing!!! There is a schedule of events posted in the lobby that had the nightly shows/entertainment that was planned. One night there was a fire show (Thursday) and a lot of the guests enjoyed that. Mondays are the Michael Jackson show and we missed that although I've heard good things about it.
I finally got to meet another BDW bride (FutureMsMoutlon) at the resort, which was great!! We had a bridal party drinking contest at the Nizuc Pool and unfortunately
she smoked me!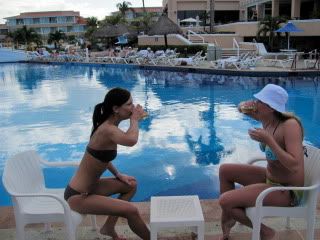 TIME LINE OF EVENTS
Wednesday, February 24 -
We had a Meet and Greet scheduled for the roof top bar above El Caribeno, but unfortunately it was cancelled due to the airline mishap previously mentioned. The night before the scheduled Meet and Greet my FI and I went and got a drink and checked it out. It's a large space with a bunch of lounge furniture. I think it would have been perfect for a meet and greet although it is on the far end of the resort.
Thursday, February 25 -
This was the night of our rehearsal dinner. We had it at Los Caporales. I thought it was the perfect place to have it. The food was great (except we didn't care for the dessert) and the staff and atmosphere was lots of fun! The marriache band came and played for our table and my dad had to jump up and play with them. It was so fun! Here was our menu that I had to preselect:
appetizer: chicken tacos and guacamole (very good)
soup: black bean cream soup
salad: mixed salad with tomato, baby corn, carrot, and guajillo chilli dressing
main dish: beef fillet (everyone thought this was REALLY good) or fish stuffed shrimp (only a few of us chose this and when it arrived a lot of people wish that they had. it was soooo good!!)
dessert: dark and white chocolate cake with vanilla sauce (it was flan, which most of our guests weren't crazy about, but we had so much other good food no one seemed to mind. )
Friday, February 26 - Ceremony Day
My sister stayed with me the night before and FI stayed with my brother in law so that we wouldn't see each other or talk before the wedding. When we woke up my sister and I ordered room service so that we wouldn't run into FI or other guests. Then we went to the salon and had my nails painted. They did a decent job and it was only $8. After my nails we went back to my room and my hair stylist (FutureMsMoulton's sister!!) came around 10:45 am. At 1:40 Angelica, our wedding coordinator came to our room to pick me up. She walked me to the carriage and my step father and I went for a little ride before heading to Bugambilia Gazebo. I loved the gazebo that we were in. It was close to our rooms and very pretty with a great terrace out front. I was a little worried at first because I kept reading good things about Tucan, but was assigned Bugambilia. I thought it was perfect and I wouldn't have changed a thing!
Hair:
FutureMsMoulton's sister did my hair and I thought she did a great job!! I loved it and got a lot of compliments. I was also pretty happy with how well it held up considering the crazy wind and humidity.