I haven't been as active on this forum as I could have been, but I would like to give back now by posting a planning thread (my favourite kind of thread, much like everyone else!). BDW has been my escape from the stress of completing a Masters degree while working almost full-time and being sucked into numerous work related projects, so thank you Tammy for hosting this forum! This forum has kept me sane. I am getting married May 5th, 2010 in Tulum!
After 8 years of being together, FI asked me to marry him on our trip to Australia. It was definitely a huge surprise and something I was not expecting! We went out on a trip to Whitehaven Beach (supposedly one of the best beaches in the world) on the north-ish east coast of Australia. It is only accessible by boat, and we were hanging out there for lunch. It was beautiful, with pure white sand beach and fish swimming everywhere in crystal blue waters. I found out that in Australia, it is either sharks or poisonous jellyfish that will get you in the waters. Where we were, the danger was with the jellyfish, so we all had to wear fullbody suits (tele-tubby suits). He was acting very strange while we were playing around in the water—not responding to any of my comments or questions. I was like "What's wrong with him?" When we were away from the crowd, while we were sitting in the water, he got extremely quiet and fidgety (struggling to pull out the ring under his suit in his swim trunks). He finally pulled out this ring, a beautiful 1.3 karat princess cut Tacori-inspired ring that he had custom made, and asked "Will you marry me?", as I was too shocked to respond, he motored on to say "I take that as being a yes" and promptly shoved the ring on my finger.
This is the ring: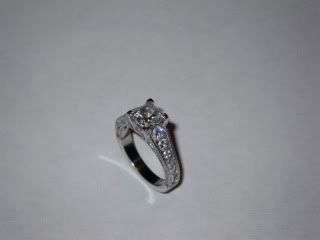 Here is one of my engagement photos by Emma Milley.
And one by my brother:
Here's to hoping the pictures work!