While searching for starfish jewelry I came across this jewelry designer named Megan Shannon who has a unique collection of jewelry, custom designed & handmade. She has beautiful starfish jewelry and other necklaces on her website:
Designs by Travelmeg - Starfish Jewelry
I am ordering some of her Keishi pearl pieces with the starfish, so far the coustomer service has been great.
Below are two of the additional pictures that she sent me via email, you can visit my photobucket album for the additional ones.
http://s1037.photobu......Meg Jewelry/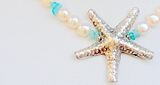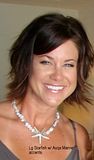 Just wanted to share my find.