I've been home sick the past 2 days so decided to take advantage and complete some more DIY projects. Here they are;
Wedding bubbles - bought these at the dollar store 9 for $1.00, created the damask labels to wrap around the bottle, used my cricut to cut the tags, cuttlebugged the tiffany blue and wrapped it around with the ribbon.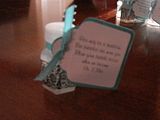 Oh Sh#t kits - bought the ziplock bags at Walmart in the craft section, created the labels using Avery mailing labels #8164 and added the meds.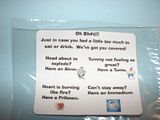 Cold feet socks - I saw these for sale on some site for about $15.00 and thought this was easy enough to make myself. Just purchased a pair of socks, and printed out the wraparound label on cardstock. I cut out the UPC code and materials info from the original label and glued it on the back. I will have these delivered to FI before the ceremony along with the budoir photo album that I am having made for him.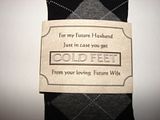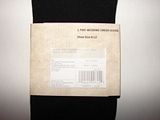 Key and Tip holders - bought the badge holders from Office Depot they were 12 for $5.49, the lanyards were purchased from Pouch-n-Coil 25 for $9.95. I used Staples matte white business cards and then glued them to the black cardstock.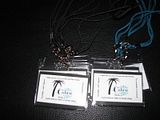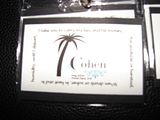 That's it for today ladies.......