Ok, so, since I have to wait another few weeks to post my planning thread, I thought I'd post what I've done so far. I have done a lot of DIY to save money for our wedding and it's paid off (no pun intended). My FI and I decided to go with a travel theme, not just because we're having a DW, but also because we met while away from home.
So get ready for lots of photos. I will say, Microsoft Publisher (comes with Microsoft Office) and a $10 paper cutter were my best friends in this whole DIY process! I made a logo and that would be carried through the whole wedding. I couldn't find one I liked, so I made one. The kangaroo represents the FI since he's Australian, and the hula dancer represents me, an American girl. We even got our logo printed on our coozies for our OOT bags, but those pics are still to come.
So, our STDs were sent out a year ago. I don't have a template for this one because I just cut the paper to the size I needed. We also put adhesive magnets on the back so people could put them on the fridge. They were a big hit.
Our invitations were passports. This way, I didn't have to send newsletters or updates to our guests as well. Saves on postage. We had all our pre-wedding activities planned by the time invitations were sent out. I just used glue tape to attach the first page to the cover and tacs to keep the pages together. I bought corner cutters from a craft store for the edges. I've had a lot of people tell me they're the best invites they've ever seen!
Front Cover: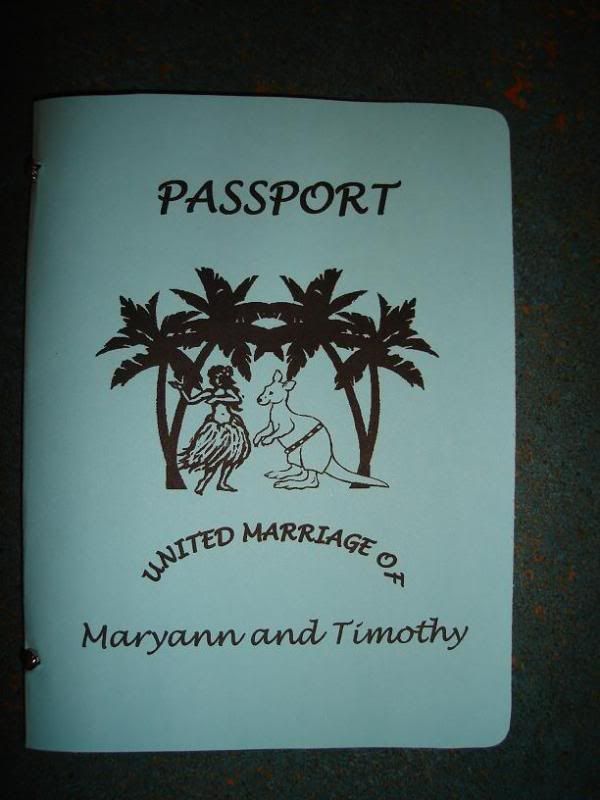 Inside page: the picture is a photo sticker I purchased from Walgreens.com:
Each page had details of different events, a map of the island, accomodation info, and other relevant travel info.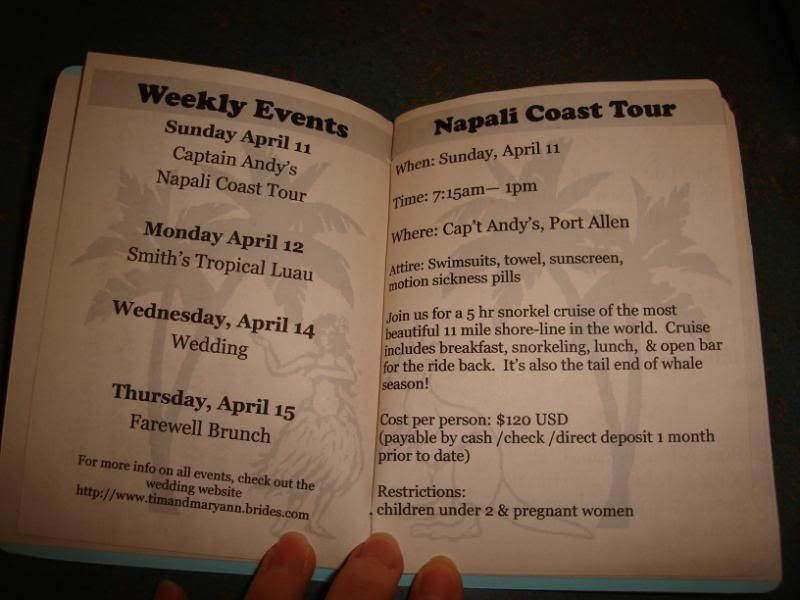 We used postcards for our RSVPs. I just went to Wal-mart and bought the pre-made Avery paper and used our printer. It helped keep track of who was coming and who was participating in which event.
Our seating cards are boarding passes. Each table is going to have the name of a place FI and I have been. There's a number there, but that's in place of a seat number. These are extras just in case someone comes at the last minute.
For the passport and boarding pass, I got my templates from
Hope this helps spark some ideas for you ladies!