The Proposal:
My DH proposed on a cruise last summer between the islands of St. Lucia and Antigua. He's the sweetest... we knew we didn't want a big wedding and our families seemed to be thinking big, so having a DW made it so we could invite whom we wanted to and not have to worry about the size. We had 64 guests and they were our closest friends and family. It was WONDERFUL
Our Travel Concierge, Michelle Thornton Sandy
A++++
When we started to look around we had no idea what to do to make it happen. We got lucky with Michelle Sandy out of Naples Florida. She works with Destination weddings.com (that's how we found her) but has her own business as well. Not exactly sure how it all works but she was so helpful, returned calls promptly, got on the Miami coordinators when they were lax (see below), helped with special requests among our guests and generally made sure that everything went smoothly.
Wedding Coordinator for Beaches (in Miami)
: C
I cant give lower than a C because everything worked out in the end but its hard to give over hard earned money to people who dont return phone calls and miss phone appointments. The WC switched about 2 weeks before the wedding, and the new one promised on her voicemail to return calls within 48hrs- which she did but we also owed them money and the day was coming up! Not a lot of love for them, made me cry a few times.
The Flights
: A
Luckily everyone made it in no problems. Some guests flew home to 3ft of new snow, but all was well. Air Jamaica gave us priority baggage for all of our bags so that was nice. They hung up my dress and my DH's suit, no problem (mon)
The bus ride:
A
Beaches is easy to find in the airport. They have a nice air conditioned waiting area with beer, coffee, drinks, snacks, while you wait for the bus, which is also air conditioned. Our driver was very nice, we brang our drinks and stopped half way for a refill and bathroom break. It was 2hrs ride during rush hour and 1hr 15mins in the early AM.
At Beaches
:
The rooms
: B+
Clean, large, air conditioned. There were sewer and heated water issues the first night but the staff were very prompt and courteous and fixed everything. Stocked bar in the room, champagne waiting us. We had an "oceanfront suite" and learned that none of the rooms are on the beach per se, though we did have a great view with balconies etc:)
The resort
: A
Beautiful. Large- it takes a good 10 minutes to walk from building 2 on one end to building 9 on the other. Pools were clean, water slides fun (one was scary because it was dark).. the beach is awesome, snorkeling easy to arrange, water trampolines fun, my matron of honor and her ex-Navy husband decided to take a little sail boat out and had to be rescued... made for a funny story. There are a few vendors around but they dont hassle, seems like they are a part of Beaches. There are jet skis to rent (haggle on price)...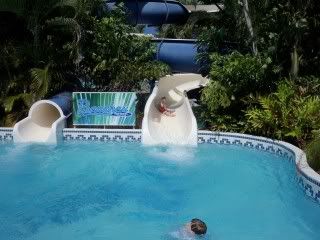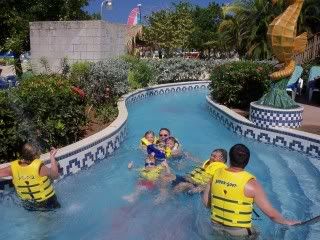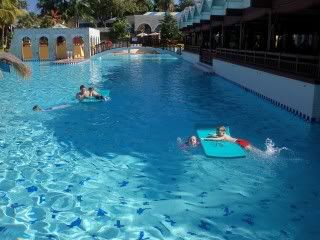 the beach beds are $150 a day and include breakfast and lunch service for 5 (although she did more). Our server was wonderful and kept us with a full cooler, ice creams for my grandparents etc.
Service:
A++++
Awesome, prompt, friendly in every interaction- can't say enough nice things about them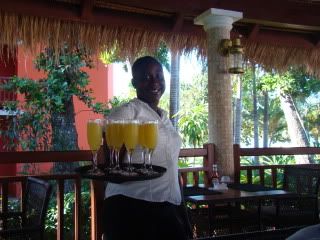 (mimosas for my panty shower- in the Mill Restaurant)
Food:
C+
Lots of variety and plentiful despite not having room service. A bit salty and oily... kind of like cruise food- the dinner for our reception everyone said was the best. This was the one disappointment of the trip (per my mom)... I honestly didnt eat that much.
more to follow...