Beaches Turks and Caicos Review- January 2010
Here we go! Sorry so long!
Airline/flights (A)- We flew from Salt lake to JFK on Delta. Flight was completely packed and frighin' HOT! I carried my dress on the plane but the flight attendants didn't say anything. SO neither did it. I decided to fold it in half and lay it in the over head bin until some little PITA kid through his suitcase right on top of it! I could have slapped him. Then I was taking it down and the flight attendant in the back noticed it, so she said "they didn't ask you if you wanted to hang that?" and I said, "No". So she said she would take care of it and that was it.
From JFK to turks American Airlines run a direct flight. The worst part of this was sleeping in American Airlines Terminal.. since the gates were closed and so was security.. we slept on the freezing cold tile floor and it sucked. But besides that I asked to hang my dress, there were no problems. Flight was practically empty. Whole rows to ourselves. We slept the entire flight there!
I wasnt worried about my dress on the way home. And we took the same route and same airlines. I just folding it and placed it up top.
I also carried my clay flowers in a duffle bag. And they made it there just fine!
Customs (A)- was easy as could be arriving and departing!
Shuttle Service to Beaches (A)- After we picked up our bags they asked if we were going to Beaches, we said Yes, we stood outside for 5 minutes and our van promptly picked us up! Our driver was "good looking marvin" and he was a trip! He gave each of us a name and a story and we had a good drive to Beaches. Which is only about 10 minutes from the airport.
Check in (B-) They dropped us off, we did NOT get drinks and cold towels like everyone else did that we saw through out the week. Not really sure why but that is ok. They brought us inside and asked which bags were ours, then told us our room number, and then changed it, and then changed it again, and then oh changed it again! We checked in and they asked for paperwork that I just had(luckily) no one ever told us to bring any check in paperwork. I just like to have everything on hand, so not sure what would have happened if we did not have it. Then they ask for you to put a credit card on your room for incidentals and purchases on property. It is cash free just like a cruise!
Our Room (A)- #366 After reading soo many reviews on TripAdvisor I was really really worried about our room. Well fear not, our room was the Grand Luxe Honeymoon King in the Caribbean Village and it was gorgeous. You do not spend a lot of time in the room. But the room was plenty big, with a huge california king bed, lots of pillows, and blankets, a tv, tile floors, a huge balcony with tables and chairs, a pull out sofa, and a large bathroom. Dont listen to everything you hear on tripadvisor.. my favorite review on there is "your obviously poor if you stay in the Caribbean Village!" HAHAHA. We could have stayed in the Italian Village but the group department manager had advised we stay close to the rest of our party. Half of our party was in the Caribbean Village and the other half was in the French Village. The french village is in the back of the resort and the area is very quiet but very nice as are the rooms!
We also had turn down service everyday, water refilled everyday in our fridge, maid service promptly, and cute towel and flower arrangements on our honeymoon nights! We also had honeymoon breakfast on Sunday after our wedding and it was really really great, they delivered everything and it was really nice!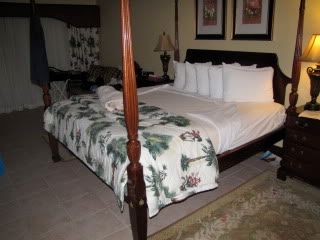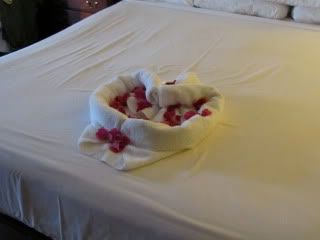 The Resort (A)- The resort was GORGEOUS!! Very very very large and spread out! Lush gardens, very tropical, and it takes a day of getting used to. But once you learn your way around, it is very easy to navigate!