Where to begin! Before my now DH signed me on to this forum, I was such A Hopeless-Bridezilla who didn't know what to do with herself! I was seriously so manic because I didn't know where to begin! After 48hrs of nonstop being a BEST DESTINATION WEDDING FORUM STALKER I seriously had our wedding planned in 1 month. My hat certainly comes off to Tammy for starting up this forum for us Hopeless-Bridezilla's (in my situation) out there!!
SO here it goes:
THE ENGAGEMENT
:
It happened Christmas '08'. The best Xmas ever! Long story short, we were running late for church, and DH goes into the garage which i thought was to feed our dog-Greyson. As they both come into the house, Greyson runs up to me with Cute Reindeer antlers on, and DH says he's wearing my gift! Thinking to myself-he's not wearing a new snowboarding outfit, I notice a box hanging from his neck, I take the box from Greyson, and as I open the box, A shiny object falls to the ground! If you can picture an adult yelling "NOOOOOO" in slow motion, like her piece of cake is falling to the ground, and a big 85 pound pitt bull thinking a treat was thrown at him, running towards the same little shiny ring. It was the funniest thing! I shove Greyson away telling him "I DON'T WANT TO WAIT 3 DAYS FOR IT TO COME OUT".. I thanked my ring bearer with a big hug, and a pet on the head.. And me we make it to church 15 minutes late! Originally, my engagement ring was on a plain white gold band. In June, we went to the Jewelry Disctrict in LA to upgrade my wedding set and to also get his band. These are our rings:
Mine: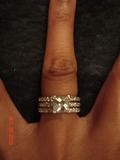 His:
My RingBearer:

THE GOWN:
I purchased my gown at Novella Bridal Located in downtown SF on Maiden Lane during the Jasmine Collection Trunk Show. In purchasing my gown during a trunk show, I received 10% off, bust to floor hem for Free, and also a Free custom Veil! Sweet Deal!
Since this is a POST Wedding planning thread, I'll show you the dress in the wedding pics.
Front:
Back and Veil:
MY SHOES:
Barefoot during the ceremony
Reception Heels & Flats:
Jimmy Choo's~in Silver
Giuseppe Zanotti in White
THE JEWELRY:
Givenchy Bracelet and Earrings
I don't have a picture of it on hand. But, my earrings were a chandelier type and the bracelet had chrystals on it. My DH gave me as my wedding gift a 1c princess cut diamond necklace to match my engagement ring, along with a pair of princess cut diamond earrings. He's such a winner! So I just had to wear it on my wedding day! Sorry. no pics yet.

THE FLOWER GIRLS:
Ordered from Weddingtutu.com. I loved doing business with them and were super fast! Pails i bought from Michaels and just embelished it with our ribbon, and orchid and a "C" pin. I purchased ballet slippers from Payless. The girls loved them!
THE RING & COIN BEARER: Shirt-Calvin Klein from Macy's, pants-Gymboree