Bought these shoes for my dress ... but the heel isn't quite high enough (if I wear a higher heel, then I don't need any length alterations on the dress!).
Plus, I wear an 8 ... and thought the 7.5 would be okay ... but it's just a tad bit too small.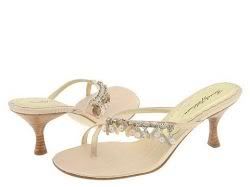 Bought them on Amazon.com for $45. Don't see them on many other websites anymore ... so they're a steal if anyone is interested. Retail for over $100.
I know Jessalyn and Sarah wore these and loved them. I do too ... but no sense keeping them if they're a tad too small fo my size 8 foot anyway.