Well I've finally gotten around to doing this. Thankfully I haven't been too busy at work (gotta love those government jobs!
) that I was able to write most of it at work. All in all, our wedding/vacation/honeymoon was fantastic and went off without a hitch! We're both extremely happy with everything and sooooo happy in love!!!!
Enjoy the review and the pics! If you have any questions, let me know and I would be happy to answer!
Travel agent - Sears Travel – C
UGH! Sears travel wasn't the problem, it was our travel agent. I don't mean to sound judgemental when I say this so please do not take offense to this. Now I want to be clear on one thing. I myself speak French and so does most of my family. Maybe only those of you who live in French communities will understand what I am about to say. Our travel agent was SO French that it made her seem really dumb. She couldn't communicate very well in English, so there were a lot of misunderstandings. Yes, we did speak some French, but as my mother (who only speaks English) and I were the main contacts, everything was in English. Both my brother and I got charged double the amount we were supposed to on our VISA's. Not sure if it was her mistake or Sunquests but regardless, it took several emails and phone calls to get it cleared up when it should have only taken one. My mother had to confirm all the hotel rooms in Toronto that she had booked. They were all messed up and she spent over an hour on the phone sorting it all out so that the rest of my family could get their confirmation numbers for their rooms. This is something that our travel agent should have had more organized. We were paying for Ken's mother who was only staying for 1 week. More than once I received emails from her stating that she was staying for 2. Dates were wrong, amounts were wrong. It was a big mess and super annoying! (I honestly think that's where I got charged double on my VISA). Anyway, these things added more stress to it all, which wasn't necessary! The thing is, we've used this travel agent in the past and everything was ok. Maybe she was having a rough time, who knows! All in all, I will not be using her again because of these things. I want stress-free dammit!! lol
Sunquest Vacations – A+
Very nice to work with! Because we were getting married, they gave us a $200 voucher to spend on their online boutique. We didn't get it until a couple of weeks before the wedding though, so we couldn't buy anything to take on our trip. We just ordered our stuff on the weekend. We also received a $500 travel voucher valid until Oct 2011. We're hoping to be able to use it next winter! These two things were unexpected and really nice gifts. The whole group also received 1 free headset and 2 free drinks for each person. Everyone loved this!! We had no problems at all during our stay and if you had any questions/problems, there were always 2 Sunquest reps on the resort at all times. We talked to them a lot, so it was really great!
Resort
Location – A+
Negril was amazing!!! I had already been to Jamaica so I knew that it was a beautiful country. If you want to see the most gorgeous sunsets, head to Negril, you will not regret it.
Room – B
I have to start off by saying that we stayed at the Riu in Ochos Rios 2 years ago, which made it really hard not to compare to as it was a bigger and newer resort than the Riu Negril. All of our rooms were oceanview in building 2, which I would suggest, especially if you have elderly or disabled people in your group. Building 3 and 4 were quite the walk to the rest of the resort. Ken and I's room was an oceanfront room (apparently our upgrade). If you stepped out on the balcony, the main walkway was right below you. It certainly wasn't private at all. You felt like everyone was watching you when they walked by. Our room (which was the upgrade) was exactly the same as the rest of our groups except that we had an actual king size bed where the others all had 2 doubles pushed together. I didn't realize at first that this was our upgrade, so when we found out that it was, I was disapointed. My cousin's upgrade in Ochos Rios was amazing and I guess I was expecting the same. I honestly would have prefered that our room be an oceanview like the rest of our group. At least that way it would have been more private. Anyway, we didn't really spend all that much time there, but it still would have been nice to have been spoiled a little bit.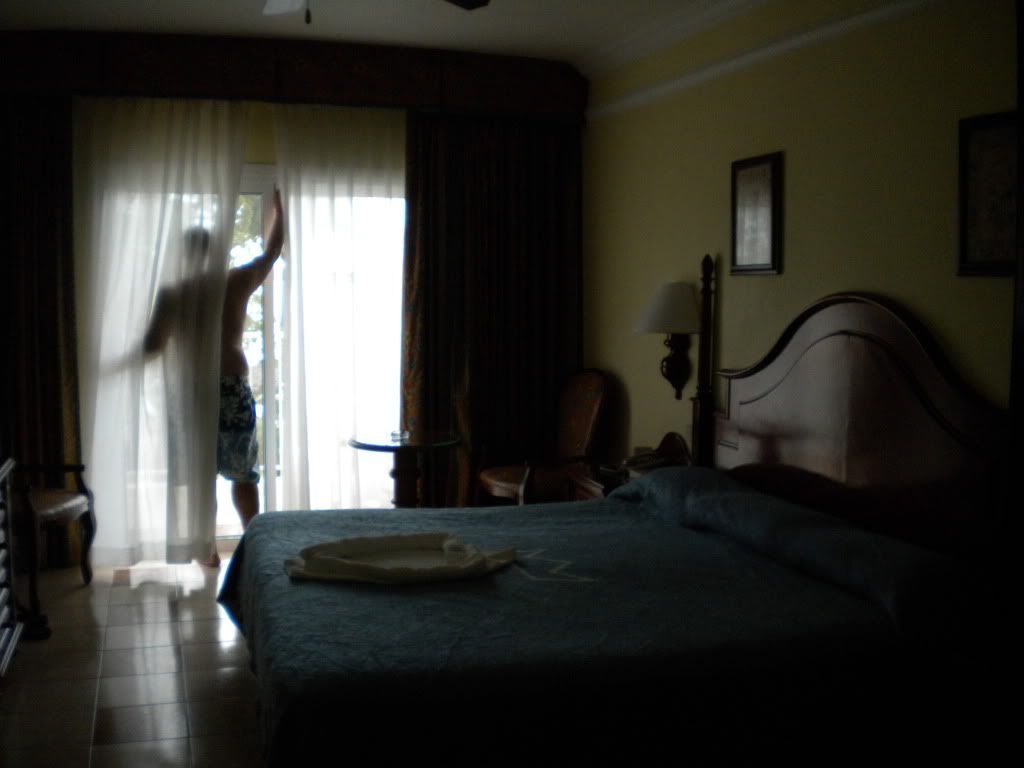 our in-room bar
more to come...