Hi everyone I wanted to get a thread going for my favorite designer...
I chose Paloma Blanca because of how I felt in her dresses and because of the fabric! The Dupioni Silk is so light weight compared to so many Satin dresses I tried on. I really could where my dress everyday and the touch of lace to the bodice was just the touch I wanted for a vintage feel to go with my personality
I can't believe I was one of those girls that chose the first dress she tried on after many Bridal experiences with friends. (Though on the hanger I wasn't impressed... it was perfect on. I chose Paloma Blanca #3802 in the Natural color, but had it down to a Paloma and Mikaella for my final choice. Here are a few pics from the dress shop and my actual dress I purchased. I cant wait to see what other Paloma/Mikaella Styles are out there!!!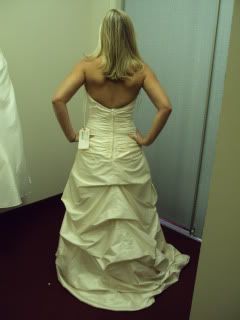 My Actual dress in Natural (Light Ivory)
Lace Bodice Up Close