So FI and I finally sat down to review everything and anything wedding related. Here it goes
! Sit back and get your
Coordinator -


Bride and Groom Table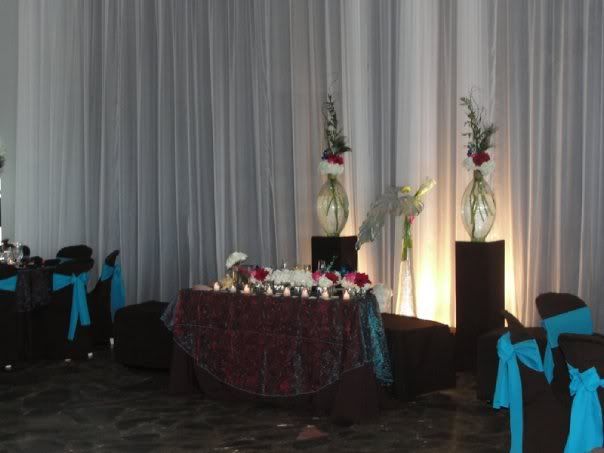 Plate Setting

**hubby made the menus and the favors are from discount mugs!**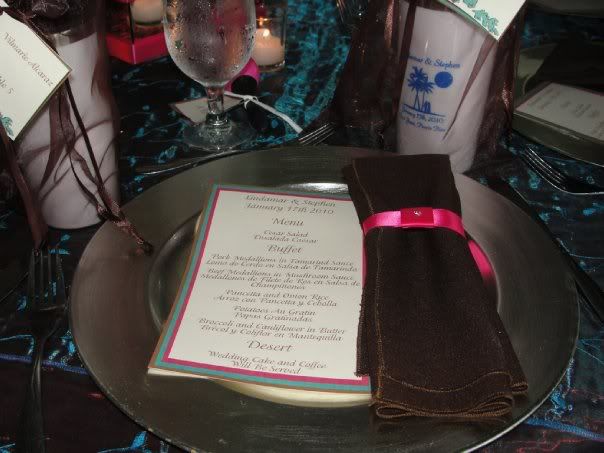 Music -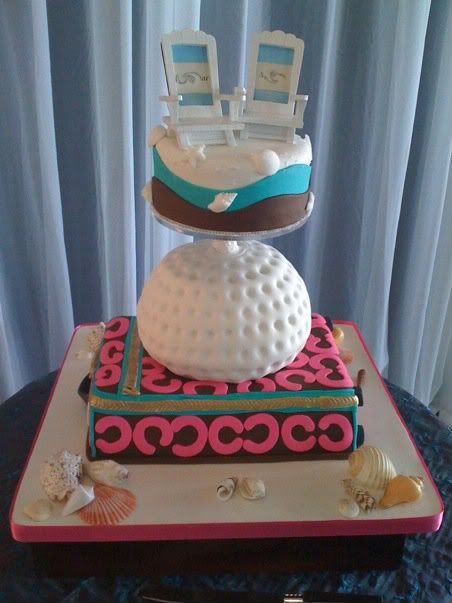 Photographer - Javier Antonio - A+

Javier, ahh how much could I even say about our photographer. This was a great experience! From the trash the dress session we had all the way to the day of the wedding! Professional to every extent of the word. We are anxiously awaiting our wedding day photos, if they are anything close to the pictures from the TTD, we will have NOTHING to complain about at all.

Limo Service - A+

The limo service we had hired was very professional and very prompt. They picked up everybody on time and in a very friendly manor. We have absolutely nothing bad to say about them. Top notch. They even stayed longer when dropping off the bridal party at the beach club due to the monsoon rain HELL that was going on outside and waited until everyone of the guests entered before escorting us out the limo.

Hair and Make up - Felix- A+

A great price, and an awesome job on every single one of my girls. This was one thing that probably took the most effort out of everything to pick, and let me tell you this... It was PERFECT! The colors, the materials and the effort put into the work was spot on. I was complimented beyond question about the makeup/hair and how we all looked. Some of the girls were a bit hesitant but after they were finished, they just looked like goddesses! His assistant and him were super QUICK to! Extremely professional to work with!

Location - Escambron Beach Club - C+

I have to say, this wasn't the best experience of all for our wedding. My husband had to have quite a few talks with the rep here, thank God he is calm and collective because somehow he gets his way on almost everything he tries to do. We had bumps and hiccups throughout the whole ordeal. From setting up a food tasting, to getting coffee for everybody set up. Even making sure we got a refund for the price difference from having the ceremony inside instead of on the beach. But in the end, everything worked out. The food was awesome, just amazing to say the least. Everybody bragged about it, and to be honest it all came together in the end. So all in all, the experience was good... in the end. But the road to get there was a bit too bumpy for me to really enjoy.

Welcome Dinner - Don Tello A+

Now this restaurant was great for both of our families to finally meet. New York meets Puerto Rico, in a Puerto Rican restaurant! They accommodated all of us and fed us till we could burst. They were supposed to close at 8pm and left the restaurant doors opened for all our family to get there. We loved this restaurant because there was a great variety of food and everybody got to have something new or the one dish they loved. Everybody bragged about the food after that night. The environment was one to chill and relax and interact. It was simply put amazing!


Overall the wedding was a blast! We couldn't have asked for a better representation of who we were as a couple and for an awesomer(yes it's a new word!) night.