Okay, so I'm looking for the perfect wedding ring, and seem to be having a really hard time doing so. I thought I might ask you ladies if you had some suggestions. I was kind of hoping for a tiny bit of bling to offset the simplicity of the ring itself, but I am not really a blingy person.
I know this picture is craptastic in quality, but it's the best I could do with my webcam.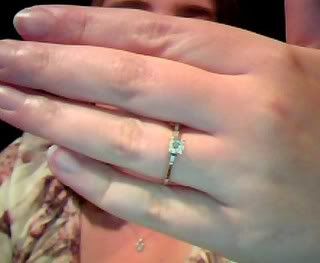 If it's too hard to tell, it's a .5 brilliant cut center stone with a baguette diamond on each side. White Gold!