Welcome To Thunderdome!
7 AM July 4th I pop out of bed thirty minutes before the alarm was supposed to go off. Having my own room (which I referred to as Thunderdome the whole trip) the night before the ceremony was a good idea so that I could get ready in my own way while not seeing Karen before the wedding. SO, out of bed and my Thunderdome CD went right into the player to start waking myself and my neighbors up to some early morning EPMD "Strictly Busines"
Hop into the shower, throw on some clothes and the Yankee hat and its off to the breakfast buffet for my last meal as a single man. Since I was in the mode of telling everyone that I saw that I was getting married in a few hours, the Maitre 'D was no exception. He made such a production of it yelling over to a waiter to "take good care of Senor Lambert, he is getting married this morning and he needs the best service possible". I don't think I ate much because I was too excited and worried about getting back to the room, I mean Thunderdome, in time to get ready. I did remember to grab a shot glass full of El Jimador Reposado Tequila to bring back to Thunderdome though.
Back at the room after telling everyone I passed that I was in the final countdown (que the bad song in your head), it was time to get ready in my very under-air conditioned room. But first.........El Jimador Strikes Back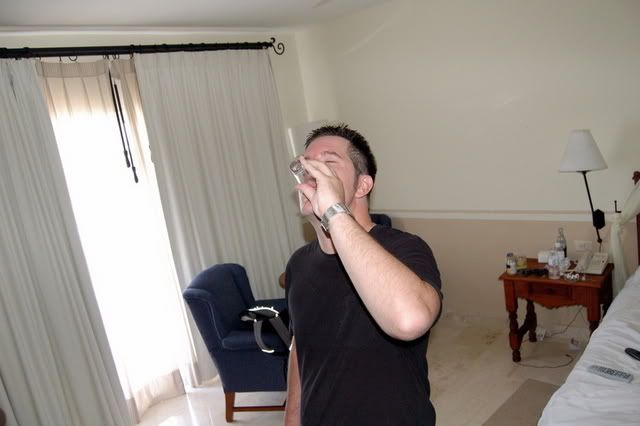 The musica returned and my neighbors had some sort of adversion to loud fast punk rock at a high volume at 8 in the morning. Oh well, today was my day.
I was ready by 9:45 like Sandra told me to be but the flowers were late. My room was overlooking the site of our wedding and I had been looking out there every ten minutes or so all morning to see if they were getting ready or not and even went as far as to leave the room to check the other site to make sure they were not setting up there. I was getting a bit antsy so I called my sister to chat for a while since I knew that talking to her would calm me down a bit and help keep my mind off of waiting. Then the call came......... flowers were here and it was time to go down to the site. I turned off the musica, put the photos of my family that I had brought with me into the inside pocket of my suit jacket right next to my heart and headed downstairs.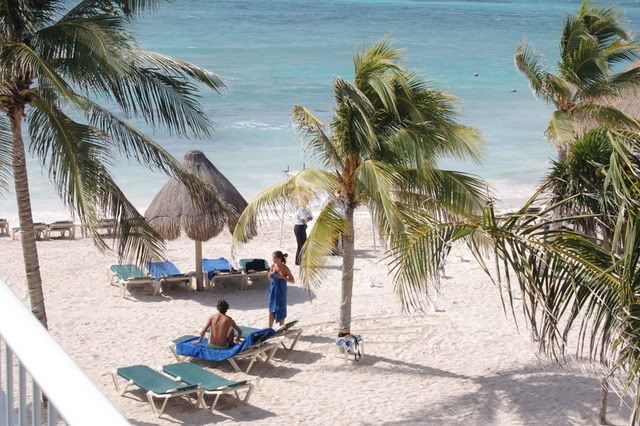 Sandra, The Judge and Juan (our videographer were down there waiting for me. I took off my shoes, introduced myself to everyone except Sandra and I immediately started to well up out of happiness and anticipation.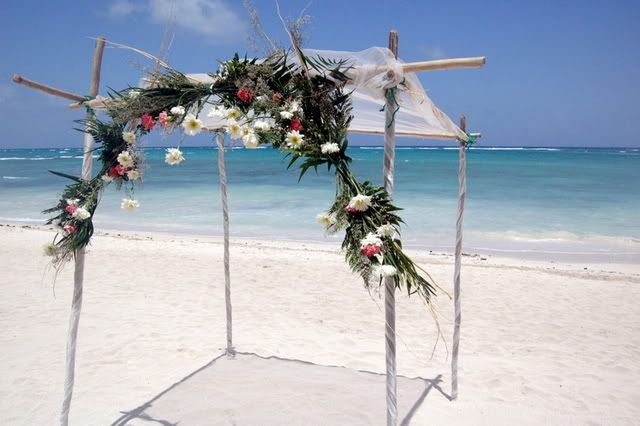 Then came one of the best moments of my life.......... Sandra said "there she is". I turned around and saw Karen for the first time that day. I was absolutely blown away. I could not believe that I was going to get married to someone that beautiful. She looked like a 40's era glamorous movie star in a wedding gown.....only better and more beautiful. She walked up and all I could manage to say was "hi sweetie, you look beautiful".
The Judge performed a wonderful ceremony giving us advice, encouragement and trying to set us off on the right foot. Until we saw the video I could barely remember anything he said except for a few things that stood out. I was just so wrapped up in being married and looking at Karen the whole time to really hear everything. And the moment when he said "you may kiss your bride", our song "I Can't Help Falling in Love With You" came on just as we kissed. There I was on a beautiful beach, with my beautiful bride and our song playing in the background. Life has a way of creating perfect moments once in a while and that was one of them.
The ceremony was followed by champagne cake and Tequila that was given to us by dear friends of ours (one of which is our favorite new member here). After all of that we did a little bit of picture time with Vanessa and Juan and before they left we got them roped into Tequila shots as well.
Then it was lunch time. Sandra arranged a private lunch in the gazebo overlooking the ocean for the two of us. I lit up the Cohiba I bought the day before and we had a fantastic lunch as a newly married couple.
The rest of the day was filled with beach time, private time and getting congrats and cheers from everyone at the resort. The Bride and Groom t-shirts might have been a subtle hint that we just got married. Either that or the ear to ear smiles we both had on our faces all day.
630 Rolled around and it was time for the surprise dinner. You have no idea how hard it was to keep it a surprise the whole time. I was so in love with the idea that I wanted to tell everyone about it but I knew that it would be better as a surprise. We headed up to Akumal right around sunset time, bought a bottle of wine and killed a few minutes sitting on a stone wall in town waiting till 730 for our reservation time. 730 came about and we walked over to the Lol Ha restaurant. Now....I had put in quite a bit of planning for this meal and I was hoping and praying that it would be everything I thought it would. It had taken emails, phone calls, money transfers, asking people from the LocoGringo forum to check some things out in person for me and a lot of research in general. It was all worth every minute of planning. We were lead though the restaurant and out the back door down towards the beach. Just as they had promised there was a tiki torch path leading to a palapa draped with linen gauze lit up by candle light and our own private table inside with a slight opening giving us a view of the bay with the changing colors of the sunset.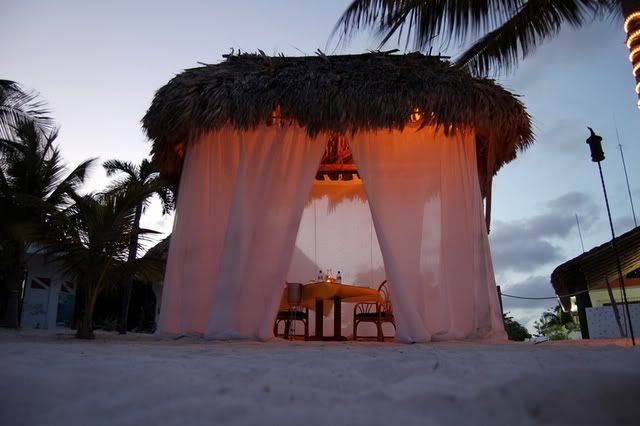 We were in our own little world there on the beach with Flamenco music adding to the scene coming from the restaurant. We ordered some amazing food. I got Caribbean Curry Chicken and Karen got the Mahi Mahi and we had out first dinner together as husband and wife. The whole dinner experience was so romantic, so amazing and everything I could have hoped for.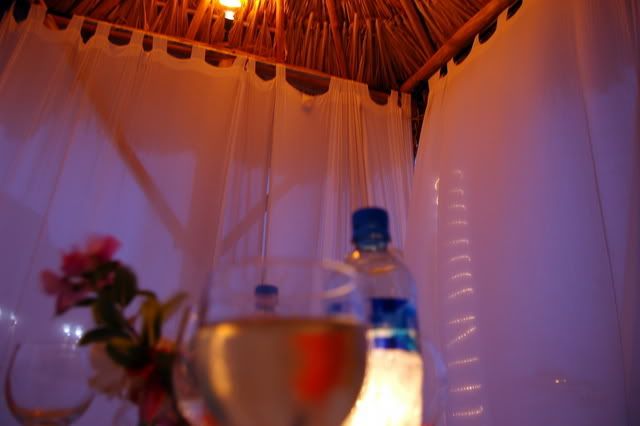 We finished dinner, had some Mayan coffee and headed back out to the rental car for the drive back to Dreams. Right on cue as we were getting into the car we saw a few fireworks going off in the distance. It might have been some Americans celebrating the 4th of July, but I like to think that it was all just to help cap off the best day of my life.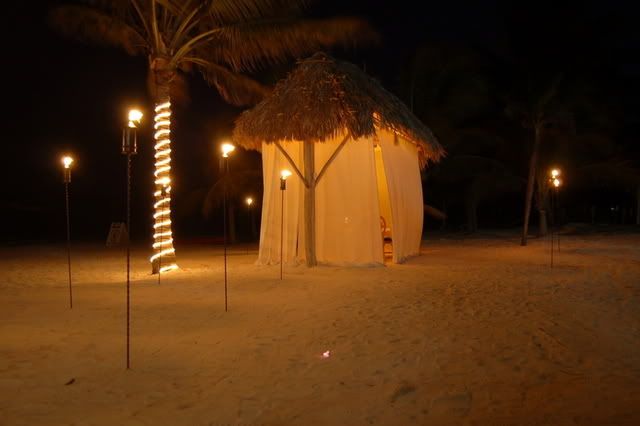 Back at Dreams we enjoyed the special honeymoon turn-down service and that is where this telling of our wedding day story officially ends.
So.....thats our wedding day story from my perspective. If I can convey even a tenth of how happy I was (and still am) I would be doing very well. As I get more time this week I am going to start up a report of sorts for the whole trip with photos and everything. For now I put a link to some of the photos of the honeymoon that we already have uploaded and the link to ur wedding album that Karen has in her posts