Ok so my fiance and I just set a date for our wedding. We reserved the Our Lady of Guadalupe Chapel at the Gran Caribe Resort in Cancun for November 20, 2010 at 10 a.m.
Our wedding date was originally set for November 20, 2010 at 4 p.m. (which is an additional $400 but we thought it was worth it) but AFTER I paid the deposit the time slot was no longer available. =/
I think somehow the week between us booking the wedding (a la carte) and paying the first deposit, someone beat us to the punch and reserved the 4 p.m. time slot.
Boo.
The venue is beautiful and although my fiance suggested we do this elsewhere in order to have an evening ceremony, I already have my heart set on this chapel. It's gorgeous.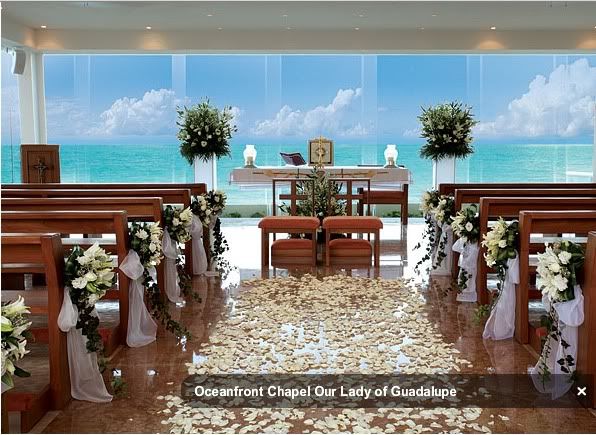 Saturday the 20th works best for us so it looks like we're stuck with the 10 am time slot. Is anyone else getting married in the morning and having a reception in the evening? Should I just have a luncheon instead? What should we do for the following 5+ hrs if we set the reception for sunset?
- Overwhelmed