Quote:
Originally Posted by becks1581

Oh man, I totally agree...that guy would NEVER let his wife hear him say that. These guys would probably have a different tune if they were the ones that had to go through pregnancy. (Although I admit that I did laugh when I read his comment).

P90X...I did plyometrics and abs last night and I'm totally feeling it today. I guess I should expect that from something called 'Ab Ripper'!

Mexbride--You're right, the Priscilla in Tyson's is pretty limited. I actually found my dress at their store in Orlando where my family lives. It was huge and amazing. I tried on a Bliss dress at Hannelore's, the organza in the dress was really light and felt great for a DW.

Here's my dress...it's lace with tulle at the bottom. Picking lace was a surprise for me: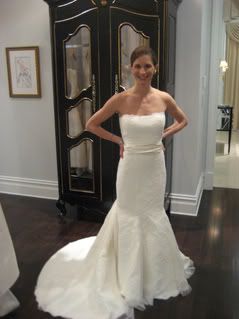 You look fabulous!