WEDDING DETAILS
Wedding Date / Time – Friday, November 27, 2009 / 3:00 p.m.
Wedding Coordinator – Valeria Vera
Wedding Package - Complimentary
Gazebo – Tucan
Cocktail Hour - Tucan Gazebo 4:00-6:00 p.m.
Reception - 6:00 p.m. – Tucan Terrace
"DH"= Dear Husband
Total number of guests including Husband and I - 45.
Total Room nights - 83 - we got credit for 7 nights and unlimited private functions. This meant that the cocktail hours (2) and the reception ($400/table) were free.
Guests staying at the resort - 42 adults / 3 child (17, 16 and 13)
Our stay - November 22th – November 29th (13 days)
Most of our guests stay – November 25 or 26 – November 29
Honeymoon – Secrets Capri from November 29th – December 4th
Photographer – Linda Wallace (from North Carolina)
Along with our parents, my sister and her husband, and my brother, we arrived on Sunday before the ceremony and stayed until the following Sunday. The rest of our guests arrived on Wednesday. This was pefect for us as we were able to spend quality time with our family before everyone else got there and we didn't end up feeling like we were spreading ourselves too thin once everyone arrived.
Overall Experience
- A++
I can't express enough how much Moon Palace did to make my dream wedding come true. Admittedly I was a tiny bit skeptical and even had an inkling of doubt when we arrived at the resort. I think I had so many expectations and like anything once you marry up reality with what you've been imagining for so long, there's an adjustment period. We had never seen the resort prior to going down for the wedding. Everything on the wedding day was spectacular and my guests (some hard to please) all want to do a reunion trip next year. By day 3 I was in love with every aspect of the resort and didn't want to leave. The only thing that was different from what I had pictured/imagined was that the gazebos (all 3 of them) are sort of surrounded by the resort rooms. If you can imagine a "U" shape with the "U" representing the rooms, the gazebo was in the center but closer to the opening of the "U". So, people could watch from their rooms if they wanted to but trust me when I say that you won't even realize/pay attention because they do such a great job of building up the atmosphere. Of course I was worried for no reason. MP made my wedding super personal and magical and sort of transformed the whole area. I couldn't have had my dream wedding without this forum. I wouldn't have mustered up the confidence to have a destination wedding without having a good sense of what I was getting myself into and that's what this forum did an excellent job of doing. So, a million thank-yous to all of you for contributing to the success of my day!
Travel Agency
We utilized a travel agency to book all of our guests' land packages. We thought this was the best way to handle payments and questions. An initial deposit of $125 per guest was required by May 15th and the final installment was due September 12th. My DH and I fronted an estimated deposit to secure estimated land and air packages, which came back to us once our guests paid their initial $125 deposit.
The land-only packages were as follows:
November 26th-November 29th (3 nights)
$576 per person based on double occupancy
$542 per person based on triple occupancy
$522 per person based on quad occupancy
$1011 per person based on single occupancy
November 25th-November 29th (4 nights)
$760 per person based on double occupancy
$716 per person based on triple occupancy
$688 per person based on quad occupancy
$1380 per person based on single occupancy
We didn't offer our guests the 7 night package because we wanted to spend time with our immediate families giving them a chance to get to know each other better.
I'm not including the land with charter air prices because they were expensive and no one went through the travel agency for their flights. Plus, we secured roundtrip flights from Chicago's ORD to Cancun for $300 over Thanksgiving so we lucked out with flight prices!
Why we chose the Moon Palace
We spent about 3 months researching resorts before deciding on the MP. We had initially ruled it out because of its size and because I didn't want a wedding factory. After comparing what seemed like every resort in Cancun and Riveria Maya, we revisited the Moon Palace and decided a resort that knows how to do weddings and had a plethora of options for our guests to stay entertained were strengths rather than weaknesses. We knew we wanted an all-inclusive resort so that the bar bill wouldn't be ridiculous and so that there wouldn't be an awkwardness about who was going to pick up the tab and finally, so that we would have flexibility about the restaurant options. Although MP is not an adults-only resort, we weren't aware of kids taking over any part of the resort. In fact, I don't remember seeing any kids at all but that's probably because we spent time at the Nizuc pool, Grandmoon pool and the Spa.
TIMELINE OF EVENTS
Wednesday, November 25
-
Welcome Happy Hour at the Roof Top Bar
in the Grand Moon Section (above the Caribeno restaurant). The bar opens at 5pm and serves sushi (a sushi bar) at 6pm. The view from the rooftop is gorgeous as it overlooks the infinity pool at the Grand Moon side and of course, the ocean. Try to get here before the sun sets to see it in the daylight and time it with the sunset. Stunning! The Caribeno restaurant downstairs doesn't take reservations but we had ensured before that they could seat a group of 35 in 3 tables of 10 and a table of 5. What ended up happening was we got 2 tables of 15 and a table of 5. We split the dinner guys and girls and had a blast. Because our tables were larger the service was understandably slower but it made for a fun and long night! Although the name suggestions a Carribean restaurant it was far from it. It seemed more modern and sleek (very new) and the food was delicious. Dinner lasted about 3 hours.
Here's the rooftop during the day. Imagine lounge seating to the left of my brother and sister.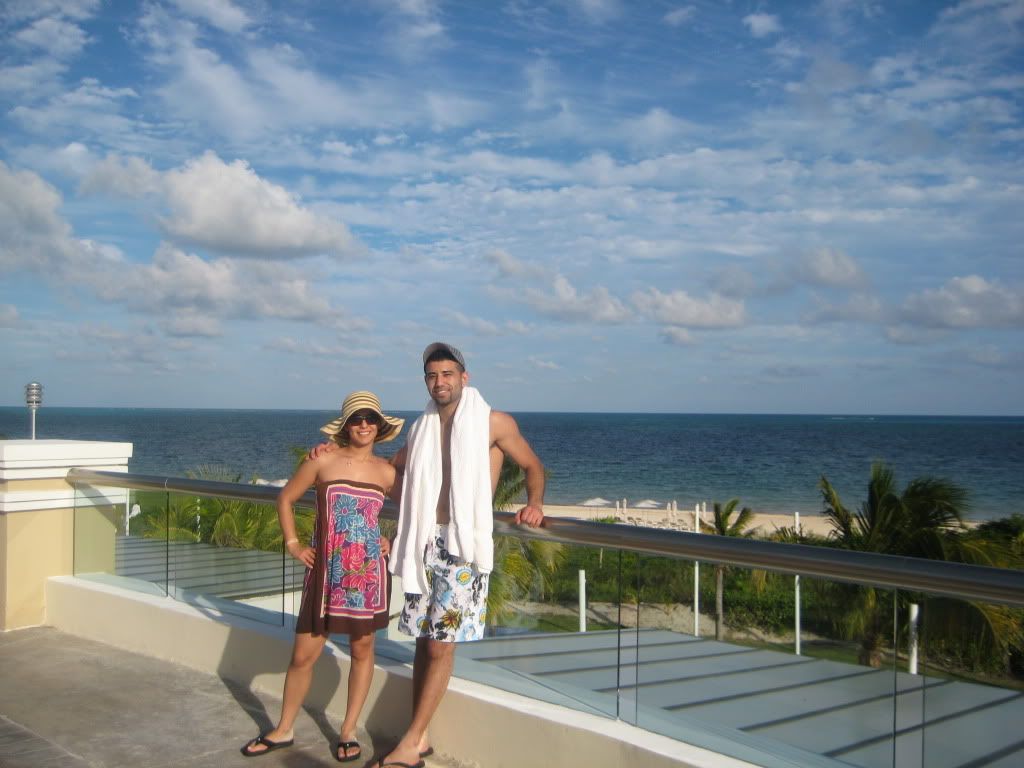 Here is the rooftop at night. The bar area also serves sushi.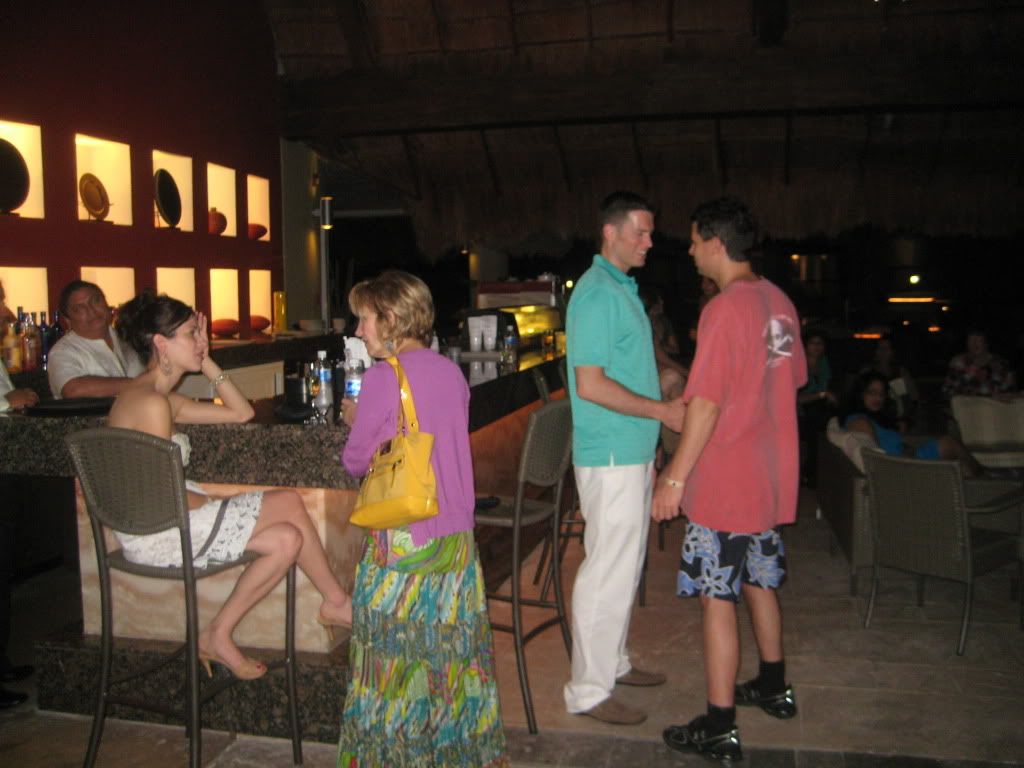 Thursday, November 26
– 10:30am-
Rehearsal at the Tucan Gazebo
. When we met with Valeria earlier in the week, we had mentioned a rehearsal and she said it was no problem to arrange. Everyone met at the Gazebo at 10:30am. Valeria walked us through the line up and within 30 minutes she put all of our minds at ease about our roles and places the next day.
This shot gives a great angle of the aisle. You can get an idea of how long it is and see how it's nestled amongst rooms.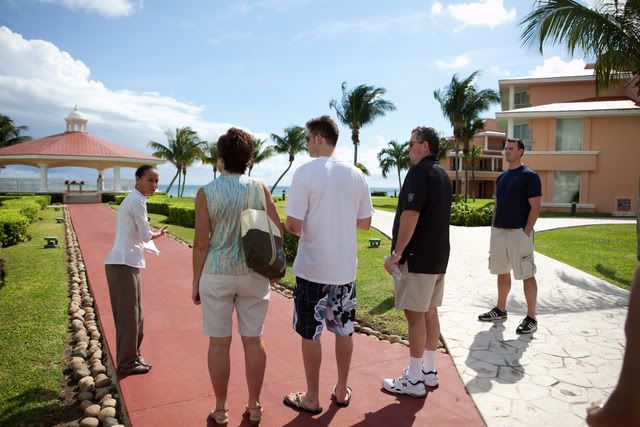 12:00pm –
Spa Day with the girls
. Each room received a $150 spa credit and $150 golf credit. Prior to going down to Mexico, I arranged a spa service for each of the girls with Reyna at the spa. There were 18 of us in total. Five girls had massages and the rest of us had manis/pedis. This was such a fun day and I kept hearing how great it was that we were able to spend time to pamper ourselves. I mean who can arrange a spa day for 18 girls?! The resort was super new, sleek and clean. The experience was incredible. I arranged for my sister (the Matron of Honor), my mother, another bridesmaid and myself to get the hot stone pedicure (lasted 80 minutes!) and the palace manicure (25 minutes). Everywhere we looked, we saw someone from our group getting a treatment done. It was such a cool experience. Everything was charged to the respective rooms. The credit is netted with the spa cost at check-out.
There are two ways to get to the golf and spa area of the resort. There's a van that runs every 10-15 minutes and goes directly from Nizuc to the spa and golf section. Our experience proved that it was closer to 15 minutes. The shuttle fits about 10 people. Otherwise, there's the lobby to lobby shuttle that fit a lot more people (maybe 25) but the drop off was at a palapa at the golf section and then a golf cart would take you to the clubhouse. The guys didn't end up using their golf credits mainly because it would only cover half the cost of a round of golf (yes, a round is $300) and because some people arrived on Thursday and golf generally keeps you with the same quad all afternoon. DH felt his time was better spent with everyone poolside.
This is a good picture of the salon at the golf and spa. Keep in mind there are 3 salons in total. The $150 spa credit can only be applied at the spa AND salon at the golf section. Therefore, we had our hair and make-up done at the golf salon so that we could apply our credit on the wedding day. We had to go to the spa two days in a row. My sister is being goofy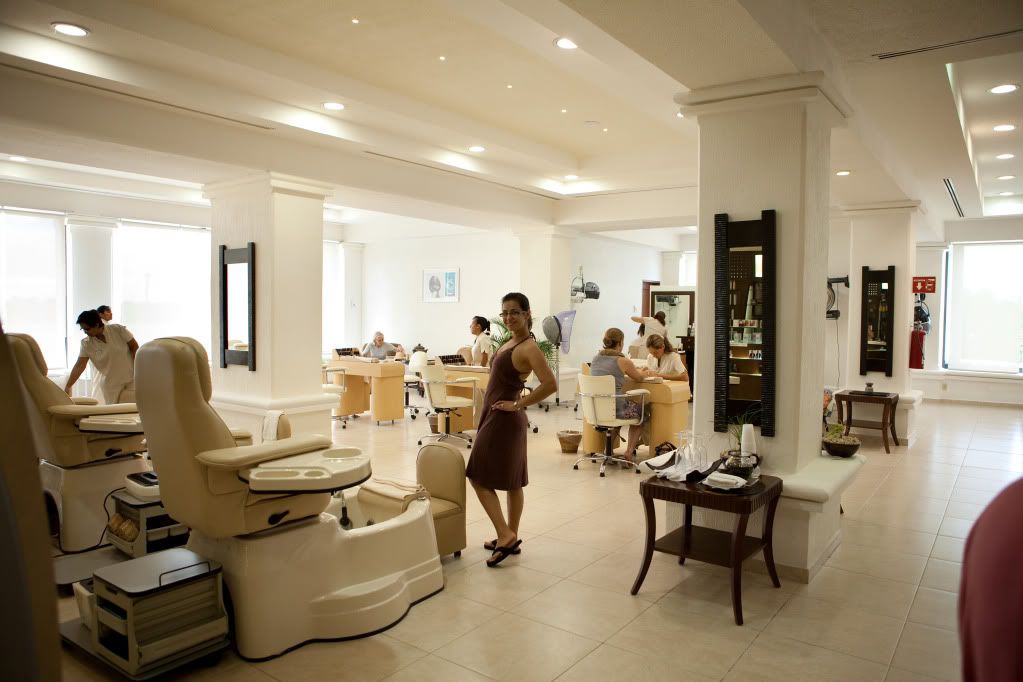 6:00pm - We used the wedding dinner as our
Welcome dinner
at the Arrecifies Restaurant (on the terrace) on the Nizuc side. It overlooks the pool area and the night we had it, they had transformed the pool area into a Mexican villiage with vendors everywhere. It was very cool to see everything illuminated below. This turned out better than imagined. They were very accommodating in seating a group of 45. They had one long table and a "head" table with Eddie and I facing the long table in a "T" shape. The food was fantastic and they even had turkey for Thanksgiving! We gave a short speech thanking everyone for coming and honoring people's birthday's, anniversaries, milestones that happened right around our trip or were happening shortly thereafter. When we called out a name, the person received a gift—they had to reach into a bag and pull it out. We had cards, Sudoku books, rubix cubes, etc. We had A LOT of bdays so that made things fun. Dinner started at 6:30 and lasted until 10:30ish. Everyone lingered at the terrace afterwards to mingle, catch-up and have a few drinks. Some went downstairs by the poolside stage for Karaoke. Our photographer arrived earlier in the afternoon and shot for an hour and a half at the dinner.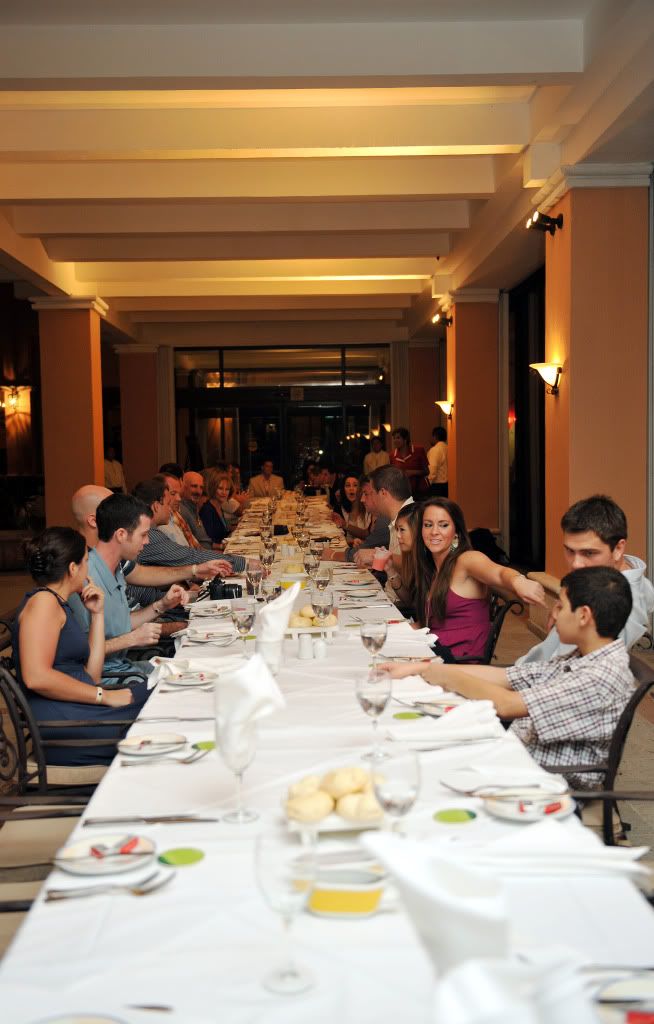 Wedding Coordinators
- A
I never spoke over the phone with any of my wedding coordinators. The initial Miami contact was Janina Mendoza. She was good but we didn't have as much communication with her other than securing the MP wedding contract. We signed the contract in March 2009 for our November 27th wedding. We signed up for the complimentary package and left a credit card on file in case of cancellation (if cancelled within 45 days of the wedding date, it's a $300 charge). This is the contract to negotiate number of room nights (75) versus number of rooms booked (25) for the unlimited private functions. We didn't highlight this difference in the contract and ultimately did get unlimited private functions but it would've been so much easier if it was agreed upon upfront. Our argument was that one of the main deciding factors in choosing the MP was this feature and we had seen the number of total nights as criteria in an email from a Palace Resort representative that I had saved and furnished. We had 21 rooms booked but 4 rooms (8 people) were booked for 7 nights so that translated to 83 nights total and we felt that should count for something.
About a month later, one of my questions was forwarded to Maribel Blancarte and I began communicating with her. She was fantastic! Her response turnaround time was a day or two and she was always very pleasant. If she didn't have the answer, she would see to it that she could find it. In May, she reserved my chose of gazebo, terrace and garden.
90 days before the wedding, Valeria Vera, my on-site wedding coordinator, was assigned to me. Valeria was INCREDIBLE but the communication leading up to the wedding was sporadic. At first I'd send emails with several questions listed but the questions became harder to ask without knowing answers to other questions. For example, I couldn't commit to a bouquet without asking if the one that came complimentarily was the same as the bouquet that showed a price in their catalogue and seemed fuller and more like what I wanted. Or, I couldn't pick out a menu without asking if they were flexible with me picking and choosing items from different menus. So, I took the lead from cutierosie77 and created a word document and laid out all of my questions organized in headings such as "ceremony" and subsegments such as "flowers", "music", "vows", etc. Make no mistake, Valeria was on top of everything. There were times when she'd turn around the word document in 2 days with all of my questions answered and as the wedding date got closer there was about a 10 day lag for the turnaround. I wasn't as worried because I had read so many times on this website that although communication might not be predictable, everything will work itself out. Plus, there are other weddings that are more pressing and take attention. The week before we left for MX, Val was on top of my questions and I felt settled.
VISA / Customs
So I had heard differing stories about people's experiences with customs. My DH and I had 5 pieces of luggage in total. 3 were for the wedding (all were checked) and we had one each for personal things. I hand-carried my wedding dress and had no problem hanging it up in the plane closet. My DH was able to finagle first class seats so that was a nice surprise!
DH wheeled 3 pieces of luggage and my wedding dress on a cart and I rolled a carry-on with wedding stuff and a luggage containing my personal things. My DH went through customs first, hit the light and got a green light. Then it was my turn, I hit the light and got a red light!! I told them that one of the suitcases I was wheeling was his (the big one with my personal things because it was so much bigger than the carry-on and had my wedding make-up, shoes, etc. and I didn't want them disrupting the organization). I was able to hand off the piece to my DH. The search was very very brief. They opened up my carry-on with the wedding contents which only contained candles and centerpiece candleholder and once they heard "wedding" quickly closed up the suitcase and let me pass. I was prepared in any case by keeping a copy of all major receipts in a binder, which I had in my big tote. I never had to furnish any receipts. Keep in mind that you can only bring $300 worth of merchandise into Mexico, which really is only flagged when you have items in multiples. It seems backwards that they'd care about bringing things into the country versus taking things out and reselling them but those are the rules! Keep you receipts and divide up the items into different suitcases and you should be fine.
Transfer
- A
Apple Vacations had a shuttle waiting for us at the airport. I had made sure that our wedding website stressed the timeshare issue. Just about everyone booked through the travel agency so they used the Apple shuttle. Those that didn't caught cabs. Again, everyone was warned not to buy into the timeshare reps at the airport.
The Resort
– A+
I cannot stress how great it was that the MP was in such close proximity to the airport. A short 10 minute ride later, we were starting our vacation. Make sure to pay close attention to the side of the resort you are being dropped off at. We had guests who caught on quickly that the shuttle was taking them to the Sunrise side and spoke up, thankfully.
Upon arrival, you are greeted by staff who give each of the women a carnation and everyone a warm cloth to freshen up. When ushered to the front desk to check-in, refreshments are served along with big smiles. Our check-in went very smoothly. The only request we had was for a room change because we were given a room right next to my future in-laws. I mean right next door and we wanted a little bit of separation so they gave us a room on the 3rd floor of the same building. The buildings consist of 3 floors. All of our guests ended up on the Nizuc side and in nearby buildings except for one. She ended up in the rooms nearest the Tucan gazebo which worked out great for us on the wedding day. Some of the girls used her room to store their bags and use the restroom. When the rest of our guests arrived on Wednesday, a couple of them had to wait for their rooms to be ready.
The lobby bar was fantastic. We ate lunch at the lobby restaurant El Manglar and sat at a table with a view of the lobby entrance to watch for our guests to arrive. After greeting our guests we waited at the lobby bar and as guests checked in, they'd join us for a drink before heading back to their rooms to unpack.
In all, the resort food was very good. We stayed at Secrets (same parent company as the Dream resorts) for our honeymoon, and I would give them 5 stars out of 5 for their food and as a comparison I'd give the MP a 4 out of 5. So, very good but just shy of excellent more so because some of the food was repetitive and I think due to the size of the resort, they are less flexible to be creative. On that note, I would say that the Italian restaurant Trattoria at the golf section was excellent. It's small and we had about a 45 minute wait but it was well worth it. It was outfitted in Miami-style all-white d©cor and it felt at times that we were dining at a trendy downtown restaurant in NYC or Chicago.
The grounds of the resort were immaculate. We couldn't believe how much detail went into the maintenance of this vast place.
They tell you to check into the honeymooners desk upon check in. We had an appointment to meet Val the day we checked in and put off visiting the honeymooners desk until day 2. They gave us each a "honeymooners" tee shirt, planned our candlelight dinner and arranged for champagne, fruit and flowers to be sent to the room. For whatever reason, we never got our champagne, etc. despite following up several times but we assumed it had to do with the room change at check-in.
We didn't take advantage of the Palace Passport but my in-laws went to Chichen-Itza. They liked it but said it made for a long day. Pick up was 8am and drop off was around 5pm. You can't climb the ruins. A few of us signed up for zip-lining for later in the week but it ended up being cancelled because it had rained all day.
Rooms
- A
Our rooms were very nice and clean. We didn't get a wedding suite of any sort and when we asked Valeria our take away was that all of the rooms on the Nizuc side are the same and that they didn't have any suites. Not sure if that's true but once we checked-in we were less concerned about switching rooms. There's a Jacuzzi in every room and I was hesitant to use it until I heard from a couple of our guests that they saw the staff clean them out as part of the regular housekeeping rounds.
Room Service
- A
This was such an amusing part of the hotel amenities. Why is it that when room service is offered, there's a tendency to take advantage of it (okay, take total advantage of it) even when you just had dinner 2 hours ago? We had quite a few guests who were on the second and first floor of our building (Margarita) and when we'd walk down from the 3rd floor, we'd see plates piled up from the night before and laugh.
We loved the quesadillas and heard that the mini burgers were amazing. Fries were a staple too.
Getting around Moon Palace
Honestly, getting around the resort wasn't as bad as I'd imagined. Yes, it's a big resort but everything is walkable. The Nizuc side was strategically located between the Sunrise and Grand Moon sides. If you imagine a triangle, the left hand corner would be the Sunrise side, the middle would be the Nizuc side and the right hand corner would be the Grand Moon side. The tip of the triangle would be the Golf Clubhouse/course. I guess it was more of an obtuse triangle with the tip closer to the Sunrise side.
There are golf cart stations scattered along the pathway by the beach for pick up and drop off. There was also a lobby-to-lobby shuttle and a van that went from the Nizuc side directly to the golf course. These ran all the time.
Nightly Shows
There are two shows every night of the week at both sections of the resort. This was a hit with the older crowd. The problem was that dinners were loooonng, especially when we ate in large groups as we did Wednesday though Saturday so making the shows were tough. Often times we would skip dessert but we always felt like we were rushing to get to them and we totally missed the Michael Jackson show. We got there at 9:50 (show started at 9) and a few of us were pushing to see it based on reviews by some of the brides on this forum…especially XXXX
Meeting with Val
We scheduled our on-site meeting with Val at 5pm the day that we arrived. We checked into our room, organized our suitcases and then called to have a bellhop help take the 3 pieces to the wedding office.
Val is good…very good. We were impressed with her efficiency and how many specifics she remembered of our wedding details. We met with her for about an hour and a half and I dropped off the following items:
1.50 palm fan programs to be distributed at the ceremony
2.Cake knife and server
3.Guest book with a picture frame containing instructions for our guests
4.4 blue candle holders/hurricanes
5.Rose petals (from flyboynaturals)
6.Seashells that served as place cards
7.Table numbers that I made to correspond with the seashell place cards
8.Tons and tons of tealight candles to scatter on each table, the guest book table and our "head" table. The resort charges $4 a candle so this saved us some money and I wanted a lot of candles. I also furnished larger candles for the 4 blue candle holders/hurricanes
9.50 chair bows and 10 table runners
The day of our meeting was a Sunday and she doesn't normally work on Sundays but said she'd meet with us because she had a wedding earlier in the day. We didn't want to take too much of her time up and we were so impressed with all of the details she remembered (ie, rose petals on aisle, white ribbon wrapped around bouquet stems). Once we highlighted the luggage contents, we sat down with her as she went through a planning list and recorded the choices we picked out for flowers, food, cake, etc. Most of this she already had in an email that I sent her so we were mainly confirming our choices and explaining/clarifying things and asking her our remaining questions.
This is when she booked our honeymooners breakfast in bed. We did it for the day before the wedding just so we could enjoy it. At the time we booked it we didn't realize how prompt room service would be so we didn't want to feel rushed on the wedding day. You can change this day so it's not set in stone when you meet with your wedding coordinator. We also arranged for our candlelight dinner with her too. If you like salmon, the salmon and eggs was phenomenal!
We probably spent anywhere from 15-45 minutes in her office each day leading up to the wedding for something or other. I was undecided about the bouquets and was leaning towards a fushia color so Valeria sent for floral samples of two varieties of pink they had. I met with her to view them and to make the decision. If any questions popped up, I would simply swing by the wedding office as it was in the Nizuc side and we'd have to pass it to get to our room anyway.
Valeria lent us a gift/card box that she put on the guestbook table.
We gave Valeria a gift of $50 at the end of the reception as a thank-you. We wish we would've given it to her the next day in a card instead but my DH and I couldn't wait to express our gratitude.
Honeymooner's Dinner
We almost skipped out on this because it was at the Arrecifes restaurant which is where we were having our welcome dinner. Plus, we wanted to dine with our family and it was my MIL's birthday. So, the plan was to have a light meal here and head over to the Mexican restaurant, Los Caporales. The menu is pre-set and of course we couldn't eat lightly. Everything looked delicious. There were about 8 tables in a roped off section of the terrace (perpendicular to the side of the terrace where they set up for the welcome dinners). It was very intimate. I think only 2 other couples showed up one of which was overserved. It was funny because the main course, a filet, came with prawn and the overserved bride exclaimed "oooo!, I've been dying for some lobster!" The service was excellent as was the food.
DAY OF CEREMONY
Salon Services – B+
Hair / Makeup - Done by Alejandro
Based on some of the reviews on here, I had requested Doris but she wasn't available on my wedding day.
I had initially signed up for hair and make-up but decided at some point that I'd do my own make-up and I made a game day decision to keep the make-up appointment to have them enhance my work. My hair appointment was first and was scheduled at 11am-12:30pm and my make-up was scheduled from 12:30-1:30pm.
My bridesmaids and my mother also had their hair and make-up done.
Alejandro used the full 1.5 hours for my hair. Once he finished my hair the first time, I loved it but wanted more volume on top. Because he had used so many bobby pins in my hair, to add more volume, he had to basically redo my hair. He took out all of the pins, added more volume and redid the updo. I got a lot of compliments and it was exactly what I had envisioned!! It did take the full time though.
Next was the make-up. I felt that Alejandro did a great job with my hair but was a little clueless about the make-up. I had gone to Sephora and bought everything I needed. (HD Make-up Forever Foundation, MAC eyelashes, Duo adhesive glue for eyelashes from MAC, HD Make-up Forever concealer, HD High Def powder, Smashbox Photo Finish primer, MAC longwear lipstick (as base), Nars lipliner, Nars dolce vita lipstick, Urban Decay eyeshadow primer potion, Lorac Posh eyeshadow to layer on top of Urban Decay, Lorac Pewter eyeshawdow to accent corners.)
I felt so bad…as he was applying my foundation, I'd take the brush from him and adjust my foundation, blush, eyeshadow, etc. I was hoping that the make-up artist would be able to enhance my work but I didn't expect to have such a hard time communicating what I wanted. Alejandro's English wasn't that good and because we were racing against the clock rather than trying to explain myself, he picked up pretty quickly that I was my main make-up artist☺ The hardest part was getting my eyelashes to stick. He wasn't sure how to do put them on. I kept telling my sister that she needed to get someone over quickly to help him because we were running out of time. It's so funny, at one point all of the make-up artists were hovered around me trying to help bring me to the finish line.
How many people does it take to get a bridezilla ready?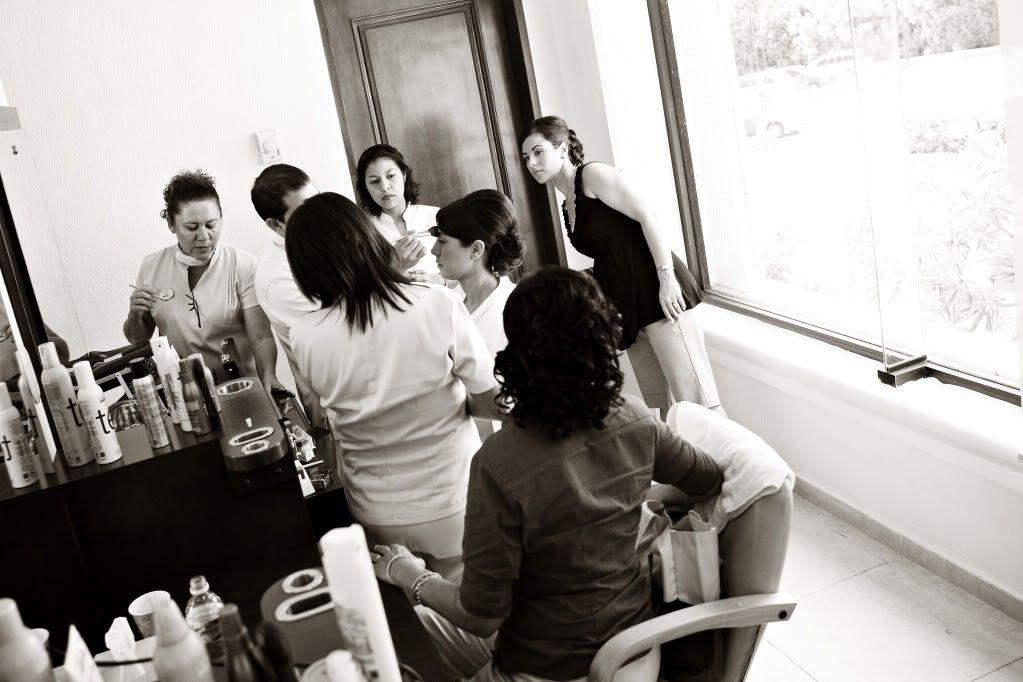 In the end, it all worked out but by now, it was 1:45pm and we told the photographer to be at my room at 2:00pm to start shooting for the day (3pm ceremony) and we still had to wait 10-15 minutes for the shuttle back. Someone was watching over us because as we bolted out of the salon, the shuttle was waiting there almost like it was waiting for us. We got back to the room at 1:55pm. The girls quickly changed into their dresses and met me back at the room for pictures.
My mom and 3 out of 4 bridesmaids loved their hair and make-up. The same artist who did a great job on my sister's make-up, did the 4th bridesmaid's make-up and it was pretty bad! We couldn't understand how the same artist could do such differing jobs. We concluded that because my sister's complexion (and mine) is darker, they knew how to work with that better than my BM's very fair complexion. The 4th bridesmaid had to wash off her make-up and redo it.
My word of advice, do your own make-up!! It's hit or miss whether it'll turn out how you want it. The people at the salon are very talented but when it comes to make-up they don't know you or how you wear your make-up typically and that's a variable that you don't want to leave to chance. If you have a friend who's good with make-up, perhaps commission her with that task. She knows what works on you and how to keep you looking yourself on your wedding day.
Flowers
– A++
So, my bridesmaids wore turquoise and I was debating whether to get fushia or white bouquets for them. I knew I wanted a burst of color in my bouquet. I polled some of the guys and they seemed to push for white for the BM bouquets but I'm so glad I trusted my gut and went with fushia!!
I told Valeria that I wanted just roses, no green foliage and white ribbon wrapped down the stems. I got EXACTLY what I wanted. I was so happy with the bouquets!!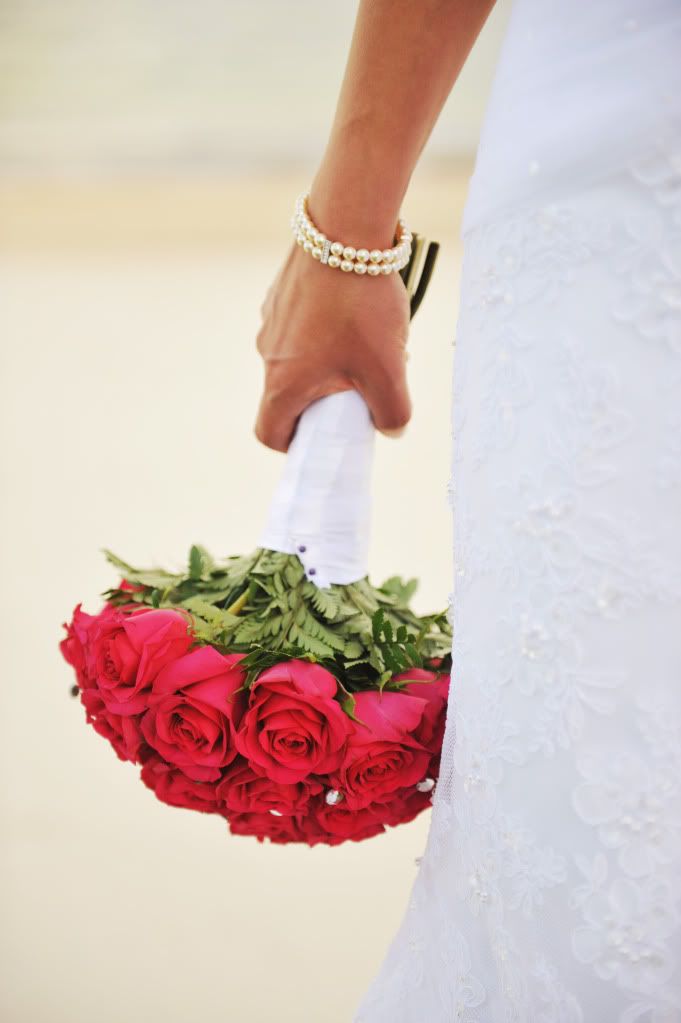 The prices at the resort were steep. My sister found a florist in Cancun that was a fraction of the cost. We seriously contemplated going with them. I asked Valeria and she said although it's against resort policy she would allow it.
Here is the breakdown of the cost differential between the resort and Cancun Flower Shop.
Qty.
Resort
Outside Vendor
Bridal Bouquet 1 $0 $160
BM Bouquet 4 $460 $280
Corsage 2 $90 $56
Boutonnieres 6 $240 $54
Delivery Charge
$0
$9
Total
$790
$559
I would've taken the complimentary bouquet and boutonniere from MP so reduce the $559 by $169 ($160 bridal bouquet and $9 boutonniere) to get a total of $390. Huge difference, right? When push came to shove, we didn't feel comfortable with taking the risk that the florist would mess up the order (they couldn't email us any examples) or that the color they used would differ from the free bouquet and boutonni¨re that came standard with the free wedding package. Plus, we figured it would be hard to coordinate the hand-off with an outside vendor considering we would have a hard time communicating with them once we were in MX. Finally, we would have to appoint one of our guests to be responsible for getting the flowers to us. In the end there were too many variables to risk not going through the resort. So, we paid the premium.
We got the complimentary bridal bouquet, 4 bridesmaid bouquets, a complimentary boutonni¨re, 5 boutonni¨res for the 4 groomsmen and my father-in-law and 2 corsages for my mom and mother-in-law. The flowers were all fushia and the corsages had white accents.
We didn't have any alter flowers and didn't think we needed them.
Carriage Ride
- A
I thought this was going to be a little cheesy. In fact one of my girlfriends passed a wedding earlier in the week and commented that the carriage seemed cheesy. However, the day of my wedding changed my girlfriend's mind and mine. It was absolutely perfect. Even the sound of the horse's hooves clicking was awesome. Everyone loved this touch. It was far better than the golf cart alternative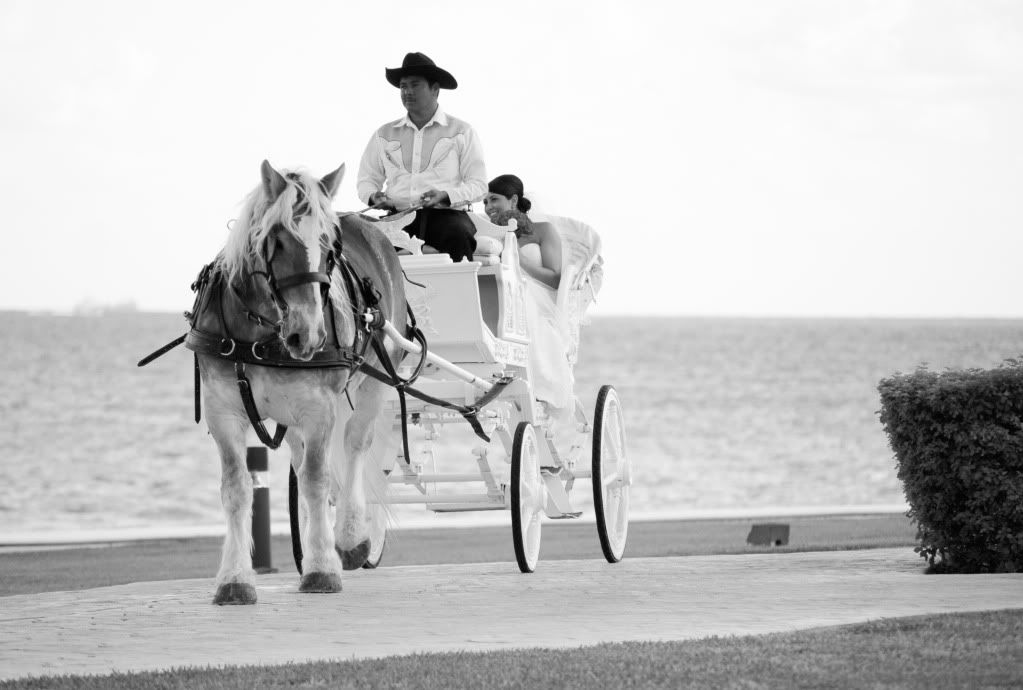 Harpist
- A
I found the concept of timing of the processional to 4 songs daunting considering I had no idea how long it would take my bridal party to walk down the aisle and how long the aisle truly was. Instead, we opted for a harpist who would be able to anticipate the songs and know the timing for the song changes. I have to admit, I don't remember hearing him other than noticing the song switching to the bridal march when it came time for me to walk down the aisle but everyone else said they loved him. My sister said seeing me coming around the corner on the carriage coupled with the harpist made her cry. When we watched the video from the ceremony I was so happy with our decision. It was a great touch! The harpist is set to play for 1 hour with a 15 minute break. So, in total you're signing up for 45 minutes. They only play for the duration of the ceremony so if the ceremony is 15 minutes, they don't play at the cocktail hour. The harpist started playing at 3pm, the ceremony started around 3:10 and ended at 3:30 so we had him for about 30 minutes.
Photography
- A++++
Potographer – Linda Wallace (from North Carolina)
Although we had heard wonderful things about the resort photographers this is where I convinced DH to splurge. We had come across Linda's pictures on another blog and one of my BM is an amateur photographer and connected me to her. She was available over Thanksgiving weekend and everything fell into place after that. She offered us 11 hours of photog time in total—8 hours on the wedding day and 3 hours to use as we wanted. Linda agreed to shoot 1.5 hours of the welcome dinner and 1.5 hours at the TTD the day after the wedding so she arrived Thursday afternoon and left Saturday morning. I told Valeria that I was bringing an outside photog and she didn't object to it. Linda stayed 2 nights which is the minimum stay for an outside vendor.
Valeria - Our Wedding Coordinator
—A++++
Valeria was incredible! We started our correspondence with a few email exchanges. They were slow at first but I quickly adopted the excel spreadsheet route so that more questions were answered at the same time and were kept organized. Thanks to cutierosie77. Whenever Valeria would give her opinion, she'd say "trust me" and I knew to do so and was never disappointed.
Videography
We commissioned one my bridesmaid's husbands to video record the ceremony. He did a great job and we saved $360.