This site has been an unbelievable lifesaver for me. Through this site, I've learnt so much and can't help but thank all of you for your ideas and words of wisdom. It was so hard not to feel inadequate, so many wonderful ideas I wanted to do it all. After months of planning I finally realized that I couldn't do it all, but what I could do, would represent who Michael and I are. Along the way, I met some great vendors who helped make my ideas a reality and also borrowed from a lot of you. I'm sorry I can't thank all of you, but please know that I couldn't have done this without you. So without further adieu, here is my thread…
Engagement:
I wanted a simply eternity band so Michael and I went shopping and I was so thrilled with the one that he presented me with on March 31, 2009. I was a bit tipsy after a night of drinking so it me a bit to soak it all in. Of course I cried!
Shower:
My mother threw us this amazing shower and had it catered. She gave out teacups with butterflies on them and wrapped them in Tiffney blue paper. It was lovely and Mike and I had an awesome time. One of the really cool gifts that we got was a money flower from Michael's mother and sister. Yes, they are made from really money.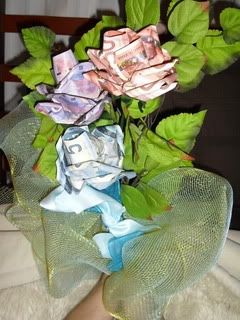 Resort:
I chose Dreams Tulum as my girlfriend had gotten married at the same resort and I fell in love with it. It's not only beautiful but the food and drinks are to die for. I asked her if she was ok with me getting married at the same resort and she was thrilled. They are coming with us and planning on having a little honeymoon!
Dress:
I wanted something really simply and had decided on another dress but my mom thought it didn't have enough bling so I went with this one. It was the right decision, of course moms are always right. It's too big on me but in the midst of being altered. My jewerally will be min and include a necklace Michael got me. My mom is a hairdresser so she will be doing my hair. I will be wearing a veil and plan on going barefoot.

I had this label made up that will be sewn into my dress. My garter was also from the same person on Esty.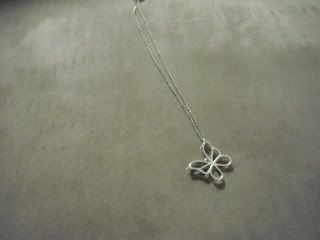 Groom:
My FI just ordered his outfit from the intranet so we're hopeful it comes in time. If not, we'll pick something up in Mexico.
Ring bearer:
My FI's nephew is our ring bearer and will be wearing this white suite with a white hat (he loves Mario Kart so the hat looks like the one Mario wears but in white)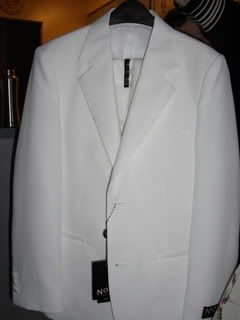 Theme:
I'm getting married on the beach and requested that all my guests wear white. Everything will be white with tiffany blue accent thrown in. The white request went over really well and all but two people will be wearing it. I told them I'd Photoshop them in white. Here is the verse that went into the invitations surrounding attire:
"As the Wedding Ceremony will be informal and casual, think in terms of "white chic casual" for the men, women and children. Vanessa will love it! Of course, Michael will love whatever his sweetie loves!"