Here's our review – it's a long one! We got married at Dreams Tulum on December 23, 2009. We were there for two weeks and loved every minute of it. I'm going to try and write a thorough review to pay back a little bit for all of the help and advice that I got from this site! This website has been so helpful - hopefully this review will be helpful for someone! We were there for 2 weeks, our guests were there for one week of that. We had a total of 30 people: 22 adults and 8 children there. Everyone loved it.
Airport: We had 6 bags because of our OOT bag contents, and went through the airport ok. We did get asked if we had "tickets" (receipts) at the scanning/customs area, so I was glad that I had stapled a bunch of receipts together (even if they weren't all for the bag contents!) They looked at them really quickly and said ok, go through – we were really happy to just walk through and not have to deal with that! The transfer to the hotel was fine, definitely get the direct transfer so you don't have to stop at a lot of places. It took us 1½ hours to get there.
Resort : Overall (9.5/10)
It is really hard to pick a place for a wedding, much less ask 30 people to pay for a vacation to a place that you've never seen in person. The last week before leaving for the wedding I had a bit of a nervous meltdown, but it was all better once we were actually there and saw it. This place is really nice. We have been to 4 other all-inclusive resorts before, and this one is the nicest that we have been to where you can also have kids be there. The food is amazing, the resort is very clean and safe, and very beautiful! We loved walking on the beach for miles without seeing anyone else, and the resort grounds are very nice with flowers and many plants. Ahh, I wish I was there now! I would definitely go back again. I gave it a 9.5 instead of a 10 because there are a few things that could be better – no hot tub outside, which we were disappointed about (but it looks like once may have been under construction), and the pools are a little small compared to some other places that we have been too. That being said, if we could do our wedding all over again Dreams Tulum is where it would be, no questions asked. Everyone had a great time and I didn't hear a complaint from anyone who was there, which does say a lot about the place.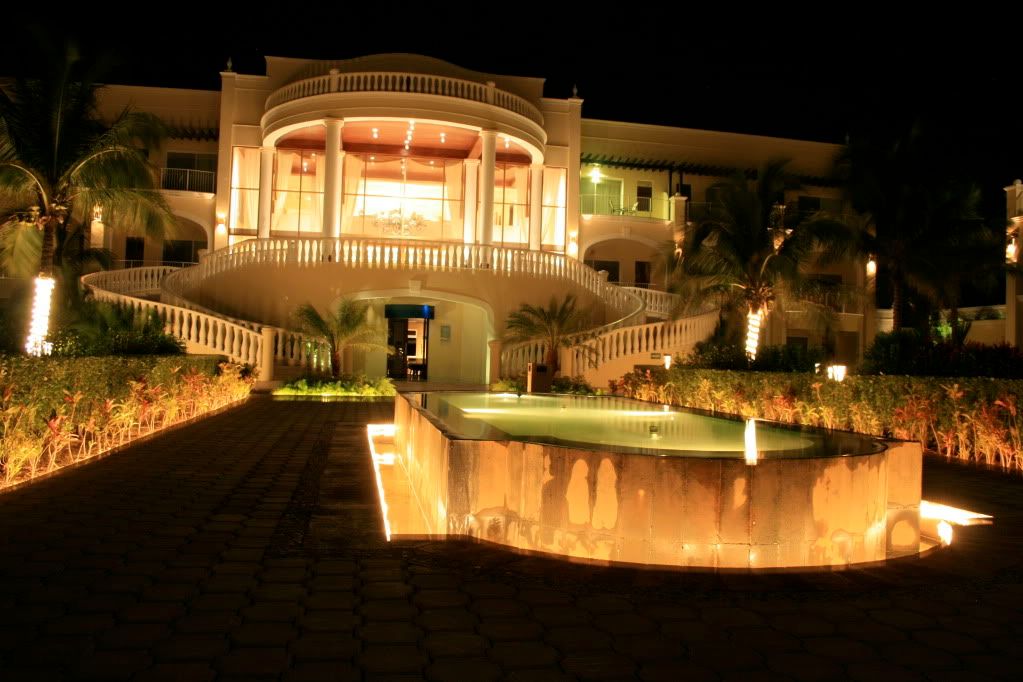 Location (9/10)
I liked the secluded location, but it was a bit far from Playa Del Carmen. We used the collectivo (public transportation) to get into Playa Del Carmen ($3-4 each) and it was super easy – just go outside of the resort to the highway and the vans come every 10-15 minutes to take you to Playa. We also took the collectivo to the town of Tulum to go shopping and eat dinner one night and didn't have any problems with it. For the bachelorette pary we rented a van to take us into playa for the day ($160 – not too expensive when split by everyone but still a little pricey). The location is great to go to all of the ruins, which we did and loved.
Rooms (10/10)
We booked an ocean view Dreams suite, which was super nice and one of the nicest rooms we have stayed in on vacation. The 24 hour room service was All of our guests were upgraded (by the travel agent, we think) to dreams rooms, which was really nice. One of the couples stayed in the hacienda style room, which they said was fine but I never saw. We had a few small problems with our room, which they came and fixed quickly. You can also call and request different pillows from their pillow menu, which I thought was nice. If you leave a dollar in the evening you get great towel art with your turn down service, which I had to take pictures of!
Service (10+++/10)
The people at this resort are so nice and helpful. Everyone always had a smile and was willing to help you whenever asked. We were really impressed with the beach and pool service – they come around pretty frequently to bring you drinks and you can even get food by the adult pool.
Food (9/10)
The food here is really good. We live in Seattle and love going to restaurants to eat, and we kept saying that we felt like we should be paying for this food. We tried all of the restaurants for dinner and they were all really good (the French was our least favorite, it was ok but not great). The sushi here is really good – we even got people who don't normally like sushi eating the sushi. And the buffet was better than I expected for an all inclusive. We ordered the room service a couple of times and it arrived in about 30 minutes and was good. We had some late night partiers who got room service at 3 am and loved it! We would have liked more chips, salsa and guacamole (it is mexico) but you can get that in the lunch served on the beach. We liked the cooking classes on the beach – the paella was really good!
Beach (9/10)
I really liked the beach here. I've heard other complaints that the ocean is rocky, which it is in front of the resort, but if you just walk down past the seaside grill it is great for swimming in the ocean. We loved walking on the beach without seeing anyone – you can walk for miles on the right and hardly see a person. There are a few empty resorts on the resort that I am hoping we win the lottery to buy.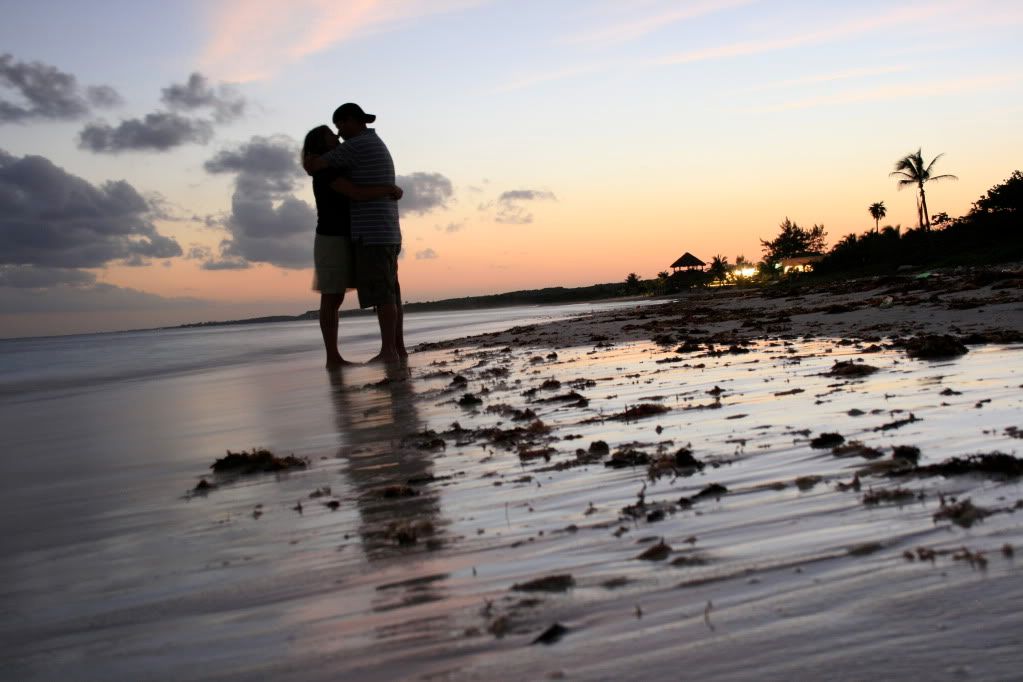 Entertainment/Activities (9/10)
This resort has more activities than anywhere else that we've been. Every night they have planned activities (we loved the firedancers and Monday night football on the beach) and all day they walk around asking if you want to do activities (water aerobics – we did and actually more fun than it sounds), Spanish lessions, cooking lessions, bartending, movies on the beach, etc. I LOVED yoga on the beach – did 3 or 4 times at 8am. It was great. And, if you have any kids coming, they all LOVED the explorer's club. They have activities for the kids from 9 am – 11 pm, and they kids all begged to go there every day. Those workers are saints for dealing with all of those kids everyday!!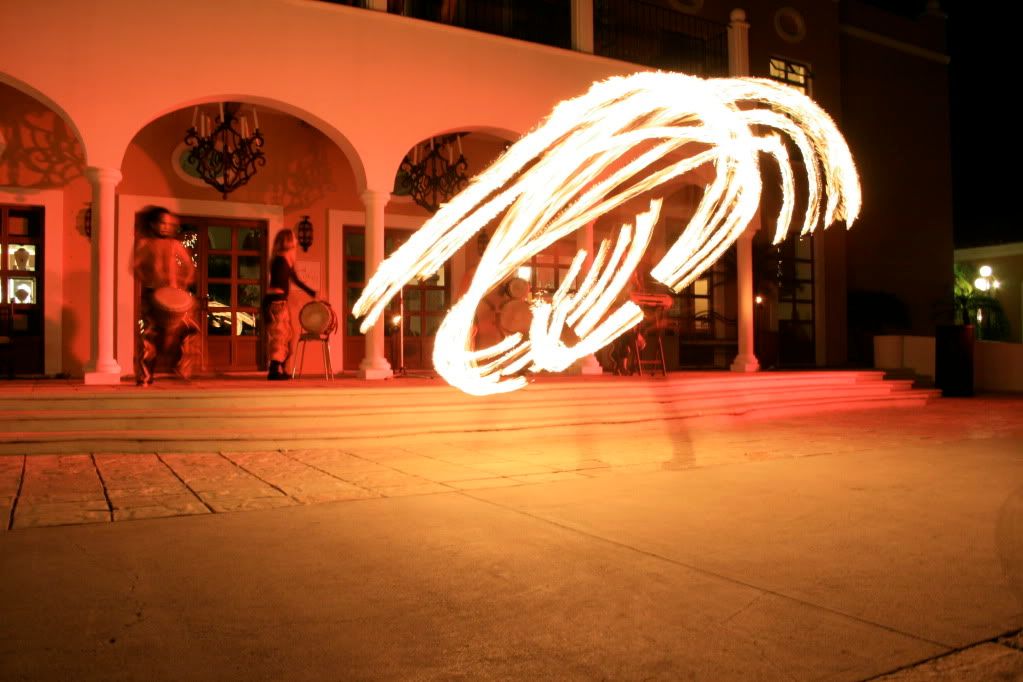 Off the resort we went to playa del Carmen twice, the guys did a Deep sea fishing trip (liked it), went to Chichen Itza, Tulum Ruins, Coba, the town of tulum for the evening, and did the "Coba Mayan Adventure" and Tony went scuba diving once. The activities were all great.
Wedding : Overall (10/10)
Wedding Coordinator (10++/10)
Natalia was our coordinator and she was wonderful. We changed our package at the last minute after reading some advice on here, and she didn't bat an eye even though I'm sure it was annoying. We gave her a tip because she was so wonderful to work with and made the day perfect. The minute you get to the resort you get a letter about when you will meet with your coordinator. Natalia was great, she met with us 3 times total and walked us around to all of the different reception sites and explained things to us. We were really impressed with her – they all work so hard!
Photographer/Videographer
I had my doubts about the resort photographer so we went with our own – Claudia Rodriquez and used Citlalli Rico. Citlialli was the nicest person, I am so glad that we used her for our day. She was very sweet and not in the way at all, and we took tons of photos after the ceremony. I really appreciated her not making us do those cheesy poses that I saw the resort photographers making others do. II'll post the photos and do a review once we get them back. We did go to the resort photographers station to look at some other pictures we had taken, and I saw some wedding photos from other couples. It is pretty mixed, I saw some good ones and then some not so good ones, so if photos are important to you (they were very important to me) I would recommend not going with the resort photographer. They may be ok, but I would be too worried about not knowing what you would get. And I thought that the resort photographers prices are outrageous – we paid $14 for one 6x8 photo – and the CD's with photos (80 pictures (which isn't that many when you think about it) for almost $1000) is pretty pricey. With the packages you only get the photographer for an hour, I think – which goes by super fast. My package with Citlalli was around $2300 for 5 hours, and you get all of the good photos. And they were wonderful to work with, it is so hard to wait for the photos!
Hair/Makeup (7/10)
I wasn't overly thrilled with my hair and makeup. Trinidad did mine (I think that she does all of the brides) and she was nice, but didn't quite listen to what I wanted. My hair turned out ok, but I think that it could have been better. She had a book to look at for makeup styles – I showed her the "more natural style" and told her that was what I wanted. My makeup was awful at first – I had to tell her 3 or 4 times to tone down the eyes (my sister has pictures of me looking like I have huge black eyes due to all of the eyeshadow). By the time we were done I liked the make up on my eyes, but it probably took 30 minutes of asking her to wipe off makeup and do more natural and I'm sure I hurt her feelings (and I felt bad!). It turned out ok in the end, but you have to be really vocal about it if you don't like it. The bridesmaids and 2 flower girls all got their hair done and they turned out fine. We were impressed by how fast all of the girls were who do the hairstyles. I paid $10 per person for the fruit, chocolate dip, cheese and mimosas and it was well worth it – it was so memorable! We loved it (other than the eyeshadow fiasco).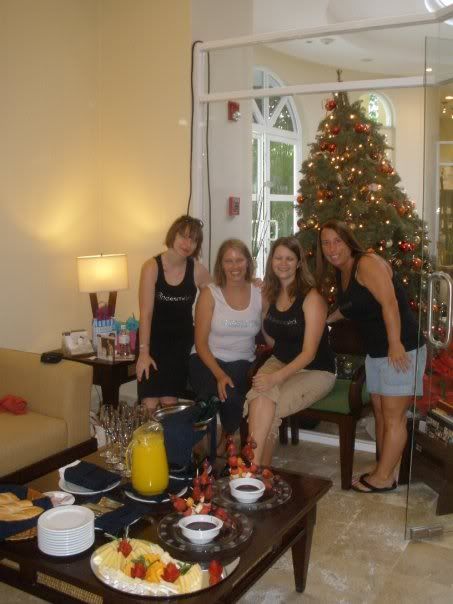 Flowers (10/10)
Our flowers were amazing. I had emailed Natalia some inspiration photos that I got from here, and they turned out even better than those photos. They weren't anything like what was in their brochure, and I think that they really need to update their brochure with more tropical flowers because that is what most people want when they go to a beach wedding. They were amazing, even more beautiful than in these photos.

Ceremony Setup (10/10)
The ceremony was on the beach beside the Seaside Grill and it was beautiful. We chose to do the symbolic ceremony because we didn't want to deal with the hassle of making it legal in the US for our medical licenses. We also wanted it to be in English and we wanted our own ceremony. The symbolic ceremony that they sent us was pretty religious, so we found our own and brought it and it was great. We also did a sand ceremony which was a nice touch. We did rent the sound system for the ceremony and were glad that we did so everyone could hear (I don't think that you'd be able to hear without it).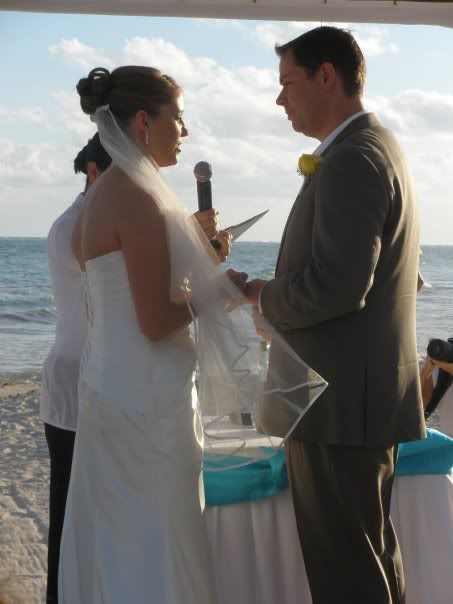 Reception and Music (10+/10)
We were there for a week before our wedding and saw lots of weddings with their setup (most days there were 2-3 weddings, some days none, and I guess it was our lucky day because we were the only one on the 23rd.) We went back and forth about the reception location. There are three basic outdoor locations – on the beach near where the ceremony is, by the dolphins at the activity pool, and at the end of the relaxation pool. We had wanted the seaside grill but was told that you must have at least 50 people to book that. We only saw one reception there while we were there for 2 weeks. There isn't much room by the relaxation pool for dancing, and we didn't want to have to deal with sand everywhere. We choose the dolphin pool and it worked wonderful for us. We had chosen a DJ (DJ Mannia) which was one of the best choices we made. The DJ was great – played really nice songs during the dinner, did our first dance, dance with parents, and then played fun dancing music afterwards. I highly recommend them if you are looking for a DJ. For our setup, Natalia hung paper lanterns that we brought ($150), we had sashes on the back of the chairs (thanks another DW bride!), 1 long table for us and our 4 bridesmaids and 4 groomsmen, and then 2 round tables that seated 10 each. It worked out great. They have nice bags with candles on them that you can rent for $2 each, and we got 10 of them to have on the ground around the setup. The setup overall was beautiful, we wouldn't have changed anything. The one thing that we noticed about this area is that both of the pool areas are pretty dark, but they have some spot lights that they turn on to brighten it up. The spotlight for the activity pool is above the pool bar, so that it shines in your faces and is pretty bright for when you are eating. Luckily our DJ saw that and asked for those lights to be turned off, and adjusted some of their lights on us while we were eating. It worked out perfectly. If you're having your reception in that area and don't have a DJ I would ask if there are some other light sources you could use (the candle's on the tables aren't bright enough to see by).
(don't have any photos but citlalli took some - I'll post when I get them)
Here's my first recommendation about the packages: look very carefully at your packages if you are going to do any add on's at all. We were going to do the most expensive package, but we had over 20 people so would have had to pay $65 per person for the extra 10 people to eat dinner, which I thought was crazy. We are at an all inclusive, and everything has paid for their meals already. I can see paying for the servers, but not an extra $650 plus tax when we'd already spent almost $3000 on a package. So we ended up going with the free package ( a last minute change which also caused me some heartburn, but worked out well in the end). We choose food from the Seaside grill menu, and paid $20 +tax per person, plus a $750 private event fee, which was fine. The food was really, really good – we got the ceasar salad, tomato soup, and filet mignon with shrimps. I'm vegetarian and got a vegetable lasagna, and the kids who wanted it got chicken strips and fries. The cake was AMAZING. We didn't even eat the "wedding cake" at the wedding – we had it delivered to our room and it was just ok. The cake that was served at the ceremony however, was so good. Everyone said that it was the best wedding cake they've ever had. It was the "three milk cake with rompope liquor" – had some time of toasted marshmellow topping and a strawberry on top. It was so good. We even went to the seaside grill at dinner a few days later that week but it was different than what they had on the menu. Oh, to have that cake again. The food was fantastic and ordering off the seaside grill saved us a lot of money. There were only two servers working to serve all of us dinner, and we tipped them because they did such a great job. I wanted to ask if my $750 private event fee went to those servers (who make probably $5 per day, but I controlled myself) ☺ After the ceremony was over we went to the pool bar and all got tequila shots, and then headed to the disco for a while longer.
Music (10+/10)
We used DJ Mannia for our reception, and were really glad that we did. To have the sound system for the reception is around $200-300, and DJ Mannia was $630. It was well worth it to us to have someone there to do some announcements, have them for speeches and to have great dancing music. They brought out some fun white balloons that got everyone up and dancing too, which was great. DJ Mania played great songs, everyone kept saying that they were really impressed by them.
What we paid: (don't forget you have to pay tax, and sometimes a service fee)
Used the wedding in paradise (Free package)
+ sound system = 150
+private party fee = 750
+30 set menus from the seaside grill = 750
+set up lanterns = 165
+20 paper bags with candles = 44
+ 4 bridesmaids boquets = 198 (45 each)
+ 1 extra boutonneir for dad = 19.80
+2 corsages for moms = 55
+2 flower petal bags for flowergirls = 33
+2 external photographer day passes (don't have to pay day passes for dj's) = 180
Total = 2405.
If we would have used the Ultimate package like we planned we would have paid 2650+ 10extra people x $65 each + sound system +lantern set up+paper bags +bridesmaid boquests +flower +petal bags + day passess = $4170.
What we didn't get was the "cocktail hour" (which is really just horsd'ovrs, they don't'provide drinks unless you pay extra for it – we asked and it would be $25 per person - everyone found their own way to a bar and got cocktails, and they were all just fine), the photographer which we didn't need anyway, the video, and the massages. To save $1800 we were fine with not getting those things, and decided that we could have at least 5 massages each with that saved money! So if you have over 20 people, have addons that you will pay for anyway, and have your own photographer, think twice about using one of the packages. Everything was perfect for us and we were really happy with how everything turned out.
Overall, Dreams Tulum is a fabulous place to get married. The wedding was everything we wanted it to be, there are great activities around there and we would love to go back. If we could do it over we would, a million times!