First off sorry this took me so long to do! I have been so busy!
FLIGHTS-B
We flew Continental down and back. Overall I wasn't too thrilled because not one flight down did they let me hang my dress up. I had to put it up top. The dress was fine but I was just PO'd because we got to the airport early like we were told, and asked them if they could help us out. Oh well. We however didn't have any delays so that was great!
ARRIVING TO CABO-A
I know I'm rating this because it is important to me. We ended up with 7 suitcases filled with wedding stuff. We gave a bag to everyone that was coming down with us on Monday. We all ended up getting to the airport at the same time, which was great! I had put in everyone's suitcase big pieces of paper that said "Getting Married in Cabo, These are items are for the wedding" We ended up having a guy come up to us with a cart and I remember reading on here that, this was the way to go. So this guy took all of our suitcases for us on there. This was all my wedding stuff except for 2 suitcases that my sister and my friend had. Well Lance was the only person in our group that ended up pushing the button, and NOT ONE BAG WAS SEARCHED. The guy was speaking to the lady at the red light green light stop and then she just sent us all through! It was great! However my sister and my friend did have there bags checked and they said that when they read the paper that I had put in they closed them up and let them go through. Just an idea! I would for sure recommend getting a guy to help though if you are bringing down a lot of bags.
TRANSPORTATION-A
Epic travel that Tammy (the host) had set up for everyone was fantastic!! They were always on time and very friendly! I believe the transportation per person was $32 round trip.
Not one of my guests rented a car! Everyone just took cabs or shuttles into town.
ARRIVING AT DREAMS-A
As soon as we arrived we were greeted by Victor who is soooo sweet! Everyone got champagne at check in and a cool towel. Right off the bat everyone loved it!
ROOMS-B
Don't get me wrong the room was nice but we didn't get an upgraded room. The room was nice, we had no bugs and it was clean. The fridge wasn't fully stocked but all we had to do was call down and they came right up and stocked it for us. No big deal at all. We had a honeymoon suite. Great view,very large deck, and walk in closet! Yes the beds are hard but they aren't that terrible. I guess with the new rooms they are getting all new mattresses!
All of our guests seemed to really enjoy their rooms as well. I didn't get one complaint from anyone! Some of them did get upgraded to bigger rooms and a couple of them did have the new rooms.
TRIP TO COSTCO-C
As soon as we got there we decided to go to costco and get all the snacks for the OOT bags. The cab ride sucked it cost us $60 but oh well. Costco was nice though inside, same as in the states. We got bags of chips, crackers, & candy for the bags! It was funny going back to dreams and getting a cart to take up 8 boxes of snacks to our room. We got some weird looks from other guests staying there!! Everyone did comment on the snacks in there bag and said that it was perfect after traveling all day or if there rooms weren't ready they had something to eat ASAP.
WELCOME BAGS OR OOT BAGS-A
Our guests loved them!! Everyone used them and all the stuff inside them.
We put inside..... Sunscreen, tylenol, peptol Bismal, playing cards, travel candle, lighter, chapstick, CD, Welcome letter, Spanish phrases, money converter, spa appts for people that had me book them and snacks.
Everyday we brought down the bags to the front desk with everyone's name on them and I also gave them a list to keep at the counter. There was no charge for this! I didn't ask anyone about it I just did it.
Here are some pics that I have, I forgot to take one of them all put together.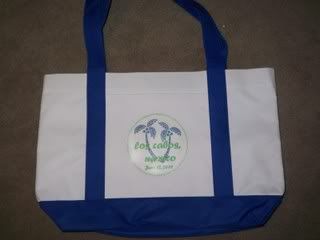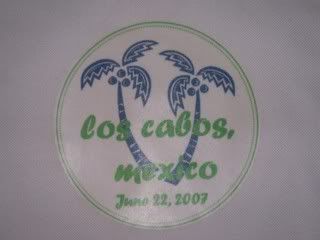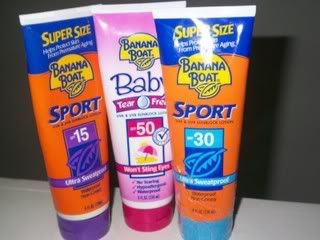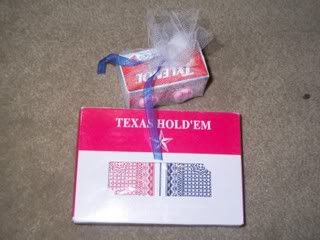 I don't have pictures of anything else but I put the candle and chapstick together with a ribbon as well. They came out really cute.
MEETING WITH VENDORS-A
I had set up meetings with most of our vendors ahead of time to go over the final details and pay them. I met with Cake, Dj, Mariana, Rev, & Juan. Everyone showed up on time! I also called my florist, Suzanne Moral & Mariachi band to confirm with them as well.
We ended up doing a trial run through with our wedding party since we had so many!! We all met at the Gazebo before the welcome dinner.
After that I took my BM's upstairs to my room and handed out there goodies.
I got them... Earrings and a broach for the dresses. Parasols, pashmina's, 1154 lill purses, cover-ups to wear while getting hair and makeup done. They were really happy with everything.
WELCOME DINNER-A
We had a Mexican Theme Dinner on the Oceana Beach. It was really private and we loved it. I gave Mariana the table numbers and the tiny paper parasols with everyone's seat assignment.
I can't find a picture yet, but I know I have one somewhere, She put the parasols in sand on a table for everyone to grab when they walked in. It was really cute. This is the picture of the idea I used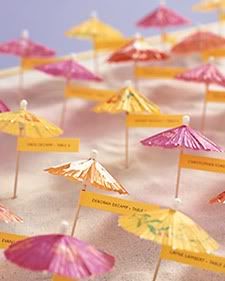 We did the Shoe parking sign at the top, it was really cute! Everyone liked it. Mariana had it at dreams.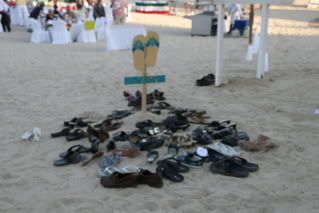 Mariana did all the decorating for it, and it came out sooooooo cute! I loved it! Here are some pics.