So I can't believe the time has finally come for my planning thread! Abe and I have been engaged for 3 years, and together for nearly 8 years, so this has been a long time coming. Abe is in a double doctorate (DVM/PhD) program, so he wanted to wait until he was closer to finisher before getting married. We actually went back and forth on what type of wedding we wanted for nearly 2 years. I always wanted a DW in Jamaica where my family is from, and he wanted a "big blow-out" (his words, not mine
) at home with all his family. Two major things happened to change his mind: (1) watching my sister & BIL spend $25,000 on their Oct 08 wedding, and (2) our Feb 09 vacation to Jamaica where he absolutely fell in love with all things Jamaica.
I have to say thank you so much to all the ladies on the forum for the creative ideas and support you have given me these last 9 months. I am not at all the DIY type, but I have been able to complete some great projects with everyone's help. Special thanks to the SB girls for always being there for me with guidance, support, and calming me down whenever I had a freak-out
There is no way I could have the amazing wedding I know I am going to have without all of you guys!
THE ENGAGEMENT
Abe proposed to me on Christmas Eve 2006. The proposal was nothing over the top, but it will always be special to me. We were at home getting ready to go spend Christmas with our families (we were not doing joint holidays at the time), and decided to exchange gifts that night. We were having a hard time financially that year, as Abe was in his second years of grad school, and I was in my first and only working part time, so we had said we were only going to do small gifts. He told me to close my eyes, and when I opened them, there was my ring! He said, "So you wanna get married?" with a big cheesy grin on his face. I was completely surprised, because even though we had gone several months prior to pick out a ring, I didn't think he had the money to purchase it. He was sneaky and had been saving up
I love the fact that we got engaged on Christmas Eve, and will be getting married New Years Eve.
OUR RINGS
My e-ring is white and yellow gold w/a 1 carat center stone by designer Simon G and was purchased at Robbins Bros. We purchased both of our wedding bands from the Zales Outlet.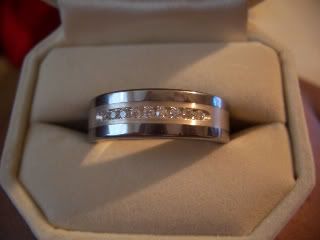 http://bestdestinati....r-rings-48615/