Hi Ladies,
Why did I have to keep trying on dresses? Somehow I have managed to purchase 3 dresses for my destination wedding next year and now I need to sell 2 of them to pay for "THE ONE"
The 2 I have for sale were bought at the Filene's famous "Running of the Brides" event in Boston in August, meaning the dresses are samples or discontinued styles, but they are NEW WITH TAGS, NEVER ALTERED, and HAVE NOTHING WRONG with them.
I will put a short description and photos of each here. As always, the pictures don't do the dress justice! Both have been stored in plastic garment bags in my non-smoking home. Would recommend a dry cleaning for each as the bottom hem is slightly dirty from trying on for pictures. If interested, email me at
DRESS #2: Unknown designer (I have been trying to find information using the numbers on the tags, but so far haven't been successful), white, size 8, with a V-neckline and deep V in the back. Satiny-type material with just a little beading under the bust. Also a zippered back. Asking $350.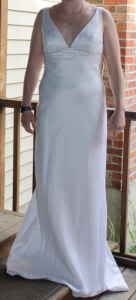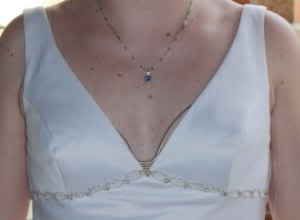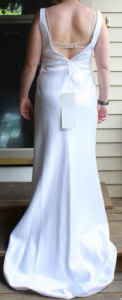 Contact me at
jonesgym01@yahoo.com
if interested. Thanks:)