This is a very long review..with lots of pictures
Travel Agent AAA Travel Lisa Siverly A+
Lisa was referred to me from a friend. She actually works in the same complex as I do. She was very friendly and quick to responsed to all my emails. We did not do a room block but put her info on our wedding website and left it an option for people to work with her. We did get a good deal for our package.
Alaska Air A+
We were very fortunate to get a direct flight to PV. On our flight we had four others traveling with us. Other were on later or earlier flights. We had 3 checked bags. Paul sister took one and paid for it for us. So really we had 4 bags. Its very pricey for checked bags, but there is really no way around it. I carried my dress and a hand carry. And Paul had 2 hand carries too. I am pretty short so carrying a dress thru the airport is a pain. Paul would carry it but he wasn't carrying it right so I would just take it back. As we boarded the plane we were greeted and asked if we were getting married I said yes and they said is that your dress. (I was crossing my fingers hoping they would notice and offer to store my dress) and I said yes. The flight attendant said we can store that for you in our closet. I was so happy! I followed him to the closet. This closet was so small. It was able to hang but we pretty much had to stuff the rest of the bottom in there. But at least it was hanging.
Our flight was not full at all. We didn't have anyone else in our row so that was nice. Half way through the flight I was alsmost asleep and the same flight attendent from earlier starts talking very load on the speaker and says "We have a couple getting married" I am half way listening and then he says "I don't really like to embarasse people but I am going too. The couple in row 21 is getting married." Then I realized that, that was us. He is walking from the front towards us and everyone is standing and looking, he is carrying a try with Champage and OJ. He congratulates us as well as everyone else. What a surprise.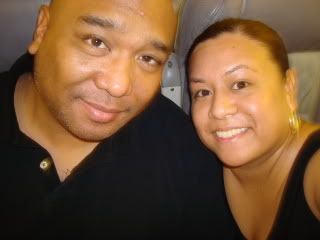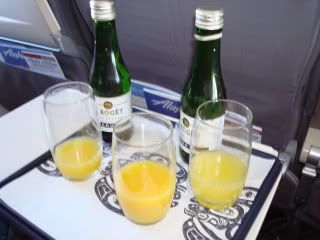 We thought it was Paul's sister that gave the drinks or my friend. But it was Alaska Air that did.
That was the start of our great wedding week.
Accommdations: Buenaventura Grand Hotel and Spa Nov 24-Dec 2 B+
We had 22 people stay with us at this hotel. Most people did EP and 2 families did AI. 6 others stayed at Villa del Palmar. This hotel was in the middle of everything. Is was an easy walk to the the Melacon. Lots of resturants near by. The staff was great. Our room was always nice. Food was good. Waiter knew our names and our drinks. The bellboys were very nice. We didn't eat there much if we did it was usually at the buffet and it was always good. Everyone enjoyed their stay there. Paul and I also had a couples massage a few days after the wedding and it was the best massage I have ever had.

MORE TO COME...