I am just now getting back into the swing of things after our wonderful Las Caletas wedding and stay at Paradise Village. To set some perspective, let me explain a little about our wedding and expectations….Jeff and I have been friends for years and were both married previously, each with children. We share many friends and have traveled with them for years. We wanted a simple wedding that celebrated our families uniting and I was well over the idea of needing "control" over the details. That made Las Caletas PERFECT!!! Kelley took my ideas and ran with them….she made it EASY for me! So here are my thoughts on both Paradise Village and LC….
Paradise Village – This place was perfect for us. In total there were 24 people at our wedding who all stayed about a week each. Paradise Village in Nuevo Vallarta offered a little for everyone. The pool and beach were amazing (the kids LOVED the crocodile slides) and the suite style rooms with mini kitchens allowed people to determine the level of "eating out" that they wanted to do. The service was wonderful and so much friendlier than I've found in Cancun or Cozumel…Quiet and Romantic – this place is not. Fun and full of family oriented stuff – it was great….exactly what we needed.
Las Caletas – One word – WOW!!!! Our day started off wonderfully. The ladies were able to meet the boat at the Nuevo Vallarta office which was about a 5 minute cab ride from our hotel. We asked for Nicole at the front desk and they sent us down to the snack bar where she met us no more than 10 minutes later. She had all of our stuff put on the boat and got us on board first. Just like everyone else, she had the spa staff sign us up for massages first so we got our pick of times. The boat ride was uneventful, one of my girlfriends gets sick in the backseat of a car, so she was nervous. She took some Dramamine and was fine. Nicole checked on us at least 3 times during the trip. As did Brad…met him on the boat ride over, what a nice guy.
As we docked at LC, we buzzed past the line waiting to take the pics with the snake and people in costume….not a fan. Nicole showed us to the Bridal Casita – it was wonderful. Much bigger and comfier than I had expected. Champagne and fruit waiting for us. We settled in and got ready for our day. Six of us getting massages had to break up into groups of 3. After my massage, strolling the beach, having a drink and lunch (which was AMAZING), Fernando and Ruben were there to start on hair and makeup.
"My makeup and hair by Fernando"
Nicole kept popping in and out and made sure we always had plenty of wine and champagne….Brad kept checking on us to. They sure know how to make a girl feel special.
About 2:30 – Nicole left with the tourists and Kelley showed up. She took over and kept us all moving. She let us know that all the guests made it to the boat (which left from the Paradise Village marina – yeah, no transportation needed!) Good news since the boys went fishing that morning! Whew!
Everyone (apparently) had a great time on the boat ride over….can't wait to see those pics! When they got to LC, Jeff went to get ready at the spa and the kids came to the bridal suite so we could get them dressed. Fernando and Ruben did the girls' hair, they felt like princesses.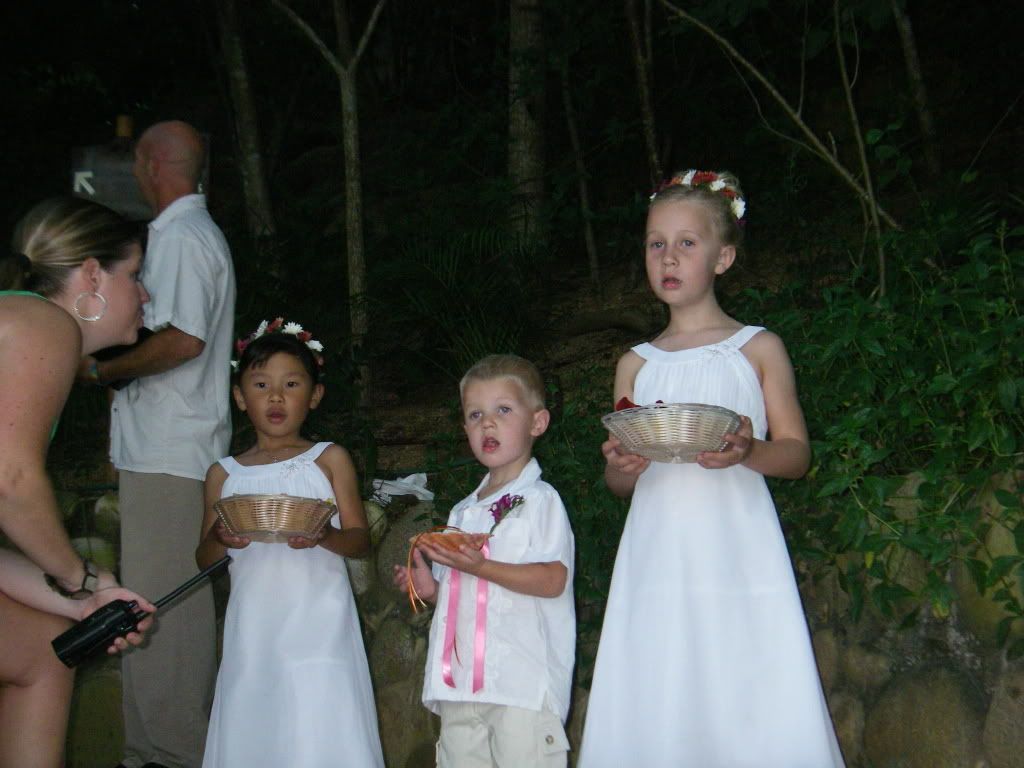 "Kelley getting the princesses ready to go"
Jeff and I decided to do some "first look" pics before hand.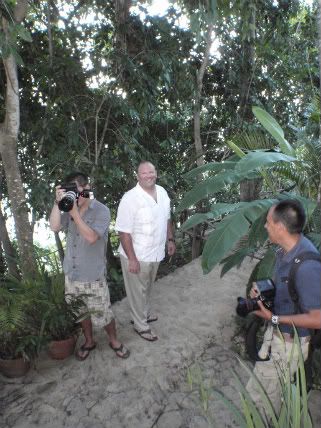 Well, the kids followed, so we just went ahead and got all of our family pics out of the way. This was good news, bad news…Good news, it was done, bad news, it was a LOT of walking just before the ceremony. All the way down to the beach and then back up again. We were all a little overheated and out of breath when it came time to walk down the aisle, especially Jeff, who can sweat in an ice storm….add a few nerves on top, voila, not exactly what you imagine for your ceremony pics….he calmed down midway through….whew!
I didn't get a chance to check anything out before the ceremony, but it was all as I had imagined….PERFECT! Kelley set everything up just as I had wanted it.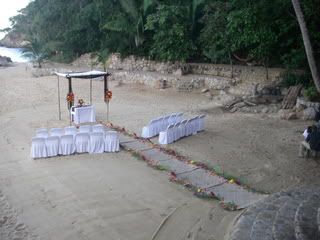 "The ceremony site"
"Our Guestbook table" - I switched from a postcard guestbook to this one I found at LC...loved it. Also we had maracas personalized, my DIY program fan as well as Pashminas for the trip home (thanks, Andi, for this idea! They were a hit!!!)
"Our Dinner Table"
The ceremony was wonderful, Brad had worked in all the family elements that I had requested. We giggled at a couple of spots, I tried to delete the word "young" from the text in describing Jeff, but it got left in…also, Brad stumbled on our last name….oh well, I still do, too. The kids were exactly what you would expect and before you know it, my son (3 years old) wouldn't sit down, so he stayed and stood with us through some of the ceremony, then when he did go to his chair, he sat and played in the sand…..Loved it! (Sorry no ceremony pics, yet, can't convince the "friends" to send those my way! Everyone's too BUSY!!!)
Didn't expect this to happen, but our friends pre-empted dinner with a round of tequila shots (apparently there were a couple of rounds on the boat over, as well)….It was great for setting the mood and I was glad they did!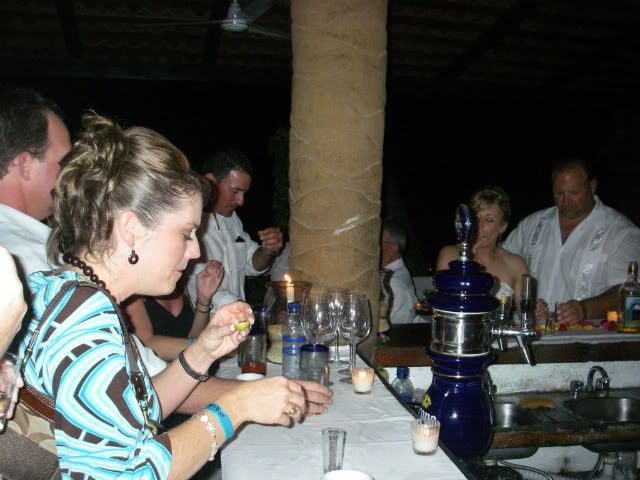 "Here we go!!!"
Dinner was phenomenal…everyone raved about the food…the general consensus is that all the desserts could use more sugar, but that was not a reflection on LC, just on pastries in Mexico in general. Kelley kept us on track with toasts, etc…I know a lot of people question to have a cake or not….I am so glad we did. First, it was Tres Leches, my favorite, quite a nice surprise. Next, love feeding cake to Jeff even if he does smear it on my face EVERY time. Third, Kelley just boxed up the leftovers and we took it back with us and ate on it for two more days, YEAH!!!
Jeff's parents found getting around LC a bit challenging. They did fine, but the walking, stairs, uneven trails, etc were aggressive for them. It worked out well, though, in that the area where our dinner was served overlooked the dance floor. So they were able to stay near the bar and watch the party on the beach.
Service – I have to say I was AMAZED by the level of service we received all day at LC. Everyone checking on us throughout the day was great, but anything we asked for was brought to us. For instance, I asked for some milk at dinner for my son. The girl at the bar told me she didn't have any but could get some. I settled for juice and moved along. Well, just as he was settling in, worn out from the party, here comes the same girl with a glass of milk for him. He was delighted and I was so pleased she thought of us!
Flowers – LOVED THEM! I only gave Kelley color ideas and ideas on amounts….she did the rest. I was not too particular about types, etc. Even got tulips in my bouquet, that Nicole explained are usually difficult to get down there…..
"My bouquet and Texas A&M garter...Gig 'em!"
DJ – very glad we did this. I had a CD of a few must have songs, and a couple of guests had some on their ipods. The DJ worked them all in! Kept us going, etc.
Fire Dancers – Surprised everyone with this! Loved it!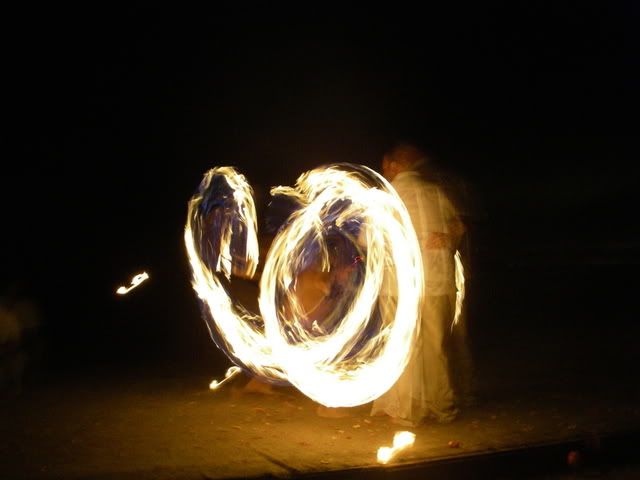 Photographers/Videographers – Ulises was our main Photographer. What a great guy! Can't wait to see what he comes up with. Kevin came on the boat with the rest of the gang. Those should be some good pics too! We did a TTD the next day with Ulises….he was great to work with! As far as the video, I have no idea how that will turn out. They were so non-descript, I did not know when they were around or not….
Extra hour – We did not add on the extra hour. This was a point of discussion for Jeff and I for a long time….we decided that the age of our kids and parents may make it a little much. In the end, I'm glad we didn't. It was the perfect amount of time for everyone. I could see some people getting antsy towards the end…they may have ninja walked if they could have, but I had them captive by boat….MUAH!!!!
So if there was anything that did not go as planned, there were only two things that I can complain about….First, the bustle on my dress. It was too dark for the girls helping to get it done properly (and we did not ask for a flashlight) so I tripped over it all night long, ugh! Second, at LC the serve Diet Pepsi and not Diet Coke…..wish I had known, I may have smuggled over a couple of cases for the day!!! All in all, it was fabulous. Planning with Kelley was a delight from the first email! She was prompt and attentive in all her responses and was wonderful the day of the wedding. I did everything through her! It was great. I did not want to have to "source" everything for an out of country wedding, she had it all taken care of….for me, LC was PERFECT!!!!