We were married 11/17 at Dreams Tulum and had a fabulous time...here is my review!
Travel/Transportation - 10/10
We booked air and land separately, as our guests were flying from all over. We flew on Delta, and had no major problems or delays, and were happy with their service. We had no problems with customs in Cancun, although the lady did stop me and ask why I had candles when my carry-on went through the scanner. I told her they were for a wedding, and she asked what other items I had. I hesitated, and said…a wedding dress? She said okay and motioned us to move forward to press the green/red light. Luckily, we got the green light, but I was prepared with receipts for all the items I was bringing in.
We booked our stay at Dreams through Apple Vacations, and were very happy with their prices and service. Most of our guests booked through Apple as well, although some were able to find cheaper rates through Travelocity and Orbitz booking land and air together. Our land through Apple Vacations included the transfers to the hotel, which actually were not as bad as I was expecting. I think because we booked air separately and did not fly on an Apple charter, we got a small van for the group of 5 of us that arrived on the same flight. We did not pay for a direct transfer, and there was one other couple in the same van as us, so we made a quick stop to Bahia Principe to drop them off on the way. It was a long drive (1 hour 45 minutes), but we were in vacation mode, and picked up a couple six-packs of beer in the airport for the drive. FYI - it is cheaper if your driver will stop at a roadside stand/store on the way!
Check In – 9/10
When we stepped out of the van, we were greeted with the customary "Welcome Home!" and were given wet washcloths immediately, which smelled great and were very much appreciated after a long day of traveling. We were escorted right to the front desk where my father and fianc©e checked us all in. The staff also promptly brought over glasses of champagne and punch for my daughter. My parents got right into their room, but our room was not yet ready. They asked us to come back at 3:00 for our room key (it was about 1:00 then). Not a big problem, but I traveled in jeans and tennis shoes and in hindsight should have gotten into my bag for a change of clothes. We just went down and looked around the resort a bit and had lunch at the Sea Side Grill while we waited. We went back up to the desk at 2:45 and got our key. We were in a Junior Dreams Suite, room 8224, and were very happy with it.
Our room: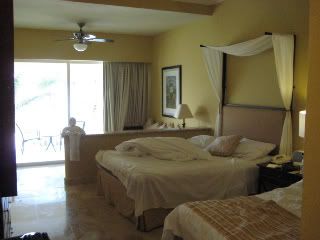 Resort – 10/10
Our guests loved everything about the resort! It was so nice to not hear a single complaint, as I was nervous about people paying so much money to come to our wedding and just wanted everyone to have fun. So if they did have any complaints, I certainly didn't hear them. The staff is just lovely, so nice. We were greeted warmly and enthusiastically by every staff member we crossed paths with. Many of our guests were in the hacienda quarters (not sure that is exactly what it is called) and they were all pleased. It was like they had their own little villas. Many thought the bidets were the best thing since sliced bread!
The entertainment staff at Dreams was top-notch. They all work SO hard, and I don't even want to know how many hours a week they are all there. They were out their doing water aerobics in the morning, pool volleyball at noon and dancing in the afternoons. Then they put on performances at night, and were at the nightclub Desires dancing at 10pm! Our favorite by far was Oscar, who was absolutely hilarious and really tried to get guests involved in the activities.
Oscar with my friend and I: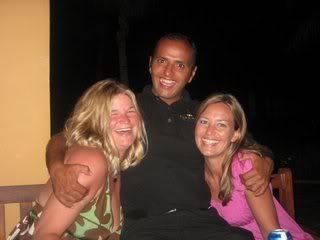 We set 6-6:30pm as a happy hour. In our Welcome Book we noted that my fianc©e and I would be at the Sugar Reef Bar each night at that time. That way everyone could meet up for dinner, make dinner plans, or just socialize. It was a nice way to know you'd be seeing everyone, as we didn't use our cell phones there (some of our guests did, and had no trouble getting service).
The beach is absolutely beautiful. My brother lives in Key West as a captain of a snorkeling boat. He took us out snorkeling a few times just off the coast, and there is plenty to see! The reef is breathtaking, and we were able to see stingrays, a turtle and many schools of fish. Two of my friends went on an afternoon walk north on the beach, and saw baby sea turtles hatching and making their way to the ocean!! Amazing!
Couple of resort pics: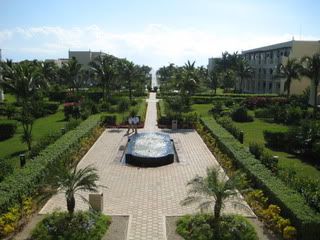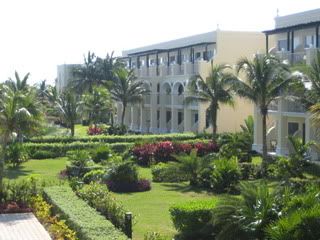 "Rehearsal" Dinner– 10/10
We had no bridesmaids or groomsmen standing up with us, so did not feel the need to have a rehearsal. It was just my fianc©e, daughter and I in the ceremony. We did however request to have a dinner the night before the wedding. So the staff set aside the far left room of the World Caf© for 40 of us, two long tables of twenty each. It was very informal, but there were a couple speeches made with no problem and it was a good chance for everyone to socialize and eat together. The staff did this at no cost, so that was nice as well.
Photographer – 10/10
We haven't received any pictures yet, so I'll add a post when we get them. We used Misti Abner Douglas of Studio Douglas Weddings and were SO happy with her service. She was completely professional, so nice, and was very good about getting the shots she needed. She told who she needed where to stand and was incredibly efficient! She is based out of Memphis, and travels for Destination Weddings. I highly recommend her! We also used her the next morning to get bride/groom shots around the resort, as we were running out of light after the wedding. And we did a Trash the Dress shoot, which I cannot wait to see. My dad and sister followed us around and took point and shoot pics with their cameras. Just those pictures turned out FABulous, so I cannot wait to see Misti's pictures!
Wedding Coordinator – Anabel – 10/10
Anabel was our wedding coordinator, and she was just lovely. A breath of fresh air. I was a very laid back bride, and not really picky about a darn thing. She was so on top of everything, and made the wedding run better than I ever expected. I was a little skeptical, as like many brides I did not have much communication with the WCs before we got there. Once you are there, it is easy to see why they take so long to respond via email. They are never in their office!! There are literally two to three weddings a day, in which the coordinators manage every detail.
When we checked in on Friday, we got a letter from Anabel asking us to meet with her Saturday morning at 10am. In this meeting, we went over all our choices for flowers, dinner, etc. She had another appointment coming up, so asked us to come back Monday morning to sign the contract, drop off the wedding supplies and pay for the wedding. When we dropped off our stuff Monday, she had to meet with another couple, so asked if we could come back to pay on Tuesday. Our wedding was Tuesday, so just my fianc©e met with her to pay. The night of the wedding when we returned to our room, there was a voice message from Anabel letting us know that she made a mistake on the contract and had charged us for ten less meals than we actually received. So we had to go back the day after the wedding to pay for an additional ten meals. I then looked over the contract and realized that she did not subtract the deposit we had already paid when we reserved the date. So I am glad I went with and actually looked over the contract.
*If multiple weddings a day is a problem for you – this is not the resort for you! We were at Dreams for six nights and saw at least two weddings a day, and three each on Friday and Saturday.
Wedding Ceremony – 10/10
Gorgeous. Everything about the day was perfect. We luckily were blessed with perfect weather throughout our trip. Our wedding day was no different. I woke up to sunny blue skies, and it remained throughout the day. The previous four days of our stay, at about 3:30pm every day the sky would cloud over and it would remain overcast the rest of the evening. The day of the wedding however, it never clouded over, and the sky was just beautiful.
I got ready in my room with my mom, daughter and girlfriends. My friend who cuts and highlights my hair came with on our trip, so she did my hair, and my sister did my makeup. As a wedding day present, she gave me this huge bagful of MAC makeup, so we tried out some new stuff, which was scary but ended up looking awesome. Use fake eyelashes! Anabel dropped off my bouquet at about 2:30 along with the flower girl petals and corsages for our mothers.
We had our ceremony at the arbor off to the south of the Seaside Grill. All the guests were to meet at the Seaside Grill at 3:40-3:45, and another wedding coordinator worked with Anabel to make sure everything was in order. Anabel escorted my daughter and I down to the beach at 4:00, and let us know when to start our walks down the aisle.
They had sprinkled petals down the aisle already, and the aisle was lined with lilies & greenery. We did not decorate the gazebo, aside from floating orchids along the back. I brought with 40 chair sashes, which they assembled for us at no charge and moved them to the reception afterwards.
The night of the wedding, we returned back to our room with rose petals everywhere, the bath drawn with more rose petals floating. We received room service the next morning, but were a little too hungover to appreciate it!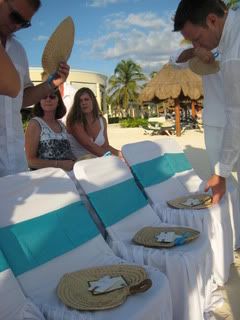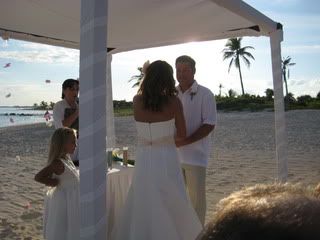 Reception – 10/10
We had our reception at the Seaside Grill, and everything was wonderful. After the ceremony, we had pictures taken on the beach. Our guests then lounged around the Manatees Bar (pool bar) and had cocktails and mingled until dinner was ready at 6:30.
Dinner was fantastic! We had ceasar salad, cream of tomato soup, and surf & turf (shrimp and new york strip steak) for the main course. I thought it was the best meal of the entire trip! They then served tres leches cake for dessert, which was soooo good. We cut our cake after dinner, and no one ate a single piece!!! Not even us. We have a picture of feeding each other a lick of the icing, but that is it. So I have no idea if it was good or not, but I'm glad we just took the cake that came with the package and did not pay for extra.
We brought our Bose Sound Dock for the reception, which was plenty loud enough for our group of 40. Our guests were able to give speeches which were easily heard without the need for a microphone.
We used the Wedding In Paradise package, which is the free wedding package. We rented out the Seaside Grill for $750 and paid $20 per person for the meal. We decorated the restaurant with paper lanterns, and were charged $100 for the setup. Other than that, our only additional costs for the wedding were for the corsages, rose petals and sound system for the ceremony. Very reasonable!
We finished up around 10pm at Seaside Grill, and much of our group headed over to the nightclub, Desires, where we danced until we were all dying of sweat. I think we called it a night around midnight.
Honeymoon – 10+/10!
We left Dreams the Thursday after our wedding, and went to Secrets Maroma Beach for five nights. It was absolutely amazing. It was so nice to unwind after a week with friends and family. The resort was beautiful, new, and the service was perfect!
Sorry if this is really long! It feels like there was a ton more I could have said, so please let me know if you have any questions!!