Hi Ladies
We are back and we had a fantastic time got back yesterday and now only have 5 days till we move to Australia but I wanted to get my review done.
We booked with Sunquest and flew with Air Transat 25 people from Edmonton and 3 from Toronto. Flight went pretty well other than the fact that my Grandfather is in a wheelchair and my Aunt spend lots of time on the phone with Transat making sure he had a seat with lots leg room and how all the transfers would go and well he was stuck in a normal seat BUT all the way at the back so they had to push down the entire plane on this little baby wheelchair smashing is arms and legs on the way and when we got to Punta Cana they said they had a good way to unload him turns out they just use this shaky version of a stair chair and go step by step down the shaky ramp my Aunt was at the bottom crying cause she was so scared they were going to drop him so I was not impressed there were much better options for getting him on/off the plane and where he sat. We talked to the Sunquest rep. At the hotel and the return was a little better. We stayed at the Majestic Colonial in Punta Cana.
We arrived late on the 12th check-in went pretty smooth although they told me all the rooms were together and well they were not they were close but we had people on all floors and my Grandparents were all the way on the other side of the resort from everyone else kind of funny and they told us we had no room upgrade but when we got to our room if that wasn't an upgrade I would sure like to know what is ha-ha we got 2410 a 1 bedroom suite with pool view great room and view! The next day we met with Yadilis at 10am there was a letter in our room telling us what time and where. We took everything we brought and gave it to her cake topper, table decorations/centerpieces, ribbon and such told her what I kind of had in mind but to just make it look good. I had to be at the Spa at 11am as I was the Maid of Honour at my friend's wedding at the Elegance that day beautiful wedding and resort.
Our wedding was on the 16th my girls stayed in my room the night before and we ordered room service for breakfast (was free for bride and groom) and then did our own hair and makeup. I had my hair done at the Spa for my friend's wedding and it was horrible so my cousin and roommate did mine and it turned out fantastic and held all day and it was only half up. My girls each helped each other do their hair and looked great. I was told to wait in my room and have all our guests meet Yadilis at the Beach bar and she would show them where to go them come and get me so we waited and waited and finally at about 3:10 she called and said she was waiting down there for us. So late start but not a big deal! It was so hot that day and we had the Beach ceremony but thankfully windy which helped. Ceremony was only like 15-20mins long and went well not too many randoms in speedos!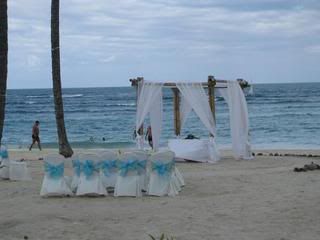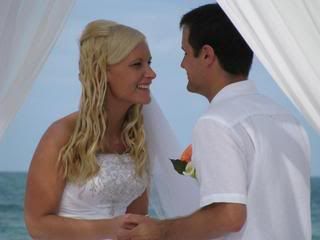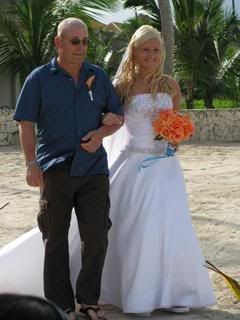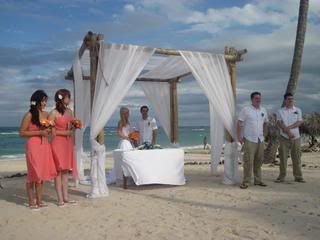 My photographer was the FANTASTIC Phil Steingard and I have even gotten any teasers yet but I loved him. He also did my friend's wedding on the 13th he has such a good eye for good shots and is so easy and fun to work with. I am so looking forward to my wedding photos. I highly recommend him for any brides getting married in Punta Cana especially the Colonial and Elegance as he is really well known with the hotels and you don't have to pay to bring an outside photographer in. We did a Trash the Dress 2 days later and that was soooo much fun!!!!! Ceremony was at 4pm then we took pictures from then until 6:15ish when we went for dinner. You defiantly need 3 or more hours for pics so many places to take them and so much fun!
We jumped in the pool after the ocean and we took this pic ourselves.
We had the dinner that was included at The Steakhouse they setup a table to the side for us it was nice and food was great! We had chicken and fish, Caesar salad to start. They used my decorations and made the table look great! Dinner was at 6:30 and it started on time and no waiting we were served promptly and efficiently. Reception was at Wet Bar at 8pm and no problem making that timeline either and it was decorated so great they did a fantastic job. The only thing we the baker forgot my cake topper so had to run it out. We had brought lanterns to hang from roof, napkins, guestbook, candles, mini starfish, blue and clear rocks and our favours. We did the open bar for 3hrs and even though I was SO against it for a long time well worth the money to have a bar right there because walking to the other ones would have been a pain. We rented the sound system and hooked our I-pod to it for dances and was great no issues. We had to shut down at 11pm but then we just went to the Disco although my Groom passed out drunk ha-ha nice wedding night!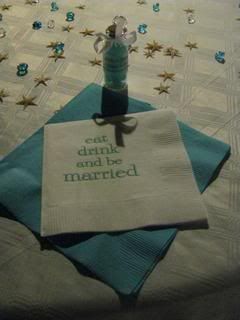 Other than the wedding hotel was fantastic! Loved the pool and beach. Food was great although we did have alot of guests get ill my Bridesmaid was sick the day before the wedding, my sister and cousin were sick the day of and me and my maid of honour were sick the day after and my grandparents were sick last 2 days but it didn't damper anyone's spirits everyone still had a blast!!
For our Honeymoon we decided to take a domestic flight to Samana then a taxi to the Hotel Gran Bahia Principe Cayo Leventado on its own island just off the peninsula, you take a boat to it. Long trip to hotel and taxi drivers are CRAZY but hotel was so gorgeous and worth it. Food was best ever beach was great and the public beach and huge and very nice too! We were in a beach front villa it was so nice and just a step away from the beach so convenient. So relaxing there very quiet because only the resort is there and other people are only allowed in the public beach and not the hotel property. Samana is a very beautiful area of Dominican. I had an eye issue the first day it swelled up and got really red so I had to go see the Doctor at the hotel he was great but I had to wear a eye patch for first few days and take antibiotic eye drops so that was a bummer had to stay in for those days but day I got it off we took the boat back to mainland and went into town and so nice there. We had a great time there I highly recommend it for a quiet relaxing or romantic trip!