Wow, what an amazing wedding we had at the Riu Palace Riviera Maya (RPRM) I am a very happy bride and I highly recommend this resort to other brides. The planning stages worried me a bit when emailing with the wedding co-ordinator but everything worked out perfectly, I couldn't have asked for anything better! Thanks again to Tammy for the BDW forums, everyone has been amazing and so helpful!!!
Airline – Air Transat – D
On our flight from Edmonton to Cancun we were delayed an hour due to Hurricane Ida, of course this isn't any fault of the airline but listen to this story…We were travelling with about 30 friends/family from the Edmonton airport and Doug and I as well as our friends got the option plus that is offered by Aor Transat. We were under the impression that it was the same as first class, just not first class seats. Any how, the flight attendants (FA) were bringing us drinks and not charging us and we were having a blast. About half way through the flight Doug and I asked for a drink from a different FA and she made us pay for them. Whatever it didn't matter to us, we just paid and went on. Our friends behind us found out about us having to pay for the drinks and asked the FA why we had to pay but they didn't. (pretty much he was saying he should pay for his drinks too) anyway she got all rude and walked away. She came back with another FA and told her that we were all cutoff from drinking. At this point we had only had 2 beers each. She then proceeded to tell our other friends who were sitting a couple rows back that if they give us any alcohol they will be arrested when they get to Mexico!!! As we got off the flight the other FA's were apologizing to us and they actually gave us the info of the mean FA and told us to write a report about her.
Then when we go to leave 2 weeks later as we are sitting waiting for our plane our friend is called up to the counter apparently the b&*tch FA had written up a report saying the he was being drunk and belligerent and they take away his passport and tell him he and his wife are not allowed any booze on the flight. They also took them onto the plane before anyone else with 6 armed guards. Anyway near the end of the flight the same FA that took their passports away brought them back to them and said he thinks we should all write a report on the mean FA and that he cannot picture us acting in such a manner.
Sorry about the long story…we were just appalled by the whole situation. For our friends to be treated like convicts and escorted onto a plane is ridiculous. They are the nicest people and we will all be writing letters about the bad FA.
Accommodations- Riu Palace Riviera Maya (RPRM) – A++++++
The resort is beautiful, the grounds were constantly being maintained and the staff was amazing. The hotel is only 3 ½ years old but you really do feel like you are staying in a palace!
We did not splurge for the 2 storey suite (however I kinda wish we did) we were just hoping we would get it as a free upgrade but that didn't happen.
All the rooms were suites however ours looked out into the courtyard and it was beautiful. We were in room 1051 and it was close to the pool and spa which was awesome and farther from the theatre and lobby so it wasn't loud at night.
View from our room:
The shows they put on were really good. The whole 2 weeks we were there we never saw the same show twice which was pretty cool.
Here's my thoughts on the restaurants…
Chili's – Steak House – Favorite!!!
The sea and land (lobster and steak) was delicious!!! I always got 2 lobster tails! I like my steak med-rare and it was cooked perfectly every time!!
The baked Alaska desert is also delicious here and I am not a desert person. It is ice cream covered in meringue. The staff will light it on fire too, it's really cool.
Miguel was our server every time and he was fabulous!!!
Krystal – Fusion
The pumpkin soup was amazing!!!
We had the beef and the salmon here and both were excellent.
Agave – Mexican
I loved the chicken fajitas but the appetizer is a buffet so careful because most of the time I was to full for my main course!!
Botafogo – Brazilian
I was not a big fan of this restaurant, I think the meat could have been cooked better. The turkey was dry and all the meat also needed spices.
Yashima – Japanese
I had the salmon, it was alright. Doug loved the sushi tray!! I am not a big sushi fan.
The main buffet was also very delicious!!! The ribs were amazing. My fav. thing at breakfast is the omelet station..yummy. We also made BLT's for breakfast which were really yummy. The guacamole and Pico de galo were so fresh and so delicious!!! The pizza and pasta at the lunch buffet by the pool was good too. Oh and the pasta station in the main buffet…awesome!!!! I am getting hungry!!
Room service was excellent, we had pretty much everything on the room service menu, my fav was the chicken toastadas.
Late at night when you are hungry the sports bar has awesome sandwiches, which Doug had pretty much every night!
My fav. drinks were, pina coladas, Miami vice, champagne, mimosas, chocolate martinis and rum punch!!! The cappuccinos there are good too.
The beach and pool were spectacular!! The ocean was as warm as a bath tub!! The pool water was a little cold sometimes but when it gets really hot it was nice!
Santos, Gus and Javier are fabulous servers down at the theatre, say Hi for me!!!
Travel Agents- Uniglobe – C
Our TA wasn't the greatest. She highly recommended the resort which I am happy about but it all went downhill from there. She did not get us first class for our flight which we had asked for over and over and didn't tell us. I noticed on our confirmation after we had paid. When she sent people their tickets about half our group had their names spelt incorrectly. She changed our wedding time without informing us also so instead of having our wedding at 3pm it was changed to 1pm.
I do have to say that Uniglobe is known for destination weddings however I think they gave us a TA that wasn't qualified for a group our size.
Wedding Coordinator- Ael – B+
She was really great, when we met with her she answered any questions we had and helped us make informed decisions based on our needs and group size. The only bad thing is once you sign the sheet at the end of the meeting you cannot change anything or ask any questions.
Spa – A+++
I got my hair done at the spa and it turned out amazing!! The lady who did it could not speak much English but I had brought a photo with me and she did a great job!
I also got a pedicure and aroma therapy message with our wedding package and it was spectacular!! It was so good I went back and got the combination message with was also fabulous!!
Gazebo Location – A+++
Beautiful…what else can I say. It is a perfect location.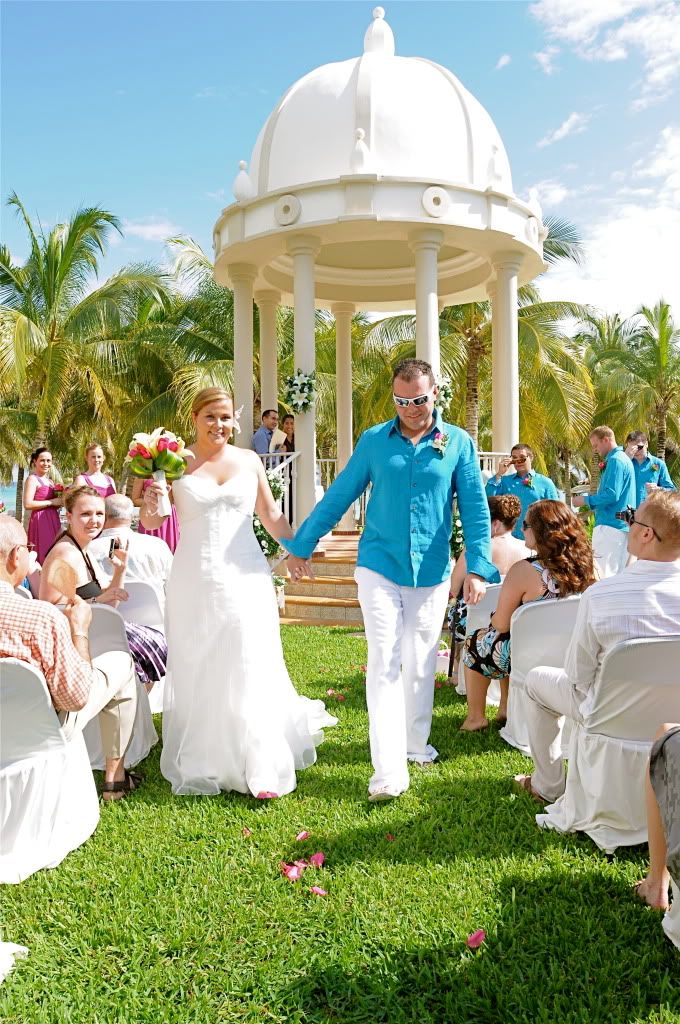 Flowers- A+++
Our flowers were amazing!!! I was blown away at how beautiful and perfect they were.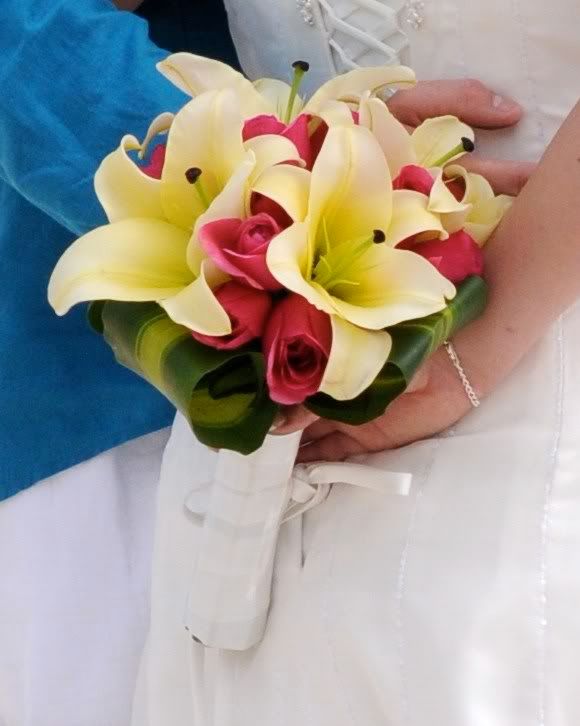 Photographer – Calypso Photography - B
They were alright. They sprung it on us that we had to pay cash for our photos though which we were not to pleased about. We got them to let us pay half cash and half credit card. We got package 8 that is offered and the pictures turned out great! The photographer we had though seemed to be new at what she was doing and didn't have many ideas for poses and things so from looking at all the photos on here I had some ideas of what I was looking for and did that.
Cocktail Hour – A+ (5pm-7pm)
Every one mingled and had a great time. It was held in front of the theatre and an area was setup just for our group. This is also when they served us our champagne that was included in the package. We did not pay extra for this as it was semi-private and we did not get any snacks.
Reception – A+++ (7pm-12am)
We had our private reception at Chilis and it was great. We had a head table and then 6 others tables of 8-10 people. We had dinner which was a Mexican buffet that had tons of stuff and it was delicious! After dinner we did speeches then a slide show and dancing!!! We never ended up cutting the cake because there everyone was full from the buffet which also had deserts so they delivered our cake to our room the next morning and we ate it with forks and anyone who came by the room had some too!! It was really funny!
We also paid to have cocktails at our reception and I think it is totally worth it. They are setup the whole time but most people didn't really get drinks until after speeches were through.
Oh, we were also only suppose to have the space from 7pm-11pm but Ael said if we talked to Diana, the head of PR at the RPRM and she said it was okay we could pay $100/hr to have it longer. We never ended up talking to Diana but my hubby the sweet talker just paid them under the table and we got to stay later.
DJ -
From what I remember, not because I was intoxicated but because time went by so fast and I was really sick is that the DJ was good. Everyone was up dancing and having a great time. We requested a certain song for Doug's and I's first dance but we let him pick the rest. We also rented the slide show equipment from him and it turned out great.
Excursions
It's terrible, I didn't do any!!! I was so relaxed at the hotel I barely left. We did go down to 5th ave (20 min walk) and the plaza (5min walk) for shopping a couple times. At night we would often go to the Disco at Tequila which was tons of fun!!!
I just figure that know I have more reasons to go back, our anniversary and to actual see things there!!
The service at this hotel is outstanding; I highly recommend tipping the maid service, bell boys, serving staff…everyone!!! They work so hard to ensure we have a perfect vacation and it is greatly appreciated!!
Please PM me if you have any questions!
Here's a few of my favorite photos…