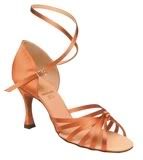 Hi ladies!
I was reading Weddings InStyle Magazine and there was this article about these shoes that are supposed to be great so you don't get achy feet on your wedding day -- Supadance Shoes. These are very popular among dancers and I just ordered several pairs to try from
WORLDTONE DANCE - The Best Dance Shoes from Around the World. We Know Dancesport.
. The website doesn't have the ivory color but they have it in stock. The number to call is 1-866-983-2623. The shoes have rhinestones and suede sole.