After ordering a dress from China, receiving it yesterday, and finding that it wasn't THE dress, I went out today and finally made a decision. It was on a dress that I'd never tried before, and it is sooo plain, but I tend to lean towards those types. I don't think the pictures do it justice .... it looked a whole let better in person. Hopefully once I get it and it's altered, it will be perfect for me. It is Allure something or other .... in the excitement, I didn't even look at the name or style number. I will call the store though, and update this post in case anyone is interested.
Also, the pics are crap. We were sneaking them because you're not supposed to take them unless you've purchased the dress. Once I decided this was it, I completely forgot about photos.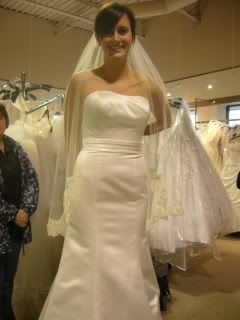 So excited to check this off my list though!