Quote:
Originally Posted by cheese_diva

I just got my samples and I LOVE them!!! There was a slight confusion with the paper color.. my actual invites will be a tad more blue.. these are more of a blue green but I hope my guests are really impressed. I'll write a review as soon as my process is done...

I do need help with two more things.. One the main invite it says

Angela xxxx and Matthew xxxx

Invite you to share the sun, sea and memories of our wedding day

Shouldn't it say "their"? The designer says it won't fit because it makes the line too long and says it's ok because of the casual wording.. what do you think?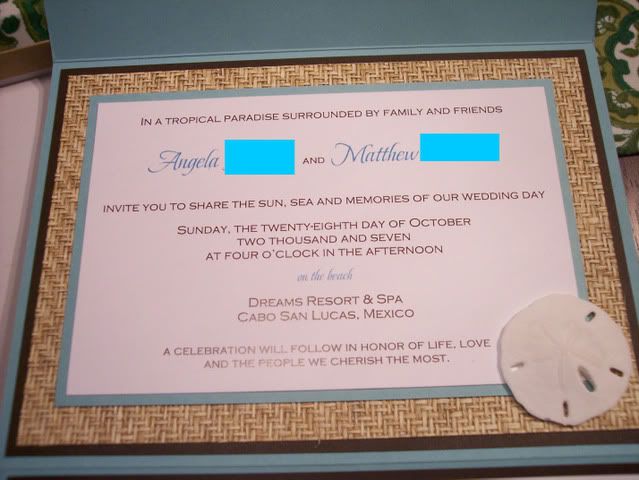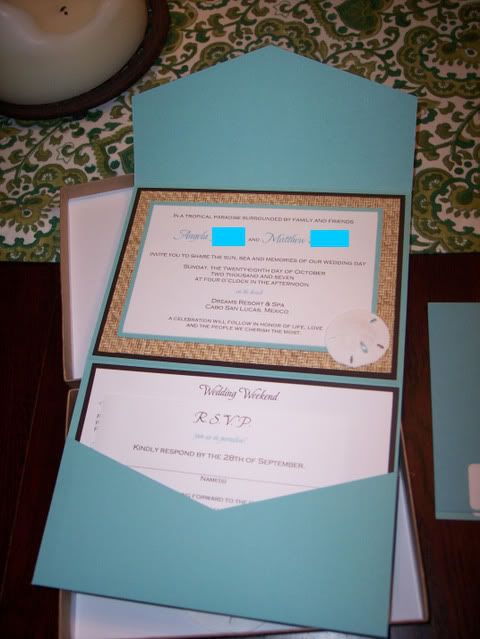 The RSVP is a postcard so that will help with postage.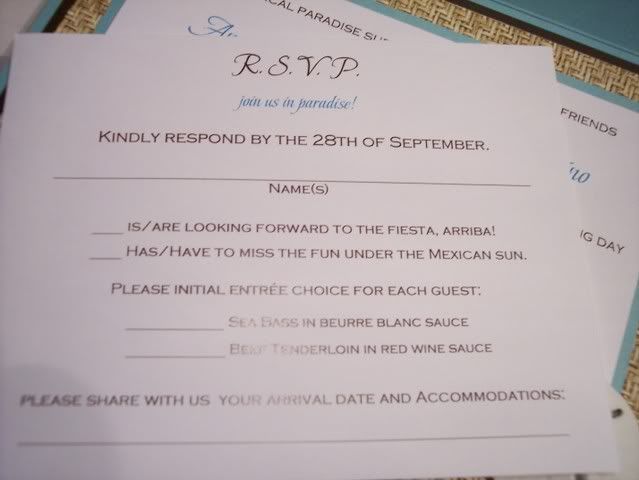 I have a Wedding Weekend insert that lists our welcome dinner plans and the wedding/reception plans.. There is a day (Saturday) in between the two. I want to say something about enjoying their vacation on this day but not sure how to word it.. currently it says
Day of Leisure
Saturday, October 27th
Enjoy yourself next to the pool or under a palapa on the beach. Dresams Resort also has a spa that offers massages under the stars. The concierge will be able to help you make other recreationals plans should you choose to go into either Cabo San Lucas or Sand Jose Del Cabo.
It sounds chunky instead of fun. We don't wont to tell people what to do.. they are on vacation after all but it does fill up the page. Any ideas?
I didn't upload a picture of the best part!!! It comes in a light brown box with a leather band and large sand dollar around it. Here's a link to the designer's site:
Eiffel Printing & Design - 5x7 Tiffany Blue Marsupial with cane paper and sand dollars.
I love these invites!!! Wonder if I can DIY them? but those look really nice!!