Wow, I'm having a hard time believing that it's actually my turn to post my planning thread! These are always my fave threads so I knew I had to do one. I need to thank everyone for their inspiration – I don't know how many of these ideas were actually my own, hehe. And thanks to Tammy for creating BDW. As we all know, planning a DW would have been impossible without this forum! OK so here goes…
Rings
Mine:
His:
He is wearing a ring he bought while we were on our engagement trip, but he's also going to get something tattooed on his ring finger (his idea). He takes rings off a lot for hockey etc so he wanted something more permanent. I don't have a great picture of it though, sorry! You'll have to wait for our wedding pics!
Invitations
The thread I posted about our mini poster invites is here:
This is what they looked like all rolled up:
My Dress
My dress is very simple and I had a custom belt made for the ceremony, plus another custom belt for the reception.
This is me at my third fitting. I made it tighter around the hips/butt after this but I don't have a picture of this yet as I'm going to pick it up tonight! I might be able to update this with a newer picture but this is the best I can do for now.
Here is the custom reception belt I ordered from Chelsea at OhMyDeer! (etsy):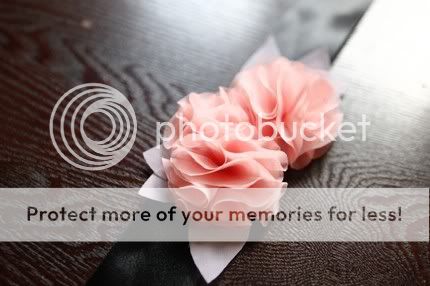 My shoes
I'm in love with my shoes! I don't have a great pic of them on me but this is them from some website somewhere:
Groom's Outfit
M is wearing a grey summery Hugo Boss suit. His shirt is white and his tie is black. This is a pic of him after he haphazardly threw it on – the tie isn't tied properly and his shoes aren't tied so it's all jumbled at the bottom, but obviously it will be perf on the wedding day!
M and his groomsmen are wearing these shoes. They are all huge sneaker lovers so M got these exclusive high-tops as their gift.
More to come in the next post...