Hi all,
We recently returned from our first site visit in Cabo at the end of September and I wanted to share our experience with all of you in hopes that it will help some of you with your decisions.
First off, it was HOT, and humid (humidity is uncommon for this area). Temps were average 95 F during the day each day we were there. It rained twice while we were there as well - for about 30 minutes each time. Just long enough to leave it humid out. Despite the temperature, we had an awesome time and I can't wait to go back. But, a word of caution - if your planning a wedding there in September/October be aware of the average temp.
Now for the review...
We stayed at Villa la Estancia - and we absolutely loved it! It's within walking distance to town along the beach if you're up for a walk - or a $7 taxi ride if you want to take it easy. It is all privately owned, so no one is trying to sell you ANYTHING while you are there. The staff was wonderful and the grounds are pristine. Each villa has 2 beds/3 baths with a full kitchen and living room. We stopped at Costco for cereal, snacks, alcohol, etc. and ended up saving a ton of money as oppose to eating out everyday. I would recommend Estancia to anyone and will certainly recommend it to my guests for the wedding. Here is a pic from our balcony:
Restaurant wise our favorite find was Mi Casa. Of course there are lots of reviews on here of the restaurant so there's not a lot more I can say other than it's a can't miss in Cabo! Other great finds were Maria Corona for a fun dinner and Pepe's Tacos for late night, cheap taco stand tacos.
Now for Cabo del Sol...we only set up one tasting for our trip because we knew it was exactly what we wanted for our wedding. The clubhouse only has one wedding/day, so you are their only concern on your special day. The clubhouse is also closed in the evenings, so your guests are the only ones there. It is private and BEAUTIFUL, and for us it was love at first sight.
Our wedding ceremony will be held at the Ocean Meadows site. A grassy area that is next to a beautiful beach. Cocktails and appetizers will follow about 25 yards from the ceremony site. Here are some pictures from Ocean Meadows...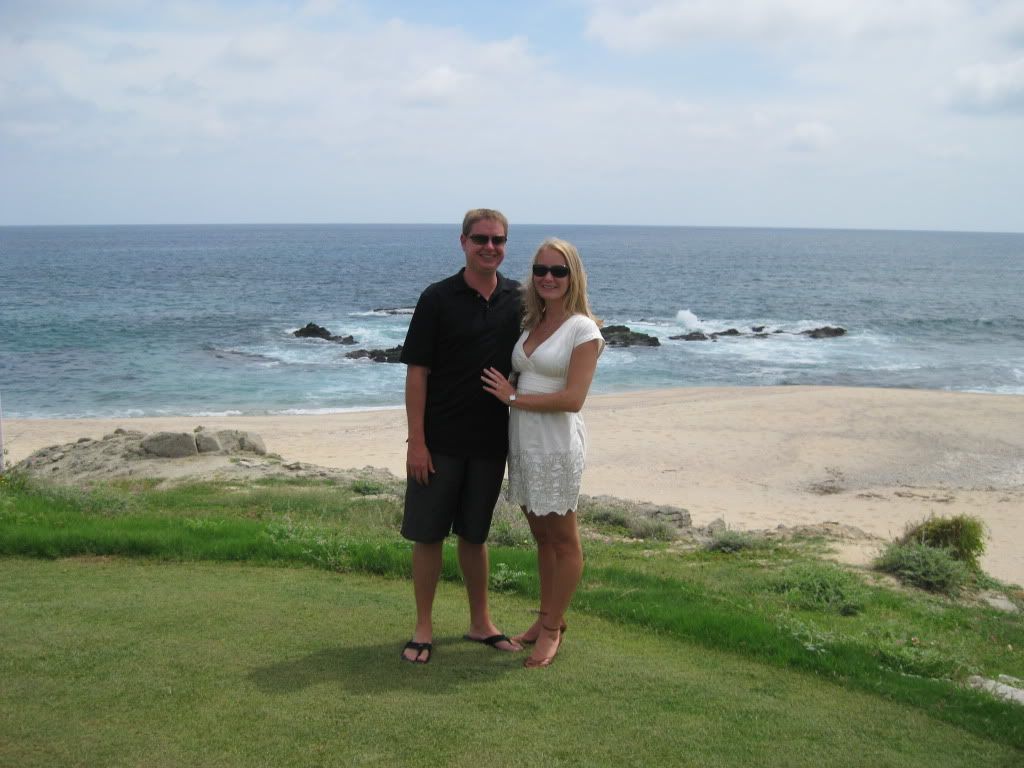 The food was incredible. Call me crazy but I thought all you picture lovers would like to see it, so here goes. As a side note we sampled the appetizers for the cocktail hour, but I was so hungry I forgot to take a picture...we had chicken tostadas, adobe beef skewers, ceviche, and panko crusted mahi mahi. Everything was great, but the tostadas and mahi mahi were to die for!
So, first course: We tried two, the first pic is crab cakes followed by coconut shrimp. The crab cakes were just ok, but the shrimp was awesome, so shrimp it is for us:
Second course: Mixed green salad with papaya, blackened chicken, and sesame soy vinaigrette or spinach salad with feta, etc. We loved both and the blackened chicken was awesome, but even just trying a bit of each dish we were stuffed by the end - so we decided against the extra protein and went with the spinach salad.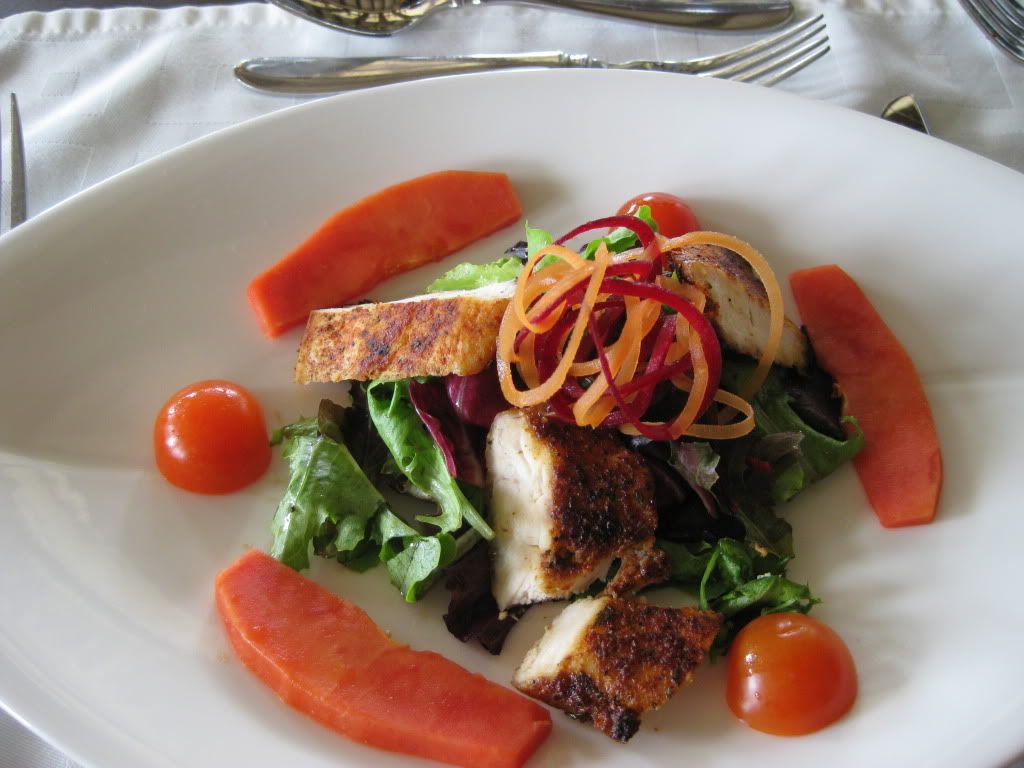 Third course: sorbet. We tried margarita and citrus chardonnay. We decided on citrus chardonnay only because we figured our guests will have plenty of real margaritas by the end of the trip!
Main course: Pan fried sea bass or filet and lobster. Both were great, and our guests will have the option of either. For those that don't like beef or seafood a special menu will be set up.
More to come...