Yep! We are officially not single anymore!
We went to Vegas over the weekend and got married at the Little White Wedding Chapel Tunnel of Love Drive Thru. I wasn't exactly sure where I should put this thread as it contains planning, pics and reviews
There are so many discussions among the Desties about when to do the legal part of your marriage. For us, making it legal in Vegas before the DW was totally the right choice. We were already planning a trip for a kickball tournament with 2 of our teams and it was the perfect excuse to get married and party with some of our friends that can't make it to Puerto Vallarta. We focused more on the celebration aspects and really tried to make the event seem more like a bachelor/bachelorette party (anyone who said marriage or wedding had to take a shot). Overall it was a total blast and we are so happy to not have to stress over legal junk before the wedding. Pics and vendor reviews below!
Vegas Marriage License Bureau
If you are going to get married in Vegas, register online before you go! It saved us at least an hour! We honestly walked into the bureau, went to the Express line and cut in front of about 20 couples. It rocked! Links below: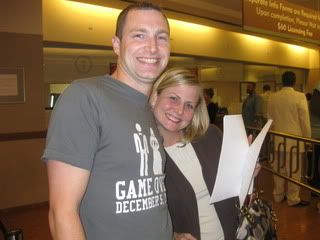 Kickball Tourney
We played kickball all day on Saturday with our 2 teams. One of my un-bridesmaids made me a kickball veil and we were totally rockstars the whole day. No one could believe we were getting married that night and ESPN even interviewed us!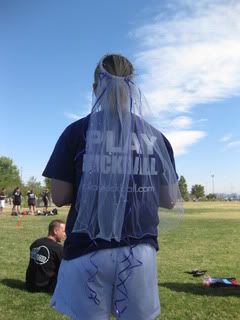 More to follow...