Woo-hoo, girls! I AM SO EXCITED MY INVITATIONS ARE FINALLY DONE!!!
I am finally finished my kinda-sorta DIY Invitations and I couldn't wait to show them to you all, being as we are all such fans of seeing each other's handywork! While I love the Passport/Boarding pass and pocketfold invitations, I wanted to do something a little different and here is what I came up with!
First is a pic of the finished set, with the invitation top left, Guest Information Sheet top right, back of our RSVP Postcard bottom left and the little RSVP postcard/folded Guest Information sheet packets bottom right:
And here is a close-up of the sheer vellum Invitation we ordered from Invitations By Dawn.com, with the plain white & aqua deckle edge invitations I used as backings (ordered from David's Bridal online) -- which I then hole-punched and hand tied together with oatmeal colored "Wraphia" (looks just like raffia, but without all the mess!) from superiorgiftwrap.com: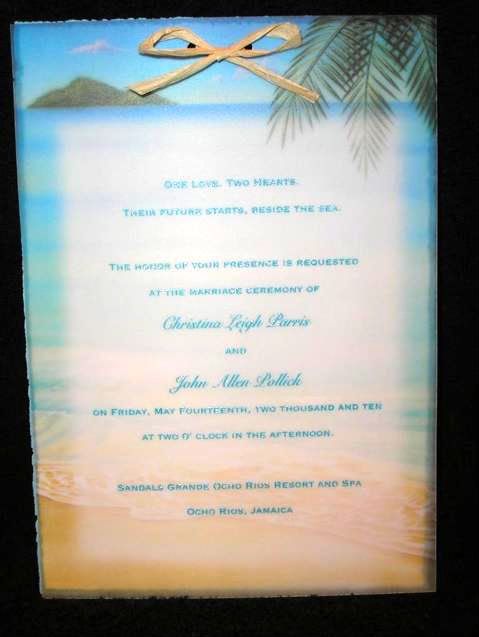 In case you can't read it, the wording my mother and I co-wrote is as follows:
One love. Two hearts.
Their future starts, by the sea.
The honor of your presence is requested
At the marriage ceremony of
Christina Leigh Parris
and
John Allen Pollick
On Friday, May Fourteenth, Two Thousand and Ten
At Two O'Clock in the afternoon.
Sandals Grande Ocho Rios Resort and Spa
Ocho Rios, Jamaica
The next pic is of the back of our custom RSVP postcards, done by one of BDW's very own (username: becks)! Her company is
Allurements By Rebecca
and she was positively FABULOUS to work with on creating exactly what I had envisioned). The front of the postcard is simply our logo, which can also be seen in my siggy!) and we ordered that adorable postage stamp to match everything from Zazzle.com:
And finally, here is the 1st of 2 Guest Information Sheets with Resort and Booking Info. (which I folded up, put the RSVP postcard on top and tied together with the same oatmeal Wraphia to form neat little packets). I LUCKED OUT completely when I found this letterhead on OfficeDepot.com, and it was almost identical to the invitations I had ordered separately from Invitations By Dawn months before!
Hope everyone likes them! I AM THRILLED that they have finally gone out in the mail this week...let the RSVP-ing commence!