I truly do not even know where to begin on this, I am so amazed and taken back by the generosity of my fellow BDW friends.
I am not sure if all of you know but I had a pretty bad bicycle accident on Sunday evening. In the end of it all I broke 7 teeth, 3 bones in my nose, one in my face and have 21 stitches.
Well the amazing girls that I have talked to nearly everyday for the past 6 months on this forum, pooled together and surprised me with a INCREDIBLE get well package. The stocked me up with tons of wine and a wine opener off my registry, flowers and balloons, and gift certificates for wedding shoes and the spa to help heal my wounds. And magazines to keep me busy and even more useful to help me pick my new nose that I will be having reconstructed in the coming weeks.
I was devastated after the accident with my wedding only 58 days away and all these amazing Mrs and b2bs shared so much to help me. They are truly selfless.
I do not have enough thank yous in my lifetime to tell these amazing women I appreciative and grateful that I am.
Thank you Stacey for getting it started and Andi for the delivery! And the other 13 ladies who contributed!
So in the end.....
THANK YOU from the bottom of my heart!!!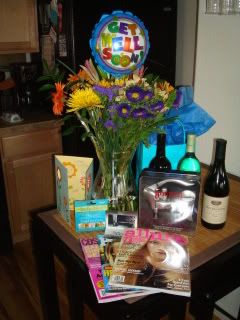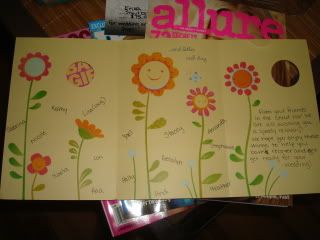 Thank you! Thank you! Thank you!