I just wanted to update everyone… I chose the Maggie Sottero-Carrie dress in ivory! I ordered it this past Sunday. Thanks everyone for your feedback and compliments and helping to steer me in the right direction.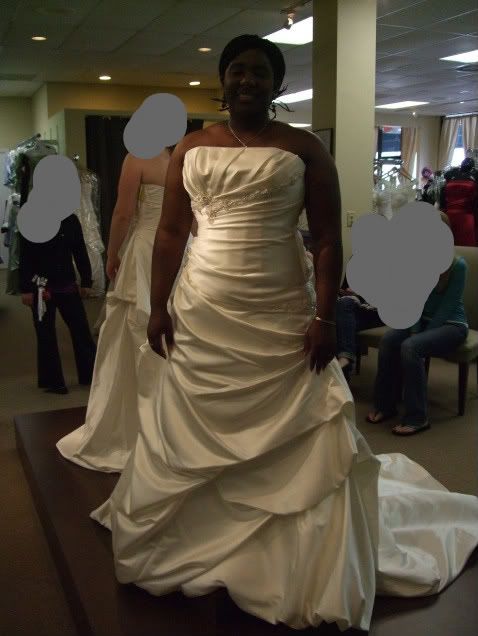 The Maggie Sottero-Carrie dress
I was really concerned about wearing a strapless dress because I have a 3rd degree burn on my chest that I don't like to show. I was concerned about it showing in pictures. I tried on another dress that had a high neck and would cover my scar. It was a beautiful dress in person, a Mori Lee design, but not as flattering as the Maggie Sottero.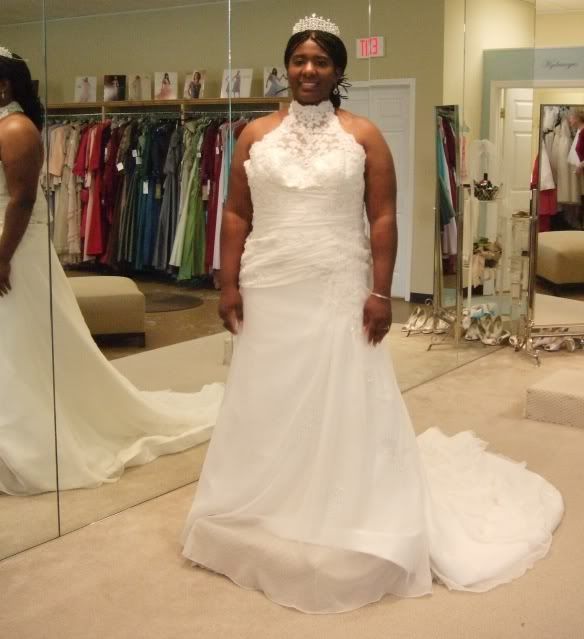 The Mori Lee dress
I was really considering getting the Mori Lee dress so I wouldn't have to worry about covering my burn. Well, I finally found a scar makeup (Dermablend) that covers my scar pretty well and doesn't smudge easily. However, the raised outline of my burn on the left side is still visible even with the makeup.
So, the bridal shop is going to make some modifications to the Maggie Sottero dress for me when it comes in. They are going to add an asymmetrical one-shoulder strap (over the left shoulder) by piecing together some lace straps (probably 3 to 4). Apparently, they can order the straps from the designer. Below are pictures of the type of straps they will be using and the type of asymmetrical shape I am going for.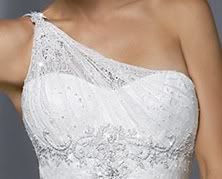 Asymmetrical shape (but will go over left shoulder)

Type of straps that will be used to make asymmetrical shape
The dress won't arrive until the second week in January. The modifications probably won't be done until the end of February or beginning of March, so it will be a while before I'll be able to show you the finished product. I can't wait!