My boarding pass save the dates are completed! I have to say I wouldn't even have come up with this idea if it wasn't for BDW and all the fabulous crafty members who I "borrowed" ideas from. Thank you !!!
My STD Cards
Each boarding pass is made up of 5 sheets of paper, tied it together with a decorative ribbon, and put it in a ticket jacket that has our logo and a save the date magnet.
I tied it all together with a raffia ribbon and a thin silky ribbon.
I then stuffed them in big white envelopes. They are ready to go!!
The project really was easy but very time consuming.
I have my MOH to thank for helping with all the cutting (and there was a LOT) as well as my FI who helped me with printing, scoring, folding the ticket jackets as well as the final assembly.
Here are the pictures:
Boarding passes (5 different pages)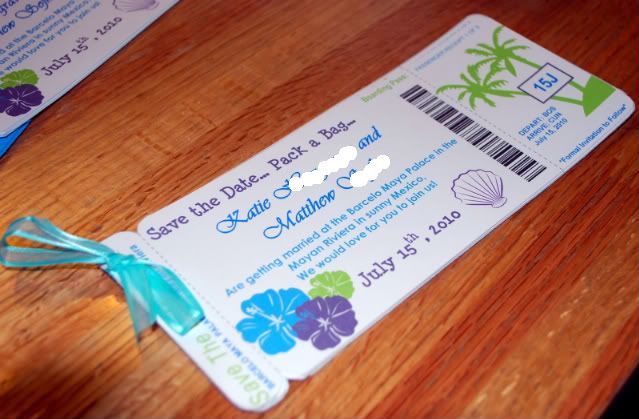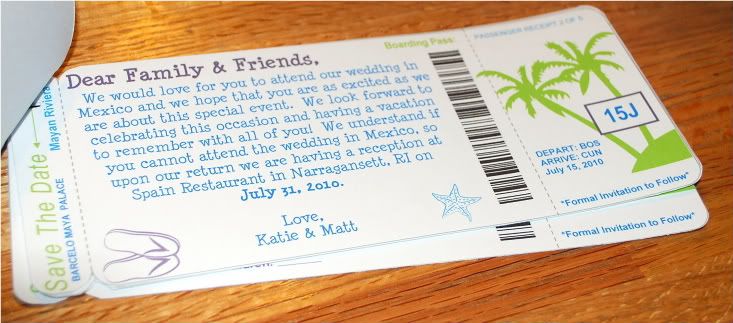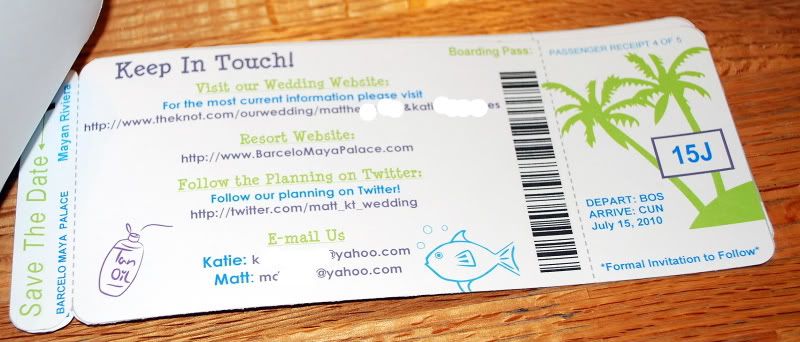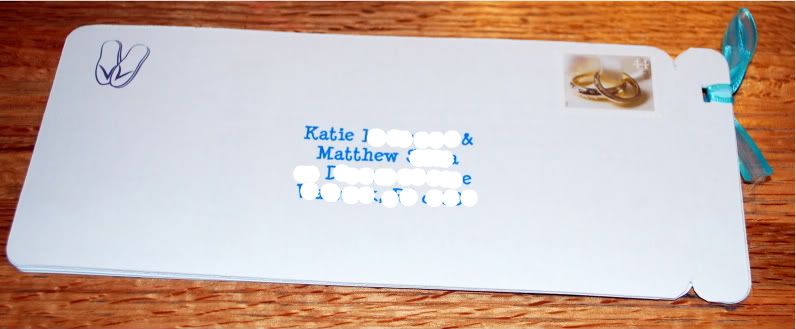 Ticket Jacket , Magnet, & Logo
Final Product!

Templates
I based my boarding passes off of a template I downloaded from
Ailee Bits
for the boarding passes (thanks!)
I got the ticket jacket template from BDW
Both are attached to this posting.
Special Fonts Used:

Envelope - Text is Angelina , Palm tree is Tropicana BV
Boarding Passes - Minya Nouvelle, Tropicana BV, Vivaldi, wmtrees1
Ticket Jacket - Angelina
*wmtrees1, Angelina, and Tropicana BV are from
dafont
the others I had on my computer already.
Supplies and Cost Breakdown
Michaels/Jo-Ann Crafts
: (used various coupons and some items were on sale)
4 - 10 pack white envelopes - 8.96
2 - Dk brown raffia - $3.73
4 - Thin turquoise ribbon - $2.00
4 - Decorative turquoise ribbon - $7.96
1 - Craft scissors - $8.99
4 - Packages cardstock "Seaside Val Pack" - $9.96
Walmart
1 pack white 110lb cardstock - 5.48
1 pack Avery clear 2x4 shipping labels - $7.22
Vistaprint
50 Magnets - $7.00
Address Labels - FREE
Shipping (priority) - $17.18
Logo - Aylee Bits
1 Logo - $2.00
USPS
.44 cent stamps - $17.60
.61 cent stamps - $24.40
Items I already Owned
1 - Corner punch
1 - Fiskars paper cutter
1 - Rectangle shaped hole punch
1 - Scotch tape (to stick the magnet to the ticket jacket)
total including postage = $122.48 / 40 = $3.06 each
Hope you like them!!