So I need to preface this review with the fact that my husband and I are not particularly picky people and are pretty flexible when it comes to travel however some of the vendors we encountered were not professional at all. Please don't think we are people who look for problems because generally we are very easy-going.
Travel Agent- Resortvacationstogo.com - F (worse if it were possible)
We used resortvacationstogo.com and thought we had found a great deal however we had problems from the beginning. Tod our travel agent was neither helpful nor useful. One of our connecting flights was canceled and we were assured that the company would either get us another flight or reserve an earlier flight and comp the hotel rooms. Well, they did neither and tried to pass on the costs of the hotel room to us stating that it was American's fault and since American refused to pay for the rooms, we would have to. Shirking responsibility seemed to be a huge trend with this company. For me, irrespective of who was responsible, since they were our travel agents they should have taken care of the problem with American and not have involved us at all. Since we had travel insurance we even threatened to cancel all of our reservations but they did not care, they were willing to lose 11 clients over a few hundred dollars! Well I had to get on the American Airlines website pick out the flights we needed to get there on the original date and tell Tod to book them. It took three weeks for Tod to get an actual confirmation. Our friends booked through another agent who had their confirmation within hours. We constantly had to call/email to get anything done with Tod. We only received our travel package two days before we left! The coup de grace was that we never received our hotel transfers so we had to pay out of pocket for our transfers on our way in (it was four dollars per person which was not a big deal) HOWEVER the transfers out were approximately $40 per person and there were 11 of us so we did everything we could (called/emailed) while in St. Lucia to get a hold of Tod. Apparently Tod was on vacation the entire time we were there (as well as the two weeks before we left) so he never ever responded to us (not even after we got back!) I called everyday from my cellphone (yikes for international cellphone rates) only to be put on hold for 20-30 minutes everytime. I even called ON MY WEDDING DAY only to be yelled at! Call me sensitive but when your company has not done its job and refuses to accept responsibility for their error, I have a right to be upset! While Stuart was an arrogant ass and MADE ME CRY ON MY WEDDING DAY, he got the job done and was the only effective person there. The entire company was absolutely unprofessional and refused to acknowledge their mistakes! My family will NEVER use their company again and I would recommend that anyone considering using them, pay the little extra to avoid the drama!
Flowers- Danielle (Etsy Seller jdleggans) A+
I found Danielle on Etsy and sent her a picture of what I wanted and she ran with it and made my gorgeous bouquet! She even added the adorable butterflies to my bouquet on her own. I got so many compliments on my flowers all thanks to Danielle! Also, her prices were incredible! For my bouquet, four bridesmaid bouquets, four boutonnieres and two corsages and shipping, I paid a little more than $200! (score)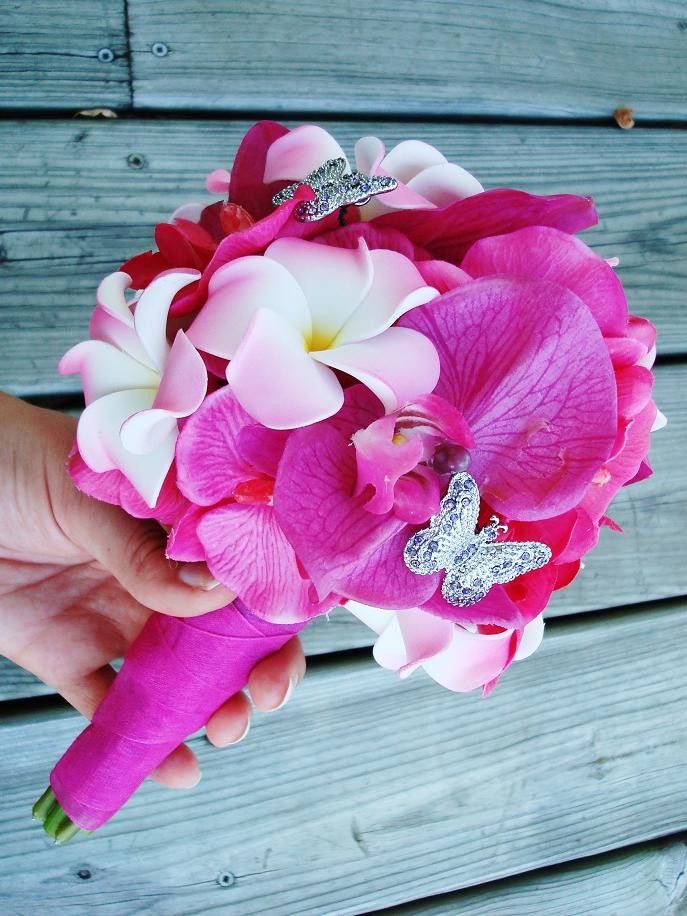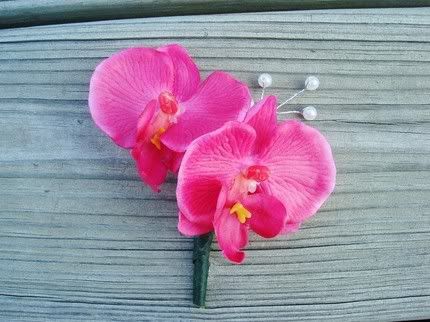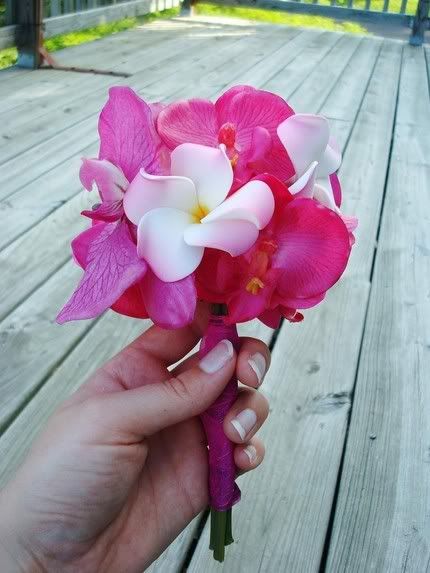 Flight-American Airlines- B
The flights there were smooth and they allowed me to hang my dress up in the closet so there were no complaints. The agent who checked us in on our way actually had been to St. Lucia and did not charge us for the excess bag which I was grateful for. We flew into St. Lucia on a prop plane which was a little scary but we made it and were so glad we did not have to deal with customs at the international airport. On our way back our flight from Miami was delayed for about an hour and then they found foreign materials in the engine and had to clean it out while we sat on the runway kinda inconvenient but not a big deal since we made it home ok.
A picture of the prop plane we came in on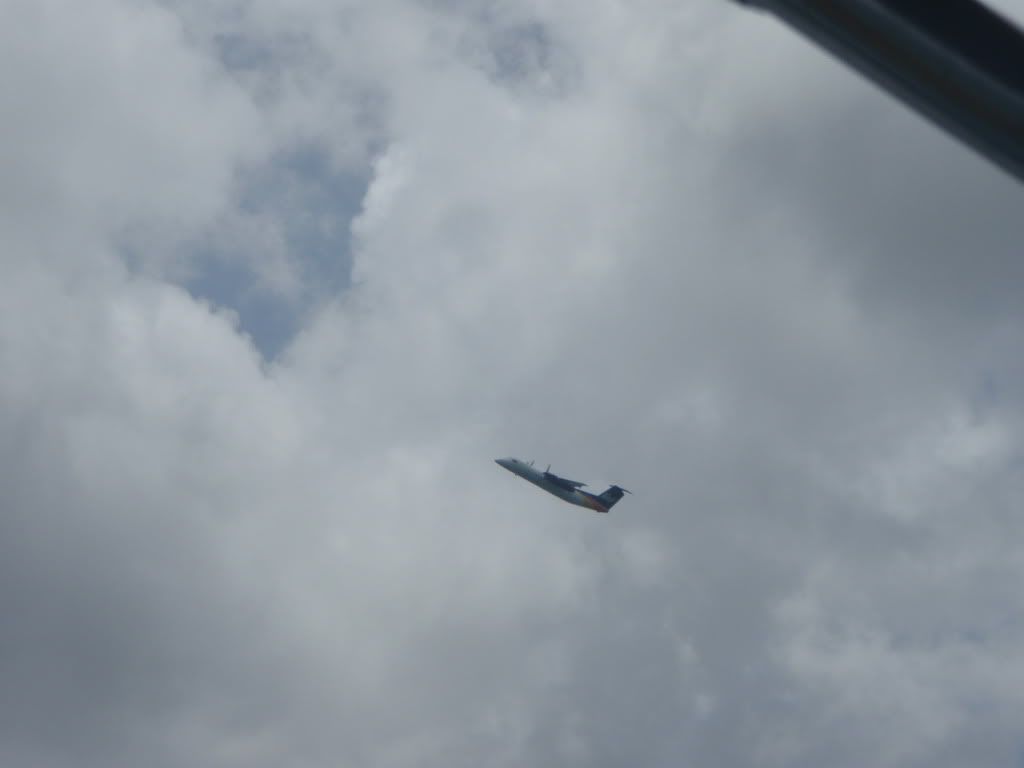 Hotel- Almond Morgan Bay- B+
The hotel was nice and upon check in after all the drama of the transfers, all we wanted to do was get some food. Well the kitchen was closed but they were nice enough to make some sandwiches for us which held us over. The hotel itself was nice, the grounds were huge and the well taken care of. The staff was phenomenal they went out of their way to get you what you needed. I have to say I was incredibly nervous about the resort because of the mixed reviews I had read on tripadvisor but there really was not anything to worry about. The food was fantastic, it was a la carte for lunch and dinner and you had to make reservations at the restaurant, it wasn't an issue and every restaurant was willing to accommodate our party. The food was fantastic, we mostly stuck with fish dishes, which were amazing and we all fell in love with BBC cocktails (bananas, bailey & coconut). The only issue I had with the resort was that our phone did not work for the first three days which was problematic because we were unable to get a hold of our guests who did not stay at the resort or the wedding coordinator. However we managed to get a hold of everyone even with the broken phone. Also, the resort has attempted to ban all third party vendors which I am not a fan of because I am big on supporting local vendors and two of our best experiences were with local St. Lucians.
Joy's Boat Tour- A+++++
This was probably highlight of our trip. When we mentioned to our rep that we planned on taking the tour she tried to deter us by telling us that we would not get to see certain sights and they were not insured (not true). For $80 a person, we got to see so many sights and were fed an authentic St. Lucian meal which was the best food we ate the entire time! Joy's mom even made us a cake congratulating us on our wedding which was completely thoughtful and unexpected! We were picked up by a speedboat and taken to lunch and then rode the boat over to Soufriere, where we were taken to the drive-in volcano and the Touraille waterfalls which was incredibly refreshing (and apparently swimming in it makes you look five years younger). After that we taken to Jalousie Beach which is in between the Pitons where we got to snorkel. It was a fantastic day and well worth the value
The Cake they made us
The Waterfall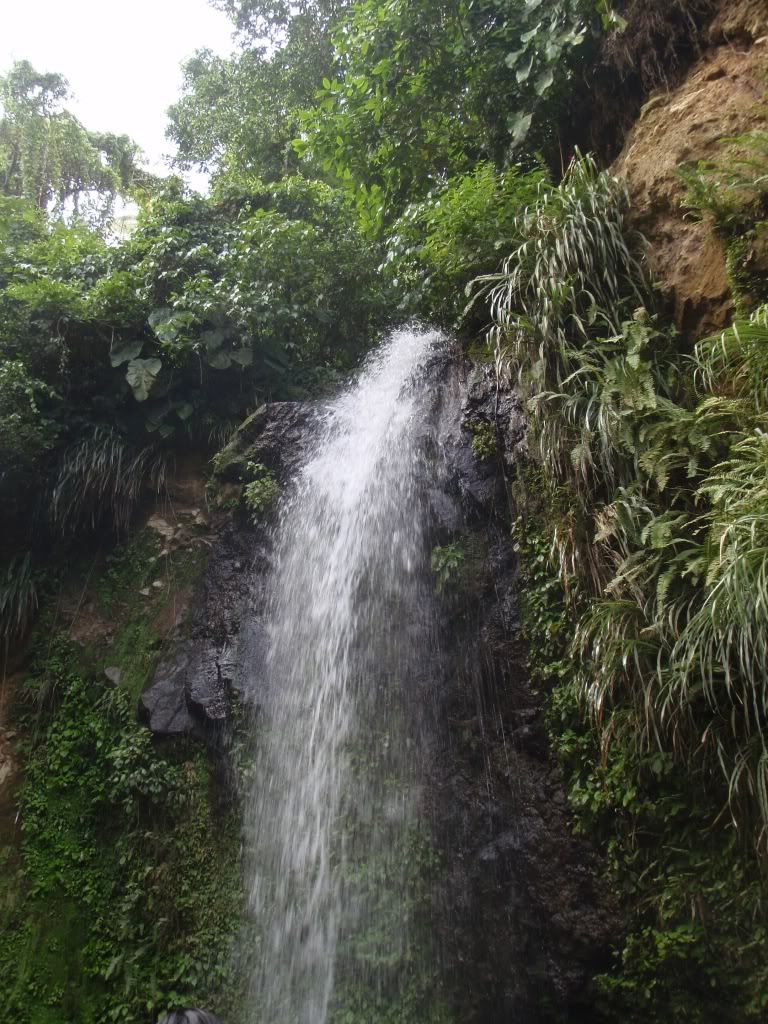 Fam on the boat with the Pitons in the background
Continued...