Hi everyone! I know I am still a newbie, but other reviews really helped me in my planning, so I am hoping this helps someone. Please feel free to PM me or post specific questions.
Just some background about my wedding: We arrived at the RIU on July 16 and were married on July 20. We had 26 guests arriving between July 16-18, and most people stayed until July 21. On July 21 my husband and I moved to Sandals Dunn's River Villagio (which happens to be directly next to the RIU) for our honeymoon and we left there on July 28.
US AIRWAYS/ALPHA WORLD TRAVEL
The trip was very smooth overall. The transfer to the hotel was fine for us, though a couple of my guests had a bad experience. They had to wait on the bus for over 2 hours because they were the only ones there and the driver was trying to recruit more people so he could get more tips before he left for Ocho Rios. They are planning to write a letter to complain about that, but no one else had any trouble.
I would also recommend using a travel agent in your area to book your trip and your guests. It was SO much easier this way!

OOT BAGS
I was lucky enough to have friends who are frequent flyers and have a special status where they don't have to pay for checked baggage, regardless of the weight, so they were generous enough to cart down all of the items for our OOT bags! I posted a thread about these if you want to see them and read all about their contents:
http://bestdestinati...om/forum/t45557
Please note that once I got down there, I realized that for the "regular" rooms (a.k.a. the non-suites) they RIU still uses regular keys, not key cards. It's weird, I know. I gave every guest a plastic ID/key card holder with an elastic bracelet. Most of us used them for our towel cards and then attached our room and safe keys to the key ring. If you stay in a suite, you get a key card. So just be aware of that for your OOT bags if you choose to make these.
Also, the front desk is not very reliable for handing out your bags. I gave them a detailed spread sheet and saw them make notes about who to give bags to in their check-in log, yet the only guests who received their welcome bags were the ones who asked for them. I ended up going to the desk usually and getting them for people, but no big deal.
RIU
CHECK IN/ROOM
The check-in process was fine. The wind was a little crazy that day, and since the lobby is open air, you are basically standing in a wind tunnel. They bring the bags up to the room for you, which is nice, but it can take a while, so if you can handle them yourself, it's not a bad idea if you're anxious to hit the pool 
The rooms at the RIU are very nice. I loved our balcony overlooking the garden/pool and the bathroom is really beautiful with the granite and the double sinks. The downside for us was that they gave us a room with two double beds pushed together. We spoke to Chandlyn about getting us a different room and they said they would upgrade us early to a suite the next day. So we agreed to that. Funny thing is, we lugged all our stuff to the other side of the resort (well the bellman did, but we had to go with him!) and then we walked into the suite…two double beds again!!! I was too anxious to get back to our friends and family at that point, that we just said "no problem" and lived with it.
One more thing about the rooms: the pillows are not comfortable. I know it's a pain to bring your own, but if you want a good night's sleep, it might be worth the hassle. The rooms are also very musty because of the humidity, so definitely bring a candle or air freshener.
AMENITIES
I loved the RIU! I really did. The pools were absolutely gorgeous and it was always easy to find chairs for people to lay together. The beach was also beautiful, clean and had plenty of chairs. The ocean is warm and clear and the pool water is perfect. We basically spent most of our time at the pools. There are two pools there, one on either side of the resort. We preferred the "quiet" pool on Mammee Bay side or the side with all the suites.
The nightly shows were decent, but we didn't really pay much attention to them. We mostly hung out as a group and just did our own thing. But if you want to see the shows, definitely get to them early because the seats fill up fast!
EXCURSIONS
We went on the Dunn's River Falls Catamaran excursion while we were at the RIU. This included snorkeling, admission to the falls, sailing, and drinks on the boat. The cost was $55 per person because I had a RIU class card (which I used for all the people in the group so everyone got the discount). It lasted for about 3.5 hours and was well worth it! I definitely recommend this excursion for everyone! If you don't want to sail, you can also visit Dunn's River Falls by bus and it's a bit cheaper. My family did that and had a great time. We all loved climbing the falls, and everyone had a blast on the boat!
While at Sandals, my husband and I also did an excursion called "Hooves" where you ride horses through the rain forest and then into the ocean! It was absolutely amazing! I have never had an experience like that before, and I will never forget it! The cost was $85 per person and it was about 4-4.5 hours including getting to and from the ranch. I know you can book this type of tour at the RIU as well.
FOOD
I thought the food at the RIU was very good. I am a huge breakfast fan, so the giant breakfast buffet at St. Ann's every morning was wonderful (and the fact that it was open until 11 made us happy too!). Let me tell you about my experiences at each place:
St. Ann's dinner buffet
– lots of variety, and lots of new foods to try. The only thing I didn't like was that I had trouble finding meats that I wanted to eat (except fish).
Mammee Bay
– the lunch buffet is pretty good, with basic American fare and a good salad bar. I never had their dinner.
Plantation – this was our favorite lunch buffet, mostly because we found mozzarella cheese sticks here and fell in love! This was also where our reception dinner was held (more on that later)
Mandalay
– this is the Chinese buffet that requires reservations. I LOVED the food here (probably my favorite all week). It had all my favorite Chinese dishes (sweet and sour chicken, lo mein, fried rice, shrimp and veggies…etc) and it also had sushi. Definitely worth getting a reservation.
Sir Richard
– this is a fancier restaurant with a four course menu. I also loved the food here. I had mussels, seafood bisque, a grilled chicken entrée and a crepe suzette for dessert. The restaurant is small, won't seat large parties, and dinner takes about 2 hours because of all the courses, but it was well worth it.
The last thing I will say is about dinner reservations. They say the reservations desk opens at 8, but that is not true. Get there at about 7:30 and you might be able to get a table. They fill up fast because the restaurants are very small. I drove myself bonkers worrying about making reservations for everyone and it stressed me out. Please don't do what I did and think you were responsible for making sure everyone had dinner reservations. It was seriously the most stressful part of the wedding for me! Isn't that silly?!?
WEDDING
CHANDLY
You have to remember that she can have up to 5 weddings a day going on, and keep that in mind when you are there and when you are trying to email her questions. That being said, I think Chandlyn is very good at her job and I really appreciated her help. She does take a long time to respond to email, and she won't remember everything you've previously corresponded about. I found it helpful to write her emails with numbered lists of questions, which she would then respond to every question. If you just send a paragraph with multiple questions, she doesn't always answer everything.
Also, any time she tells you to meet her in the lobby - go to her office. Don't wait. She probably won't come. When you are with her though, she will answer all your questions and do a wonderful job! She helped us get a room upgrade a day early, put up all the decorations perfectly and was very kind and helpful. Thanks Chandlyn!
REHEARSAL
We had out rehearsal at 5 on Saturday, because Chandlyn does not work on Sunday. It was very quick, but I recommend doing it. She showed us where we would stand, where to go for signing the certificate, where things would be…etc. It was about 10 minutes long and made me feel 10 times better.
Chandlyn had reserved a rehearsal dinner for us at St Ann's on Sunday at 6:30, but we opted not to do it. St. Ann's is the buffet open to everyone, with no reservations. Since a lot of our guests had been frequently St. Ann's previously, and we had been eating in a big group the nights before anyway, we decided to split into smaller groups and get reservations at whatever restaurants we could. My family, my bridesmaids, FH and I went to Sir Richards that night and then the whole group met up at the bar afterwards.
RENOVA SPA
Word to the wise – get your nails done the day before. I am sure most ladies know this, but I don't ever get my nails done, so I was not really thinking about it. I was so busy the day before because that was when we went to Dunn's River, and had the nice dinner at Sir Richards, that I couldn't make any appointment times they had left. So I had to get my nails done at 9 a.m. the morning of the wedding. I really would have liked to sleep in, but my nails were perfect, so it was worth it.
My mom, sister, MOH and I all got our hair done. I was the only one who brought in pictures (many pictures in fact), and everyone's hair turned out beautifully! The girls at the spa are very nice, and though I think the prices are a little high, it was worth having my hair done and ready to go!
Please schedule yourself more time than you think for your hair! I had an appointment at 12:30 (wedding was at 4) and I was rushing a bit.

FLOWERS
The flowers were delivered by Floral Fantasy in Negril:
Floral Fantasy; Flowers for All Occasions from Negril, Jamaica
. I HIGHLY recommend this florist! We corresponded solely through email and not only did they respond extremely quickly, but they had the best price and the most beautiful flowers! They also only charged me $10 delivery instead of the normal $50, which was wonderful. We used all dendrobium orchids for everything (my bouquet, 3 BM bouquets, 4 boutonnieres, 1 wrist corsage, and my hair flowers) and the final cost with tax and delivery was only $260.
Since the "free" package comes with a bouquet and boutonnieres, I asked Chandlyn if we could substitute those for rose petals for the aisle or table, and that was fine. So don't be afraid to ask for what you want 
CEREMONY
We wrote our own ceremony (see post:
http://bestdestinati....0-4#post867620
), provided hanging flowers for the gazebo, flower petals for the aisle and opted to just have the standard brown chairs. We also brought a CD of music to be played. The white tulle is included in the free package, and they also usually have two birds of paradise flowers (one on each side) but we didn't want those, since they didn't go with our colors.
We had a beautiful day for the ceremony. The sun was out, but by 4 o'clock it had cooled a bit so no one was too hot. There was a light breeze, but no one was getting blown away.
Nikki came up to my room to get the girls at about 3:55. I was very nervous that the guys were going to see us, but Chandlyn and Nikki really know what they are doing. The guys were already down at the gazebo and Chandlyn had told them to "look at the ocean" so their backs were to us. Nikki stayed with the girls to tell us when to walk and Chandlyn played the music. I decided to walk myself down the aisle, and was fighting tears the whole time. The justice of the peace did a great job with the ceremony, and made us laugh to help keep things light because Darren and I were both very emotional. I would recommend trying to get a hand held microphone if you can, because being outside does not lend itself well to projecting your voice!
After the ceremony there was rum punch and regular punch for everyone. We decided to save the champagne toast for dinner. We took a LOT of pictures with guests and family, and then most of the guests wandered to Dunn's River bar for cocktails, while we took even more pictures with the bridal party and just the two of us.
COCKTAIL HOUR
We did not have a formal cocktail hour with food or private bartenders. It was not something we deemed necessary. My BM's, husband and I went up to our room to bustle my dress and freshen up after pictures. By the time we got down to the bar it was about 6:20, so we just went to dinner.
DINNER
When I scheduled everything with Chandlyn ahead of time, dinner was supposed to be at Mammee Bay. This made a lot of sense, since Mammee Bay, the wedding gazebo and the pool where the dancing would be were all on the same side of the resort. However, when we met with Chandlyn, she said we would be moved to the Plantation (same food and set up as Mammee Bay). This was because there were two weddings. We were able to pick the upper level ocean view though, which was nice.
The tables were set up perfectly. The only downside was the candles were all getting blown out by the wind (since the restaurant is open air). So we took a few minutes when we got there to try to relight everything  It was a fun bonding experience for us.
Dinner menus were at everyone's seat. I didn't make a seating chart with place cards, but it might not be a bad idea if you have a specific way in which you want people to sit. I just sort of dictated the first few seats near us so that our bridal party and my family sat near us, then the rest were up for grabs. It worked out well. We had one long table with the small "T" at the top where my husband and I sat, with our best man and MOH on our sides.
There were servers taking drink orders and dinner orders, and then it was a buffet setup for salad and soup (the servers brought this for husband and I). There were a lot of options for dinner as well, and don't be afraid to ask for more! Everyone really liked their meals.
Our best man and MOH did their speeches, Darren said a few words of thanks to everyone, and then we moved to the pool for dancing!
CAKE
I told the servers we were ready to cut the cake and have our champagne, and they got it ready in minutes. We decided to go with the free cake and chose vanilla. I really liked the cake, and I am definitely glad we didn't spend money on a larger one, because with 28 people, we still had some left over. We brought gumpaste seashells that I had bought online and a picture of what we wanted it to look like, and I was very impressed with the result. They did a great job decorating the cake.
POOLSIDE RECEPTION
This was at the pool behind Mammee Bay, and was set up at the bar on the pool deck. There were tables and chairs set up, which we had requested and paid for, and a bartender. The cost for the bartender and the tables was $15 per person. We also decided to go with the DJ, which was $300. The dancing was really fun and the bartender did a great job. We gave the DJ music we had brought with us, and he played a good mix. We did our first dance to "Come What May" from Moulin Rouge, my husband sand "The Humpty Dance" and we did some fun group dances. It was over too quickly!
Looking back, I wouldn't have changed anything about this part. I am glad I didn't have to think about the music, and $300 was worth it to us to just dance and have fun. The bartender was also WELL worth the $10 per person. The only thing that might not have been worth the money was the $5 per person for the tables and chairs. Not many people used them, but I was glad they were there as an option.
PHOTOGRAPHY
We were incredibly lucky to have a friend who is a professional photographer. Photography is extremely important to me, so I was nervous to use someone I had never met, even though the PhotoShop at the RIU has very good reviews.
We flew him and his assistant down for several days and they were absolutely incredible. They shot candids for us the night before the wedding, shot both the girls and guys getting ready, the whole ceremony and reception, and then did a Trash the Dress shoot with us the next day. I haven't seen the final pictures yet, but they sent me two "sneak peaks" of the TTD shoot, which are incredible!
THE HONEYMOON – SANDALS DUNN'S RIVER VILLAGIO
This was potentially the best decision we made regarding the wedding. We left the RIU the day after the wedding (after our TTD shoot) and moved, literally next door, to Sandals. We wanted to have a honeymoon by ourselves and enjoy married life. We also wanted to be at a resort that was for couples only; hence, the move.
I fell in love with this resort as soon as we stepped into the lobby. It is reminiscent of Italian architecture and is absolutely gorgeous. I have LOTS of pictures from the honeymoon that I am happy to share if you ask, but I didn't want to post them under my RIU review, since it's a different resort.
We stayed in a honeymoon suite and it was perfect! Sandals is almost twice as expensive as the RIU, but it was worth it. The resort was so relaxing and quiet, but still fun and energetic at the same time! The food and drinks are better, but I guess you get what you pay for. We also met a lot of great people there, so we had other couples to hang out with.
MISCELLANEOUS TIPS/TRICKS
-If you can, bring your own decorations because the upgrades at the resort are SO expensive! Everything I used cost less than $80 (including the candles, vases, tea lights, sea shells and flower petals)
-Bring a hat! I wore sunscreen all day every day, but I didn't have a hat, so my scalp got a little sunburned. It made it a little unpleasant to have my hair done, but it wasn't too bad.
-You will need sunscreen. Even if you "don't burn" bring sunscreen. Lots of sunscreen.
-Do yourself a favor and don't wear 10 pounds of undergarments under your dress. I had bought "spanx" to wear under my dress, and I ended up not wearing them because it was just too hot! You will look amazing just as you are – don't put yourself through that! I would also stay away from any extra skirts, or layers on your skirt because you will be hot enough – trust me.
-Do a TTD shoot!!! I made the decision literally the day of the wedding when I was asking all my married friends where their wedding dresses were and they all said they were packed away in a box somewhere. So just do it! You won't regret it – and it was so much fun! And to be 100% honest – my dress is cleaner now than it was after my reception! The chlorine in the pool must have helped wash away some of the grime. The dress looks brand new, except the train is wrinkled from drying out.
I will never forget my wedding day. You have made the best decision of your life by having a Destination Wedding; I know I did. I am happy to answer any questions, share any information, send more pictures…etc to anyone who needs it. I would never have been able to plan this wedding without the amazing ladies on this forum (especially the ROR brides) and I sincerely thank all of you for helping me, though you have never met me!!!
Pictures:
Horseback Riding Excursion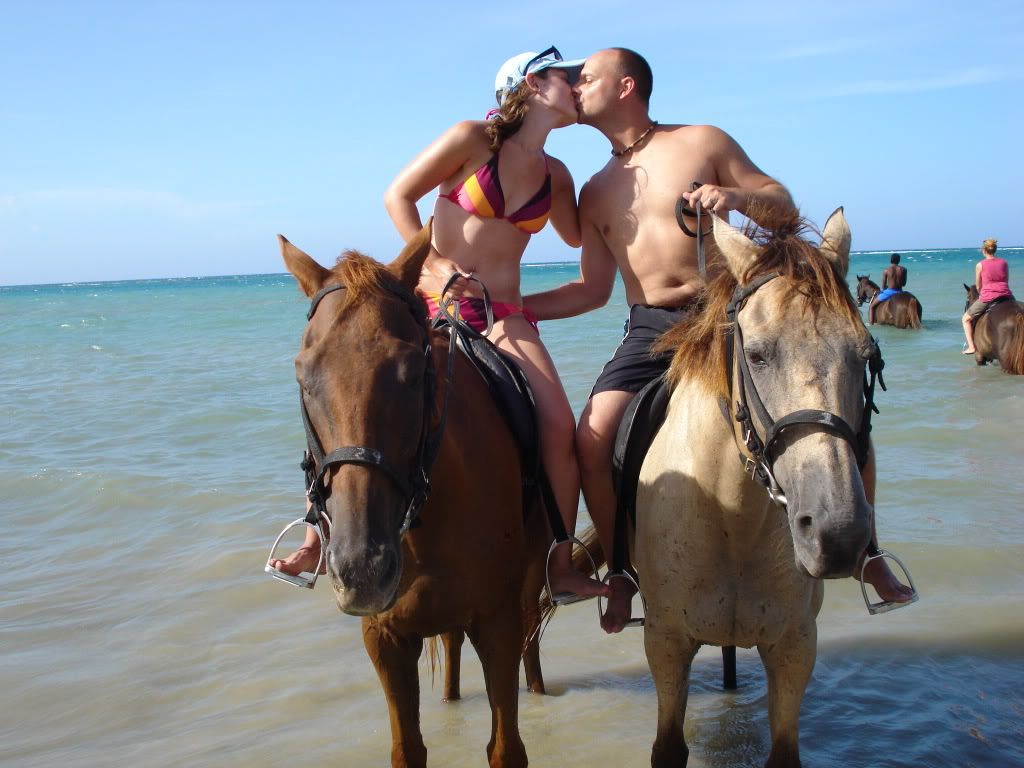 Dunn's River Falls
Wedding Gazebo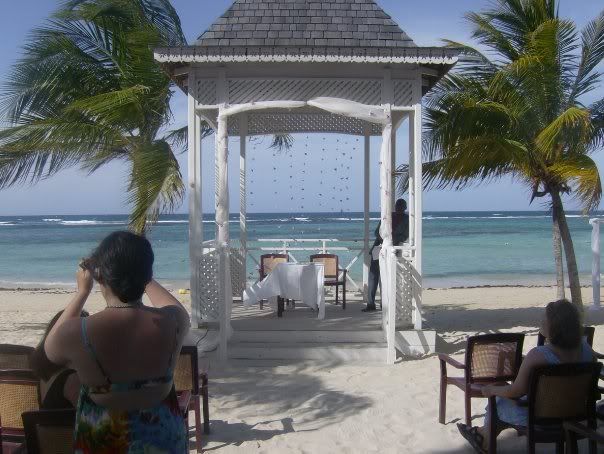 Walking down the aisle to "Somewhere Over the Rainbow" by Israel Kamakawiwo'ole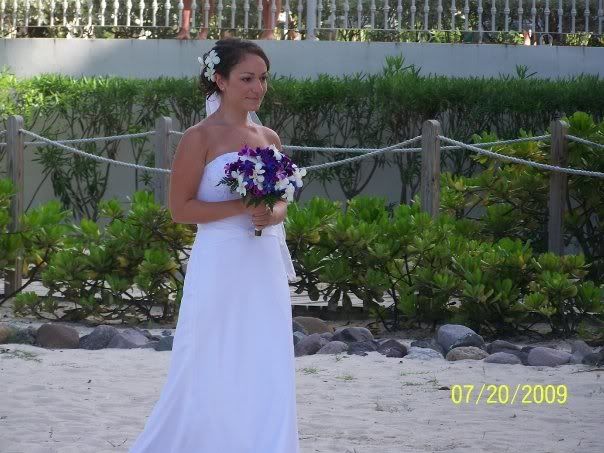 The Ceremony
Signing the marriage certificate
Just us