I went to Cabo for a site visit on June 10th-12th. I had a hair/makeup trial with Octavio from MexSun before meeting with our photographer for our engagement photos.
He actually owns his own salon in San Jose Del Cabo, but does all of the wedding parties for Kelli Castineiras, the owner of MexSun.
Octavio was great to work with! He came to Dreams Resort with a few carts full of his products and styling tools. He uses the BedHead line of makeup and had a great book with makeup ideas/styles to review before we started. I emailed Kelli a few photos before my trip. He had them printed on photo paper and arranged on a sheet with my information.
He was extremely professional and quite funny. We chatted the entire time. Hair and makeup took about 1.5 hours. We only have 1 hr per person scheduled for my wedding day so I'll need to call Kelli and increase the time he's there. Apparently he's very fast on wedding day. If you have a few bridesmaids he brings along an assistant or two.
I loved the way my makeup looked in person, but as you'll see on the below photo, the blush was a bit dark. (I guess that's the point of the trial to get these things fixed beforehand.) I haven't seen any of the professional photos, but I'm hoping they look better than mine. My hair was curled with a straight iron and then pinned using only bobby pins. (I actually slept in the pins and they were very comfortable). I'm going to ask for more on actually wedding day. It didn't fall out during photos but I felt like it might after jumping around on the beach and laying in the sand.
All communication was done with Kelli. The best way to reach her is via phone. She's from the US originally so language isn't a problem. Octavio's english is pretty good and he's taking classes to make it even better.
Trial run is included in day of price, but since we were having pictures, I had full hair and makeup done. Trial is basically meeting with him to determine which styles will work..more of a consultation.
Kelli Castineiras
MEX-SUN DAY SPA & BEAUTY SALON
Tel. 011 52 (624) 142-6801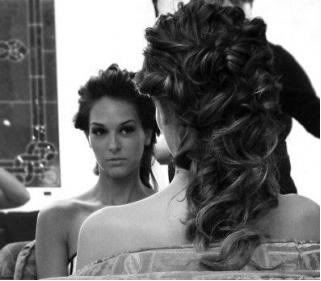 Makeup. I asked for nude lip and bright eyes. (He used a little too much powder under my eyes- that made all my wrinkles stand out a bit too much. But using eyelash clumps on the outside of my eyes really made me feel glamorous.
Back of Hair before pictures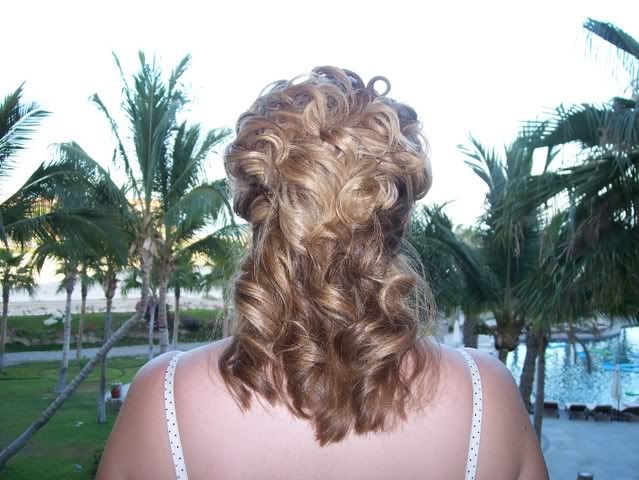 Back of Hair after photos.. curl started to come out on bottom
Side View
I don't have any of the professional photos yet, but I'll post when I get them.
One more important note.. if you're staying at Dreams Resort, bring Conditioner!!! They have a conditioning shampoo that does nothing more than clean your hair. After being in the pool and sun, I wish I had remember my Redken.