Hey everyone! Well, yes, it's time for me to write up my review! I haven't gotten any pro pics back yet, so all the pics that are included in the review are non-pro - but still gorgeous! I can't wait to see the pro ones...I'm thinking I'm going to just move to Mexico and live at the Moon Palace!
First, a huge thank you to all the MP brides who helped out soooo much with helping me with everything - and to all the brides on the forum for your great ideas, feedback, and tips! I can't even tell you - I would have had NO idea about bigggg things if I wouldn't have found this forum (like customs...eeps!)!
So, THANKS!!!! Ya'll rock my socks.
On to the good stuff!
The Details
Wedding Date: July 18th, 2009 at 1:00pm
Wedding Coordinator: Kalena Arroniz, then Claudia Sanchez
Wedding Package: Free
Gazebo - Tucan
Cocktail Hour: 2:00 to 3:00pm, Tucan Terrace
Reception: 6 to 10pm, Moon Light Terrace (Sunrise Side)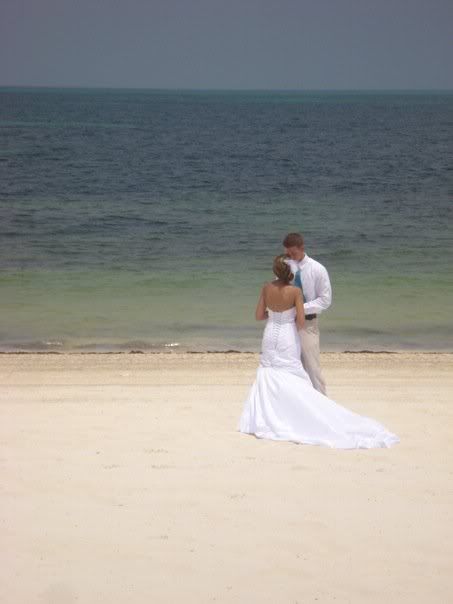 Bride and Groom stay: July 14th - 19th
Guests stay: July 16th - July 20th - most people stayed three nights between these dates.
Everyone stayed in the Nizuc section. We had a total of 28 people, including the bride and groom. Four guests were children under 4 years of age.
Wedding Events
Thursday, July 16th - Most Guests Arrive
We didn't have anything formal planned for this night, but ended up having everyone meet up for dinner at Los Corporales. Matt and I had went there the night before, and it was excellent. They got our big group of 20 something into two big tables right near each other, and were really nice about it. The Mariachi came to serenade us many times! It was great!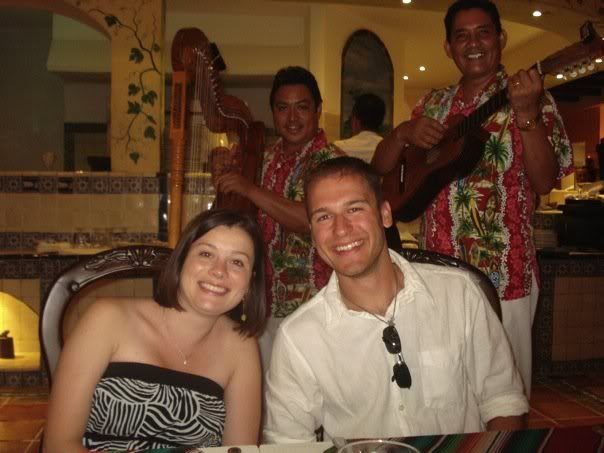 One of the groomsmen and his wife with the Mariachi in Los Corporales!
Afterwards my bridesmaids surprised me with custom tees and a trip around the Sunrise side for a 'bachelorette party' - I live in WI, and they live in MA, so we wanted to make sure to live it up! We did some shots at the Sunrise Lobby bar and then went to the fire and drums show - it was awesome!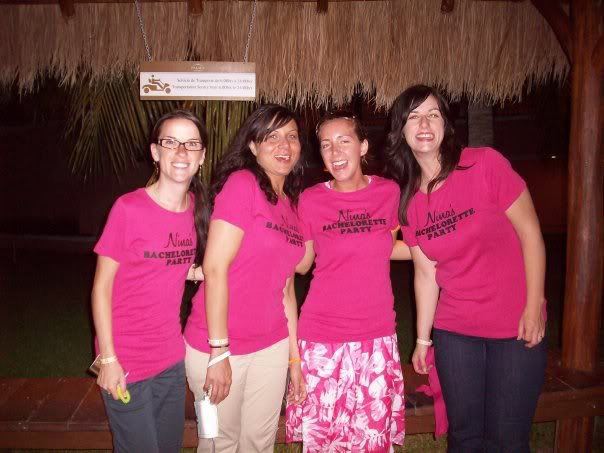 Our custom tees! They all said our names on the back - mine said Matt's Bride to Be! So cute!!!
Thursday we also had our meeting with Claudia to go over our wedding stuff. It lasted about one hour. Shorter than most, I think. We had had a lot of things planned out before though. We handed over all our stuff to her and she handled it from there. We picked linen colors and went over line ups and order of events kind of things. I dropped off my dress for pressing. We also scheduled our blood tests for the next morning...which was a bit of a fiasco...
Friday, July 17th - Welcome Dinner and Blood Tests
Well, Friday morning we were supposed to get our blood tests pretty much first thing. They told us to arrive at 10am to the medical office, so we arrived around 945. We sat waiting until 1045...and no one ever came. So finally we went over to the weddings office to see what was up, and they were scrambling about trying to find a nurse to come in and take our blood. We ended up hanging out in the Nizuc lobby bar until almost 130pm, when someone finally showed up. Then, we had to have our blood taken in a WC's back office...lol, apparently, they can't get into their medical office unless is the normal guy that comes - he must have the key. Kinda sketch, but the nurse that came was very nice and did an excellent job.
We had our welcome dinner at Arricifes on the Terrace. It was really nice and breezy - not too hot. The food was good, but I felt like the service took forever. There was a huge gap between dinner and dessert - so much that people were wondering if there even was dessert and if we were just sitting there for nothing. It was pretty strange. The mariachi came out and played the bridal march and a few other lovey dovey songs, which was nice. Overall, it went pretty well!
Okay, so this looks like it's going to be a few posts long...here goes!