We stayed at the RIU Montego Bay from 7/8 -7/15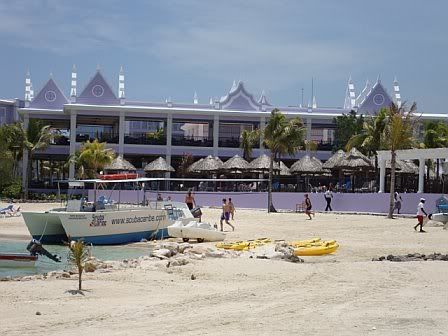 PART 1:
TRAVEL ~ A
We left JKF in NY at 12:00pm on American Airlines on a direct flight to Montego Bay, Jamaica. I had called the airline earlier in the week to see if I could carry my dress onto the plane. The woman on the phone said they couldn't guarantee it but they would do there best to accommodate me. We had 4 suitcases that we checked along with 2 carry-ons and my dress. We were each able to check 2 bags so there was no extra charge. We also gave 2 bags to DH's brother and girlfriend. When I went to check in they told me that it was no problem to bring my dress on the plane. I hung it in one of the closets that they had.
On a funny side note there was another bride on the plane and we started talking…turns out she was getting married at RMB the same day as we were in the 2pm time slot!

JAMAICA TOURS TRANSPORTATION ~ B+
We set this up with the travel agent before hand. When we arrived in Montego Bay we went to the Jamaica Tours desk and gave them our voucher. They took us and our luggage to the bus right away. We did have to wait on the bus for about 15 minutes for other passengers to arrive. They brought us right to the hotel which was about a mile and a half away. When we were leaving the hotel the bus was there right on time to take us back to the airport.
CHECK-IN ~ A
Check-in was super quick and easy. They brought us both rum punch which was very nice to have after traveling. They deliver your bags to your room for you. DH and I took our bathing suits out went up to the room and by the time we were done changing our bags were there.
PART 2: RESORT
APPEARANCE ~ A
The hotel is less than a year old so everything looked great. You walk in to a grand lobby that has lots of chairs and couches to hang out. The pools are all great and clean. The hotel is kept very neat. There are workers gardening and raking the beach everyday. The restaurants are all very nice. The beach does have a lot of plants growing in the water which was a little disappointing because I am such a beach person!! But it was fine because our family and friends mostly hung out in the pool by the pool bar. The seats and tables in the pool were awesome. We could all just hang out with our drinks and talk. The beach itself was very nice and kept clean and it was very big. There were always chairs available on the beach and by the pool. I read reviews complaining about planes flying by but I never even really noticed them.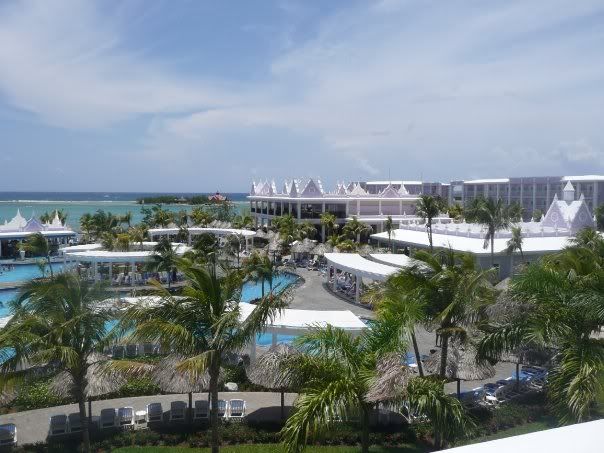 ROOMS ~ B+
The first night we stayed in a regular oceanfront room. The room was very nice but I thought it was too small to get ready the day of the wedding. So the next day DH and I went and asked for an upgrade. At first they told us it would be $150 a night but DH said no we brought 40 people down here you should give it to is for free. At first they didn't want to do it but they finally agreed. If you go there be persistent about getting the upgrade and they will probably do it for you.
The upgraded room was an oceanfront suite…it was awesome! It had a huge king size bed, a sitting area with a couch, a walk in closet, huge bathroom with a huge shower and double sinks, a water closet with a bidet, and a hot tub. Also there was a huge balcony. I am so glad we asked for the upgrade. The only complaint that some of our guests had about the rooms was that their air conditioning didn't work too good. Ours wasn't that bad but it could have been better.
Me in the Tub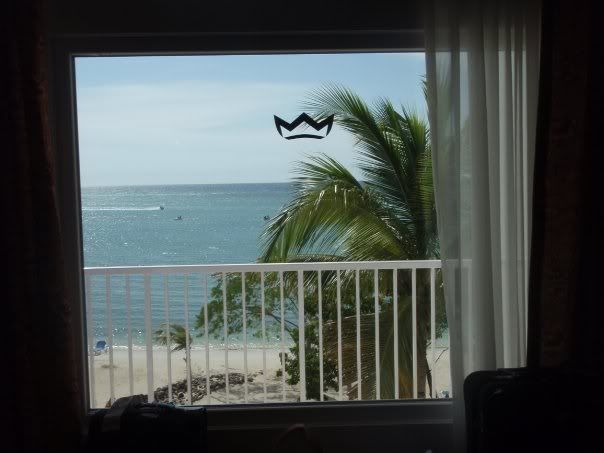 View from our Suite
FOOD/RESTAURANTS ~ B
The food at the resort is typical all-inclusive food which was just fine for me and our guests. The buffet offered enough variety to keep everyone satisfied. I am a vegetarian and I never had trouble finding something to eat. The breakfast buffet was my favorite…I love having omelets made to order everyday! There are a few restaurants that you can make reservations for: the steak house, Italian, and oriental. DH and I just ate at the buffet but a bunch of our guests ate at the restaurants and said they were good. There was always food anytime of the day.
BAR SERVICE ~ A
Drinks were strong and good. We got travel mugs for everyone as part of their OOT bags and everyone loved them. The bartenders filled them up and they kept the drinks cold. The bartenders at the pool bar were great. They helped our group right away and they were always giving us shots.
HOUSEKEEPING ~ A
Our room was cleaned daily and we were given fresh towels daily. They also made cute towel animals on your bed everyday. Also our fridge was always stocked.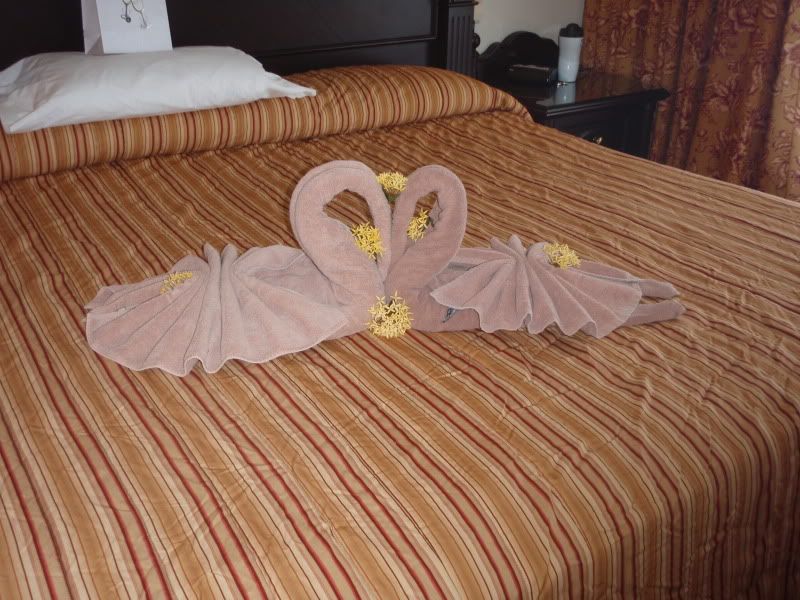 ENTERTAINMENT/THINGS TO DO ~ A+
There was a show every night from 9-11. Each night it was different. You can tell that they worked very hard for these shows. The dancers were wonderful. There was even a Michael Jackson tribute show which was absolutely amazing.
The resort offered a variety of activities during the day as well. Our group played a lot of beach volleyball. There were also kayaks, sailing, and paddle boats which was all included.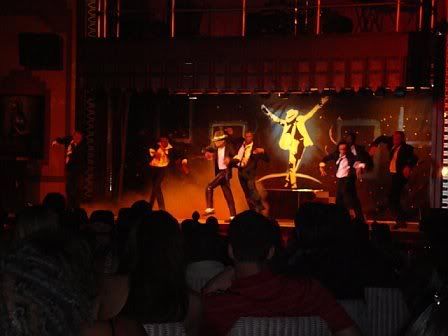 Michael Jackson Show
PART 3: EXCURSIONS ~ A++
Our group did the Cool Running Dunn's River Falls Cruise. We booked it in the lobby of the hotel when we got there. We had 25 of our guests come with us. WE ALL HAD A BLAST!! A bus picked us up from the resort and took us an hour and a half to Ocho Rios. Our group had the entire bus which was awesome (especially on the way back after many rum punches and red stripes!) There was a tour guide on the bus that told us about the interesting places we passed and facts about Jamaica.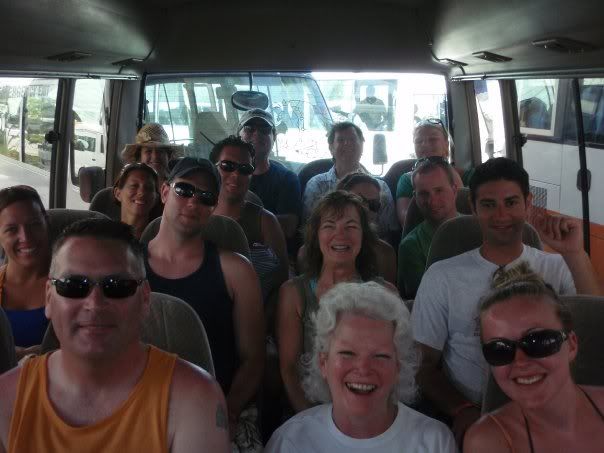 Tour Bus
When we got to Ocho Rios we were given lunch which included jerked chicken, rice and beans, coleslaw, salad, bread, banana bread, and soda, juice, and water.
After lunch we all boarded the boat. They took us out to a coral reef where we all went snorkeling.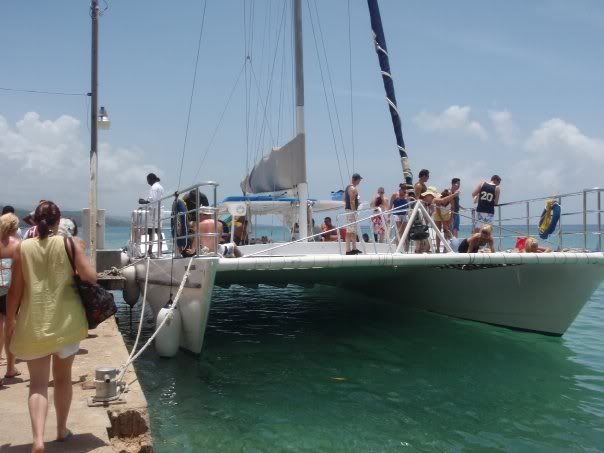 Cool Runnings Boat
After snorkeling they took us to Dunn's River Falls. We all got off the boat and most of our group climbed the falls. Those who didn't want to climb could hang out on the beach and swim. Everyone loved the climb!
After the climb which took about an hour we got back onto the boat. This is when the party started!! They served rum punch (very strong but delicious…so be careful!) and beer. They had music playing and the staff got everyone up dancing and doing the limbo. We all had a great time! The ride home was a lot more fun than the ride there because of all the punch and beer and everyone was singing and laughing!
DH and I did this tour about 3 years ago by our selves and loved it and it was super fun to do it with a large group!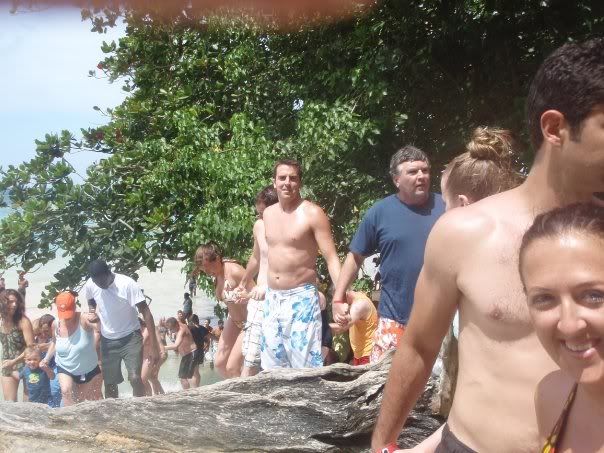 Some of Our Group Climbing Up the Falls