Sorry I have been MIA for the last week or so! Just trying to get the last minute stuff done and I've been sick for the last few days. I don't have pics of everything as I got anxious and got stuff packed up before Cattie could grab anything.
YAY!!!! We leave bright and early Saturday morning, can't believe it really.
First and absolute foremost, thank you, Tammy!!! You are an amazing, gracious woman and without you so so so many of us would be absolutely lost! I don't know anyone else who could do as much as you, run your business, be a wife, pregnant, being a mom, and run BDW! You really are amazing!
Second, thank you to each and EVERY BDW member! My wedding was nothing without your help and inspiration, and I am forever grateful!
So many things have come from sooooo many different girls I hope I give credit to each of you, please please please forgive me if I miss you!
****WARNING SUPER DUPER LONG BUT OH SO MANY PICS!****
A lot of you know Joe and I are on a small budget, I'll try include how much money we spent so you can see the amount and what we got for it.
The beginning- We got engaged!!! Valentines Day! I love my ring! Joe was too afraid to pick something I might not like so he gave me a budget and let me go look. I know some people aren't fond of this, but I'm so glad we did it this way! I had a certain ring I was in love with and I wanted to get it as big as my budget would allow. Well when I put it on I hated it on my finger. Everything I had seen in magazines and I thought I wanted, I didn't like it on. I also hated a big ring on my finger. It just didn't look quite right. We didn't include my rings in the budget as they were paid for before we even started planning. I have a matching band included. So here is the ring we officially decided on:
Picking Joe's ring was hard, I don't know why. I wanted him to like it, he wanted me to like it so we had to agree somewhere. We finally bought his ring. I bought it from
I will give a warning about debebians and their tungsten carbide rings. So tungsten carbide rings bind w/ another metal, either nickel or cobalt. Debebians bind theirs w/ cobalt which I guess is cheaper, BUT when cobalt reacts w/ the oils of your skin it causes the ring to oxidize and turn a dull gross grey looking kinda tarnished but there is nothing you can do to fix it. I didn't know this when we bought it or I wouldn't have bought it. So we bought him a new ring from a fun local store, Rockin' Rudy's. He got a tungsten ring for $37. In total on his rings we spent $136. So here is a pic of his first ring that oxidized:
Here is a pic of his new ring:
Next, location!!!! Joe's parents love Akumal. His dad stumbled along it in the middle of the night 40 years ago while hitch hiking through Mexico. He fell asleep on the beach and woke up in the morning and instantly fell in love. It is their favorite place in the whole world! And if you don't know, we travel, A LOT! They been begging for one of their children to get married there, 2 said no, 2, who knows if they ever will get married, and we said YES! So we are getting married on the main beach of Akumal at 4pm on August 8th! Our guests are staying in bungalows just off the beach. They are cheap and have a BBQ pit and kitchens which we love cause we all plan to BBQ a lot. Here are the bungalows:
Joe and I are staying at Taj-Kumal villa, it's the only villa directly on Akumal's main beach. Its beautiful and I am sooo excited. Here are some photos of taj-kumal: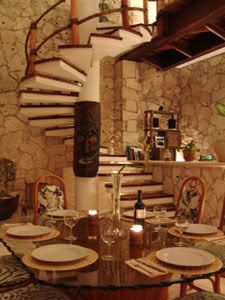 So from here on out I'm gonna have to break it down into categories or I'll get lost and will be all over the place!
Invites
I didn't do STD because by the time I got around to doing it all of our guests had already asked for the day so they could put their vacay time in.
I once was reading a bridal magazine and saw amazing amazing passport std, boarding pass invites and luggage tags, and I HAD to have them, until I saw the price! $2600 for 60 sets. I couldn't afford that but I wanted them so bad so I started searching and that's how I found BDW! I made passport invites (thanks to becks! She knows I'm in love with her! HA!) and boarding passes with all our info on them (thanks Carly!) these cost me $30 for 30! They were my first DIY project and I'm happy w/ how they turned out for my first project!
more coming....