Wedding Review Iberostar del Mar
Travel: 6/10
We flew Continental and they did not upgrade us which was fine. They get a 6/10 because the flight attendants were rude regarding my dress and asking me if I expected them to take care of it. I just asked very nicely if there was a place to put it or should I use the overhead and I got a lecture or attitude on each leg of our flights.
Iberostar Hotel: 9/10
We were upgraded to the Lindo because the del Mar was closed for the first part of our vacation due to low occupancy and they were doing some renovation. We were upgraded to honeymoon suite which was nice- bigger than the other rooms with a Jacuzzi tub on the deck. We had wine and fruit in our room when we arrived. The front desk and maids were friendly during the trip and helpful. We left OOT bags (small organza bags with Spanish for Dummies, Advil, Pepto, Airborne, bandaids, and a welcome to mexcio brochure) with the front desk and all but two of our guests got them at no extra cost so that was nice. Check out the humid area of the spa- you get a gift certificate with your wedding package. DH didn't go but it was awesome- 7 hot tubs, 3 showers, a large pool, steam and sauna rooms. The restaurants were great. The only annoying thing was booking all of the restaurants early to get the time you want. We loved the Japanese and the Cajun. El Museo has the best food but was too stuffy of an atmosphere for us! The buffets were great. The front buffet had A/C so that was good! The swim up pool bar was great! We had no problems with finding chairs. It rained the last few days but was still warm.
We went to the buffet for the rehearsal dinner because you had to know everyone's room number to book a restaurant and some people came in that day. It all worked out.
Reyna, wedding coordinator: 9/10
We met with Reyna our second day there and she was very helpful. We were there for 45 min. going over flowers and location. We had chosen the gazebo but moved to the beach since the del Mar side was closed and there weren't many spectators. She was helpful the whole time. During the wedding, my step mom through a fit at one point and Reyna made sure to come to us and make sure we were happy. We told her we were and not to worry about my step mom so all was fine. My only complaint was the golf cart came 25 minutes late to pick me up so the wedding started late which ended being fine but the guys had to stand in the sun and the guests were hot. We didn't see Reyna at the end of the night so we dropped a tip off later in the week.
Spa: 8/10
I used the spa for my nails the day before. They were nice but expensive. My nails chipped the day of the wedding so we had to go buy white for the French manicure at the spa so wait until the wedding day to do your nails.
Photographer: Sascha Gluck 10/10
We loved Sascha and his assistant (Lars?)! He was affordable. He was on time, had great creative shots, and went out of his way to get the shot. At one point, he was crawling on his knees in the sand to get an angle and we were cracking up. He had me wear his sunglasses because I forgot to bring mine for some pictures. We went all around the property and got some amazing photos. I can't wait to see all of them! He has posted some at: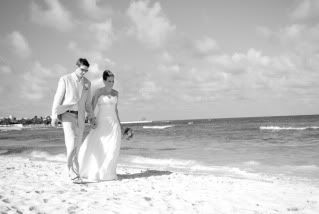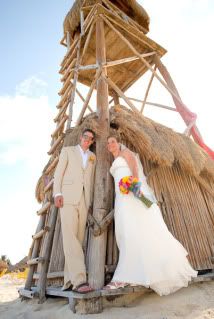 Hotel photo shop: 0/10
We had to pay $300 to bring an outside photographer and the photo shop was rude when we went to pay. I asked if we could use them to take photos of family around the resort to make some use of the money wasted and NO was the answer. Annoying….
Beach Ceremony: 10/10
We loved it! The minister was great and the blessing ceremony was wonderful. It was long enough with enough short prayers that it pleased all of the family (with various religious beliefs) and felt personal even though he didn't know us. Champagne toast afterward!
Flowers (through hotel): 9/10
The flowers arrived at my room about an hour ahead of time. They were great. They had ugly bows so luckily we had brought our own ribbon in my colors and added that so they matched the dresses. I used bright colors and it worked out well with roses and gerbera daisies. My mom's corsage fell off when we were walking but we pinned an extra boutonniere on her wrist (I ordered too many!) and it worked out. The flowers held up all day and for the next few days in our room. We did center pieces for the tables which were nice. The arch- we added extra flowers and my aunt added white toile to it so it looked great. (You don't need to add fabric but my mom was convinced you HAD to have it so she brought it down).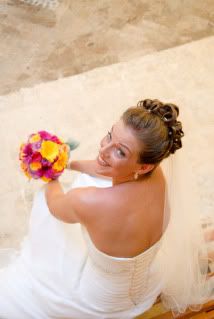 Hair and Makeup: 10/10
My mom did my hair- bring anti humidity hair spray!! It helped. It took longer than I thought so give yourself enough time. I did my makeup and it stayed on. I used the Makeup Forever Mist and Fix travel six spray from Sephora and it really does hold everything in place. I did not look melted. I used Estee Lauder makeup and Mabelline waterproof mascara (yellow tube) and it held up. I wore Secret waterproof deodorant and didn't feel sweaty until the end of the night so that was worth it! I was told not to wear sunscreen the day of for pics because it was give you a weird shine so I didn't. But, I did get a little pink that day but not too bad.
Reception: 9/10
It was at the El Faro restaurant (which is a snack bar during the day) for a private reception (we booked the Tropical but it was closed for the week). It was worth it! At the Lindo, you have to have dinner at a restaurant an then move for the reception and the dinner isn't private. We were glad to have our own area and it looked great. They used the shells and starfish we brought and center pieces. It was all white and looked good. They had to go and find our cake topper but it worked out. The appetizers were great! Dinner was fish or steak (although they tell you all have to have one item but we told them we have people who don't eat steak so they did 12/45 fish dinners). We hooked up the ipod and danced the night away. The waiters were great. The only thing that would have been good about a DJ is people kept changing the songs on the ipod and it would have been nice to have someone in control of the music! Also, it would be better to have someone announce your dance, etc. The bathrooms are small when you have to go in your wedding dress since you have to bring friends in with you!! The cake was good- we ordered cheesecake and it looked nice with flowers on top. We did have to ask them to turn the fans on because they turned them off part way through the night. Also, it is kind of bright for dancing but no one in our group cared. We tipped the waiters and they appreciated it.
Honeymoon: 9/10
We stayed in the honeymoon suite at the Lindo for the honeymoon. I wish we would have moved to another location because our family stayed and we kept eating with them and hanging out because they were there. It would have been nice to have more time to rest without anyone but us.
We loved the towel animals! They put water in the bathtub the night of the honeymoon with rose petals and rose petals on the bed. It was sweet but the last thing I wanted after being hot all night in my dress was a hot bath. I had to clean it out and took a cool shower! They also gave us t-shirts and champagne in the room.
Alltounative Tours: 10/10
We went on the Mayan encounter. It was $119 per person and we did zipline, rapel, swam in a cenote, eat a Mayan lunch, and climbed the pyramid at Coba. It was a full day! It was nice to have 8 people on the tour instead of a huge van. They take you back to buy photos and do a shot of tequila before you go home. The photos support the Mayan community you eat lunch at so we bought them. It was fun!
Isla Mujeres and Cozumel: 8/10
We went to both of these islands during our trip. Snorkeling at Isla Mujeres was great- we used a group that was right at the ferry dock. The town was crowded and hot. It would be fun to explore more but we never had enough time. The ferry rides were neat. It was fun to ride on the roof and see the water! On Cozumel, we got a taxi and went to the ruins. You can rent mopeds or cars but we had too many people for one car or van so a taxi was easier. There is no shade so bring water. It was good to see but it was really better to see Coba if you have a chance.
Overall, we were so glad we chose Mexico! We had 45 of our friends and family come down to the celebration. Everyone had a blast! We chose Iberostar because people were bringing kids. Turns out, no kids came due to swine flu scare BUT we didn't see anyone with a mask the whole time we were there!