Ok so here is a pic of my original e-ring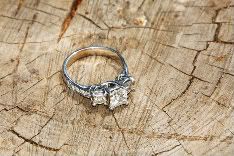 and I LOVED it. I love love love princess cut. I loved the three stones and how the diamonds around the band made the ring look so delicate. So over the weekend we went to the jeweler to do the wedding bands (one from FI and one from FI's kids). They were going to have to custom make them so they fit flush, kinda like puzzle pieces. When we were there FI mentioned wanting to upgrade the diamonds for our 1st Anniversay. The guy told him if he did that, there is a chance that the wedding bands wont fit anymore....
FI told me to try on some others, I was hesitant to do so because I really liked the ring I had, until I found my new one!!! Please bear with the pics they were taken from my cell
Here is just the e-ring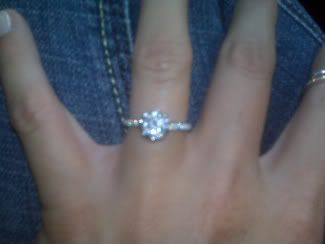 And the ring with the bands on each side
my FI's mom reminded me that like 2 years ago, I ripped out a picture of a Tiffany ring and put in our kitched drawer for FI for when he was ready...my new ring is a scaled down version of the Tiffany ring...
Tiffany & Co. | Engagement Rings | Tiffany Novo | United States