Hola all those brides/grooms/mother-in-laws/sisters/friends that are reading this and looking for a photographer for your big day out in sunny Mexico!
I realized that I had not posted an introduction for our business in the vendor marketplace so here we are! We are excited that your considering us to capture you day and hope you love what we do.
Best of luck with everything and keep smiling!!!
Lincoln & Lori
Who are we?
We are Lincoln and Lori, a Canadian couple that has decided to move ourselves and our Wedding Photography down to Playa del Carmen. For us, our dreams of moving to the beautiful Mayan Riviera have come true! We are very excited to be following our passion for photography and warm weather!
Lincoln is orginally from Winnipeg and I am from Regina. Having grown up in the prairies, we were both growing tired of extremely cold winters and wind chills! In hopes of finding the greener grass on the other side, we both packed up and left the -40 degree weather. Our destination being... Calgary Alberta. Sure winter there is milder but... it goes on forever! Being close to the mountains, Calgary is known to snow almost every month of the year. Summer was also very mild, offering maybe one or two days that hit 30 degrees. Those "mild" winters and mild summers were hardly my defininition of better weather.
In our previous lives, we were both computer programmers. Which also happens to be how we met. We worked about 10 feet away in the same cubicle area. As we worked away at our regular day jobs, Lincoln and I found ourselves wishing we had more time to focus on developing our skills as photographers. Having spent a few too many years in the frigid winters and working in an office, we decided to begin a career transition that could bring us to Mexico! We wrote down our goals and aimed to be living in Playa Del Carmen, working as wedding photographers by 2010.We began to spend most of our free time taking photography classes, reading books about creativity, praticing to enhance our technical skills, and job shadowing other professional wedding photographers. As we began to accept wedding bookings in the Mayan Riviera we decided to move our plans forward to March 2009!
How we got here:
When March came around we had quit our jobs, sold a property & two vehicles and liquidated most of our lifes collection of "stuff". We were down to only necessary items that would fit into our fashionable and free '97 Chevy Astro Van. And... so... we hit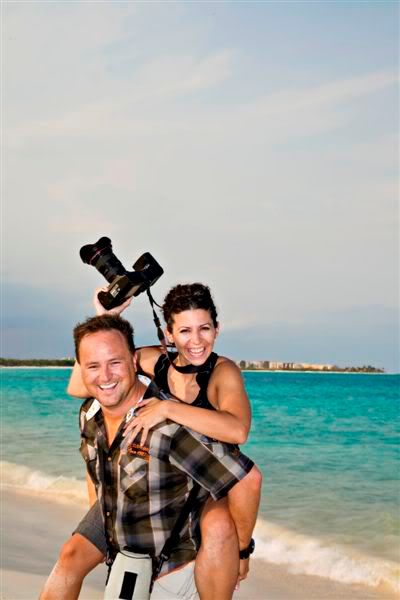 Our Website: