My first official DIY and I am darn proud of it! The invites went out yesterday and i can't wait for my guests to get them… let alone for them to start booking!! (fingers crossed)
A big old THANK YOU goes out to all of the girls whose incredible ideas I just had to borrow from! I used a combination of Aylee and Tami's templates, without which I would have never been able to even start this project. I am also incredibly thankful for Rebecca (becks) sending me the stargazer image she used on our monogram so I could play with it and keep the same theme throughout all of my projects.
So here we go… this is a pic of all of my supplies. Most everything was purchased at either Hobby Lobby or Michaels with their wonderful coupons, except my envelopes which I ordered from paper-papers.com. if I had to pick one thing I couldn't have done this without, it would be the Fiskars Rotary Trimmer… it makes cutting everything a BREEZE!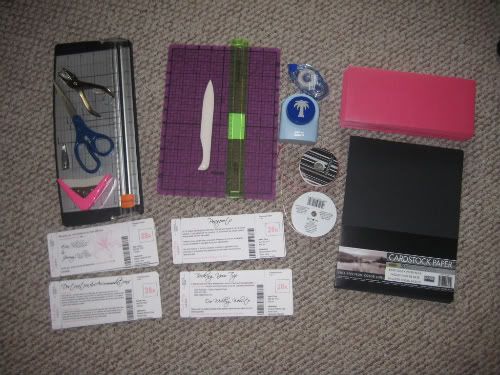 Here are my four passes for each invite printed from FI's fancy scanner/printer/copier thing on white card stock. I used Scriptina for the fancy words (downloaded from dafont.com) and Arial Narrow for everything else. Also, to cut out those pesky little indentations on the left side of each page, I used nail clippers. An exacto knife just didn't cut it (no pun intended!)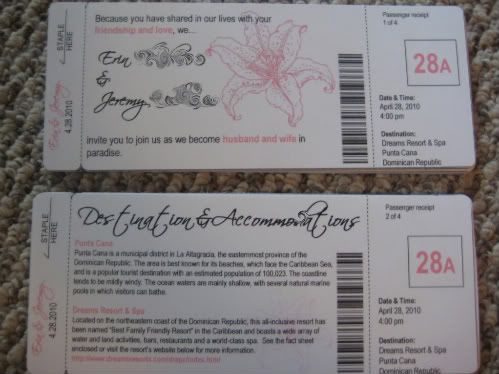 FI used his big strong muscles for me and punched holes through each set and I tied light and bright pink ribbon through each to keep them together.
....more coming!!!