Flight and Check in
A+
Flew Continental..nothing special, checked in, waited in line, waited for flight…..
Only funny thing was on the way from Houston to Cancun, we were last to board because plane was delayed in New Orleans and I asked if I could put my dress in the First Class Closet. She said there were already 5 Bridal gowns in Closet. So I took up a whole overhead compartment. One man attempted to open the CLOSED overhead compartment and my DH warned him not to open or he would suffer the wrath of the Bride. He proceeded to the next compartment.
Airport
No problems there. My DH decided to wear a sleeveless shirt and scared all the little Mexicans with his tattoos! It was kinda funny. They would not even make eye contact with him or me! Great idea honey!!!
Arriving and Check in
A+++
Our room was ready when we arrived. Rafael (bellhop) was awesome! He walked us through property to the Club Tower. The check in was easy. We got our key and up we went.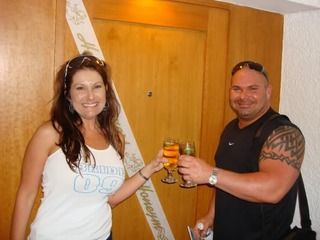 Room
B-
We reserved the 1 bedroom master suite. A beautiful room on the 15th floor of the Tower with an incredible view of Gazebo. We had some A/C issues with the unit in our bedroom. We are very very hot people and keep our A/C at home on 65 year round!! We are freaks about A/C. Anyway, they attempted to fix the unit three times. Kept telling us it was fixed but NOPE!!! I let it slide due to the fact our living area was so cold. It really was not a major issue until the blood pressure was up the day of the wedding but it was too late by this point.
The Resort
A+++
All I have to say about this resort is SERVICE, SERVICE, SERVICE…They take care of you and will do anything they can to make your stay amazing. We made our way each day to a different area.
First main pool, then the different beach areas, then the club tower pool. I loved them all.
I am a very early riser and spent my mornings getting up around 5:30am and cruised the property. It is absolutely my favorite time of the day. There were pelicans, iguanas and most of all incredible sunrises. I think I will miss that the most.
I then would head over to gym at 7:30 and get a workout in. The gym is a nice facility and offers enough to get through the vacation. After about 9:00am it gets pretty packed.
I finally figured out the drinking system after the 3rd day. The key to feeling any sort of alcohol is to ask for a drink and then a shot on the side of whatever liquor you are drinking. For instance, if you are drinking Margaritas, ask for a shot of tequila ON THE SIDE CHILLED, or Pina Colada ask for a shot of rum ON THE SIDE CHILLED…Finally got a buzz after the 3rd Day!! I also ordered a whole lot of Corona in the can. I did not care for the draft.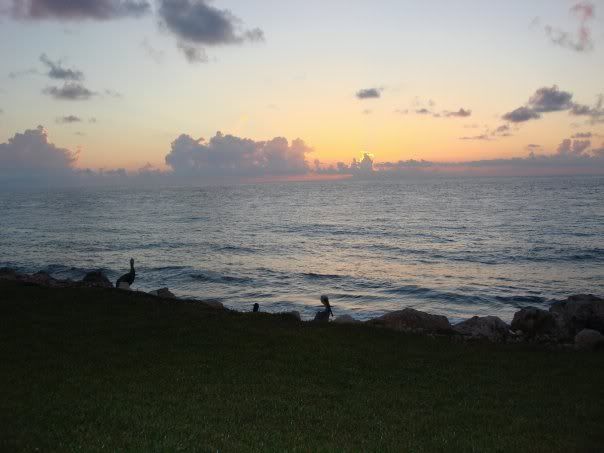 Wedding Coordinator – Claudia
A++
I scheduled a meeting with Claudia at 3pm. I made my appointment about a month before so I could schedule accordingly. She was great. I did make a joke about not getting stuck in any elevators the day of my wedding. She laughed it off but you could tell she needed some therapy for that incident. Anyway, I had quite a few drinks on the plane so I was a bit tipsy. We joked around and wheeled and dealed with her. She loved my DH. He is a pretty funny guy so she gave us a few breaks. We paid for the wedding and gave her a $150 tip. I forgot a few things so the next day I left her a message and everything I asked for was taken care of.
Rehearsal
A++
For rehearsal Celia met us. I am assuming Claudia was busy with another wedding. No worries because she is completely competent. She is very knowledgeable and sweet. I brought the favors, signature frame, shot glasses, cameras, etc. Everything was placed correctly. We went over the song lists and order of songs and it was followed to a T! We went over other special requests and it was followed exactly!
Hotel Food
A
The food was great. Some were better than others. I like Oceana for dinner. Seaside for lunch. The sushi was OK. I am a big sushi eater and very picky. So like I said it was OK. Definitely worth trying once. The buffet was OK. Not a big buffet eater. I liked the buffet for breakfast but dinner not my thing. We ate for our meet and greet but did not venture back again after that. I did not eat lunch there. We did eat a lot of poolside lunch. I ate the tuna sandwich or the Cheese burger or Club sandwich. Nothing special just bar food. The room service was good, too. If you want something that is not on the menu just ask. My menu was in Spanish for the first 3 days so I was just "winging" it. Once I got the menu, I realized most of what I was ordering was not on the menu. Also, the coffee in the room sucked so every morning at 5:30 I ordered coffee to my room. I will make one last note. I am not a fan of Splenda and that is all they offer. I only use Sweet and Low. I was DYING FOR 5 DAYS!! I had to use regular ole sugar!
Spa
A++++++
I loved the Spa! It was my escape for a few days from the hustle and Bustle of planning a wedding. My DH got his first Pedicure and we took advantage of all the services from Body Scrubs to Green Tea wraps. Couple massage beachside was absolutely awesome. I highly recommend scheduling them in the early am (like 9am). This way there is no background noise like Jet ski and sea dos at this time. We spent some Quality time together there. It was awesome!
Mireya did most of my services while I was there. I HIGHLY recommend her for a massage. She worked this kink out of my neck!! She will apply as much pressure as needed. Awesome!!
I did have to fix my eye makeup some but I am pretty picky about my makeup and do just fine on my own. She definitely helped getting it jumped started! Great for putting fake eyelashes on!
My Bridesmaid is my hairstylist so she did my hair and what an incredible job she did. I was a nervous wreck by the time I got to her. I had my nails, toes and makeup done then my hair. I do not like to sit down very long so I was a bit agitated by this point. If I had to do it all over again I would definitely break it up some!!!!!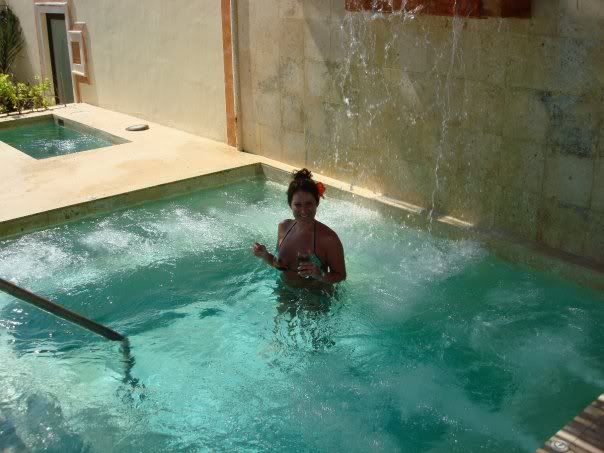 Private Dinner
A++++++
Definitely needed. We chose the beach by the Tower. It was perfect. Away from everything and very private. The food was OK. It was really just a time for him and I to spend some quiet time alone having dinner. He was able to get a room that evening for the wedding night so we stopped at Oceana and had some coconut Ice Cream and said good night. BTW..THE COCONUT ICE CREAM ROCKS!!!!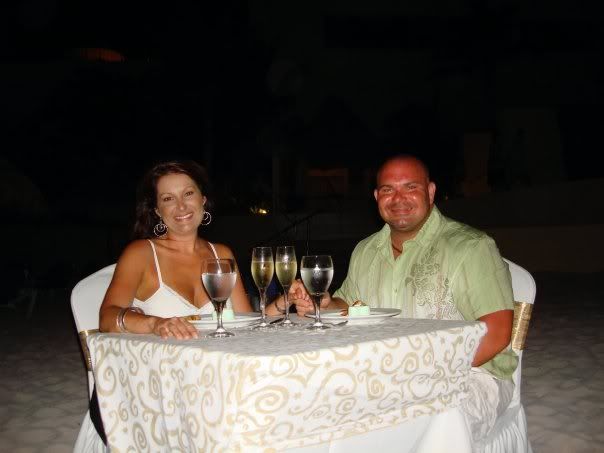 Hypnotist
A
Nothing better than free entertainment. There was a hypnotist on Thursday after the meet and greet. It was hilarious watching your friends get hypnotized! Definitely worth seeing!
Coco Bongo
A
After the Hypnotist we headed over to Coco Bongo. One of my guests is fluent in Spanish so he negotiated for us. We ended up getting a private table with 3 bottles of liquor between 12 of us. It was plenty enough and when they were gone so were we. It was a long night!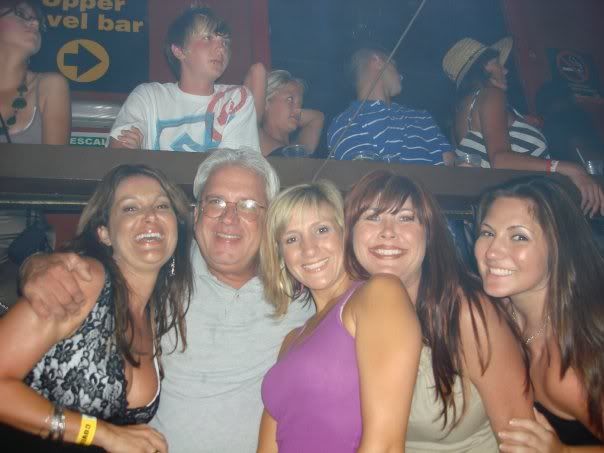 Flowers
A+++++++
Of course they were beautiful. I told Claudia what I wanted and she provided it. They were amazing.
Ceremony
The ceremony was the PERFECT TIME! We started just a little late because of a wardrobe malfunction. My zipper was having issues getting past a seam. After 20 minutes of playing with it, divine intervention helped us and it went right up!!! Anyway, we started at 5:35. By the time we ended the ceremony strolled over to the lighthouse for photos, it was time for sunset. We got the most amazing pictures. My DH is not a mushy guy and he looked at the photos on the camera and got tears in his eyed. It was that beautiful!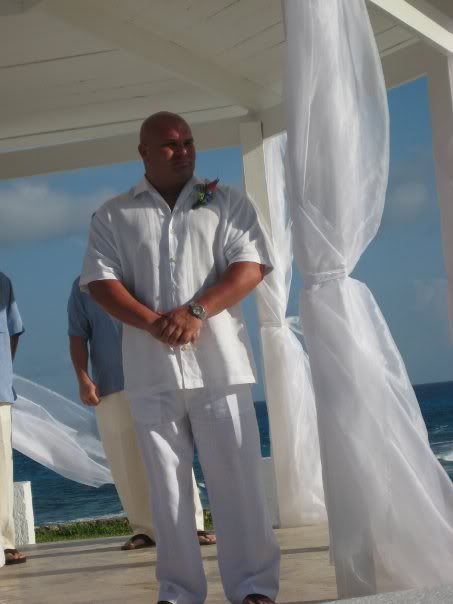 Minister
A++++
She was Fabulous!! She was very fluent in English. She said some beautiful words. Guests came up to me after the ceremony and complimented me on the ceremony. I wish I knew her name. Just ask Claudia the name of the Minister for the Keller/Cochran Wedding. I am sure she will accommodate.
Photographer
A++++
Amazing pictures, amazing creativity, amazing amazing amazing! He was so nice and enjoyed him so much. We used whoever came with the package. My DH husband dealt with him so I am really unsure of his name. As soon as the pictures come in I will be passing them along! We left the day after the wedding so he will be emailing me the info and mailing me a disk.
Videographer
B
We definitely felt a little taken advantage of. We were told to give him $70 for the DVD at the wedding. When we checked our package it was included. We called Claudia and straightened it all out. He is supposed to be sending us our money back. He says it was for shipping but my DH clearly remembers him asking if we had a FEDEX account (which we do) and sending him the number to ship. It was all a bit shady but Claudia was able to fix in 30 minutes before we got on out bus to leave the next morning.
Other than that he did work hand and hand with the photographer. They did a great job working together.
Reception
It was perfectly set up. There were 4 round tables and our table facing the dance floor. I did not bring any centerpieces and honestly did not need them. There was a large light provided in the corner and lights under the tables. There was a candle in the center of each table. I did have favors that were placed at each person seat. (Personalized M&M's in white round containers)
Cake
A-
Originally this was an A+++++ but when I looked back at the photos I noticed the "&" symbol was backward. I was more amused than angry. The cake was beautiful and it tasted great! We had the Tres Leches and upgraded cake and eliminated the desert from dinner.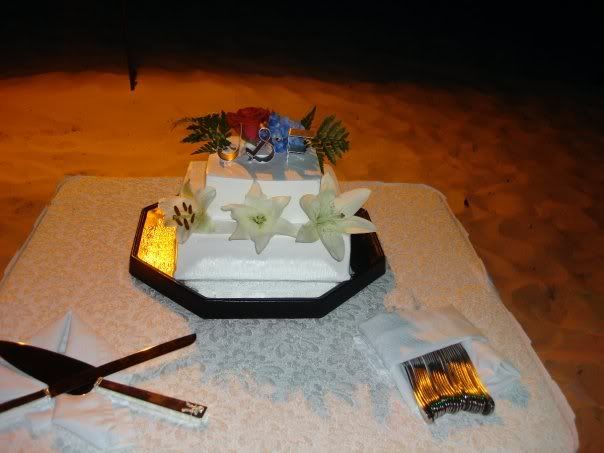 Dinner
A++++
Caesar Salad – Yummy
Lobster Bisque – Yummy
Dreams Trilogy – Yummy
I was not hungry and was ready to party, so in between courses we were cutting the rug. By the time dinner came, I was hot and over dinner. My guests complimented me on the choices. Honestly, I did not care if anyone liked dinner or not. They can go order room service after (like we did) if they did not like!
Sound System
A+++++++++++++++++++++
You are making a mistake to hire a DJ. A BIG MISTAKE! He is a DJ! I gave him an iPod and he played the specific songs for certain dances and then he played some of his own music. He was amazing and we jammed!!! The whole wedding was up dancing and sweating. My DH had his shirt opened it was so hot from all the dancing. I do not think I have ever sweated so much. Some of the guests from Abby's wedding were peaking in on us! I think someone overheard someone referencing the groom as the "Hulk". My DH loved that! We were having an awesome time. After the wedding the girls climbed into the water to cool off! I knew there was no way no one was getting into the water at a beach wedding!!